An Air Force veteran is blowing the whistle on alleged secret U.S. military programs which he claims have been retrieving craft of "non-human origin" for at least several decades.
David Charles Grusch, a 36-year-old decorated former combat officer in Afghanistan, served the National Reconnaissance Office, acting as their representative to Congress' Unidentified Aerial Phenomena Task Force from 2019-2021. At the National Geospatial-Intelligence Agency, he also served from late 2021 to July 2022 as co-lead of unidentified aerial phenomena (UAP) analysis and its representative to the task force, which was recently renamed the All Domain Anomaly Resolution Office.
The Debrief first reported Monday that Grusch said he filed a whistleblower complaint to Congress and the Intelligence Community Inspector General (ICIG) on classified information that he insists proves the recoveries of partial fragments through and up to intact vehicles have been made for decades through the present day by the U.S. government, its allies and defense contractors.
The recoveries have been determined through analysis to be "of exotic origin (non-human intelligence, whether extraterrestrial or unknown origin) based on the vehicle morphologies and material science testing and the possession of unique atomic arrangements and radiological signatures," Grusch said.
"These are retrieving non-human origin technical vehicles, call it spacecraft if you will, non-human exotic origin vehicles that have either landed or crashed," Grusch said.
"Well, naturally, when you recover something that's either landed or crashed. Sometimes you encounter dead pilots and believe it or not, as fantastical as that sounds, it's true."
"We're definitely not alone," he said. "The data points, quite empirically that we're not alone."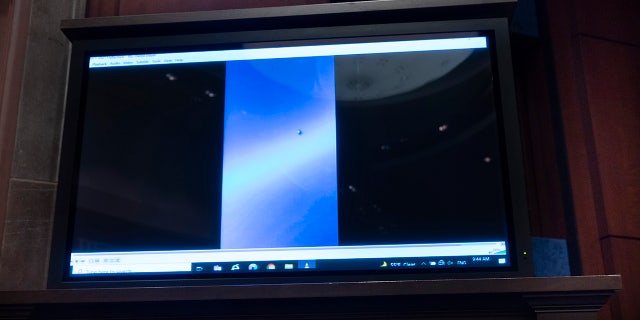 A video of unidentified aerial phenomena is played as U.S. Deputy Director of Naval Intelligence Scott Bray testifies before a House Intelligence Committee subcommittee hearing at the U.S. Capitol on May 17, 2022. (Kevin Dietsch/Getty Images)
"There is a sophisticated disinformation campaign targeting the U.S. populace which is extremely unethical and immoral," Grusch told News Nation, recognizing a "great personal risk and obvious professional risk" in speaking out publicly on the topic.
Grusch said he began providing hours of recorded classified information transcribed into hundreds of pages which included specific data about the materials-recovery program to Congress starting in 2022.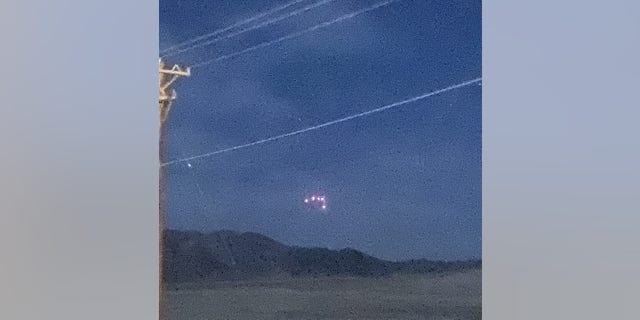 A potential UFO was seen flying over a U.S. Marine base in 2021. The photo was obtained by Jeremy Corbell, who shared it with Fox News Digital. (@Jeremycorbell/WeaponizedPodcast.com)
"Individuals on these UAP programs approached me in my official capacity and disclosed their concerns regarding a multitude of wrongdoings, such as illegal contracting against the Federal Acquisition Regulations and other criminality and the suppression of information across a qualified industrial base and academia," Grusch told The Debrief.
Per protocol, Grusch notified the Department of Defense of the information he intended to disclose to The Debrief, and the Pentagon cleared those intended on-the-record-statements for open publication in April – just days before Grusch left the government.