Meghan Markle won't be traveling across the pond for King Charles' big day – and many royal watchers aren't surprised.
On Wednesday, Buckingham Palace confirmed that Prince Harry will attend his father's coronation at London's Westminster Abbey solo.
"Buckingham Palace is pleased to confirm that The Duke of Sussex will attend the Coronation Service at Westminster Abbey on May 6th," the palace shared. "The Duchess of Sussex will remain in California with Prince Archie and Princess Lilibet."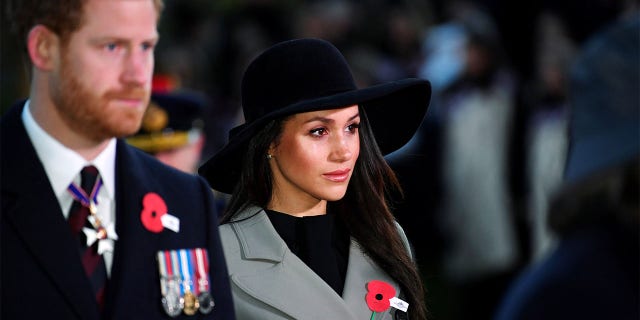 Meghan Markle will stay in California during King Charles' coronation with her son Prince Archie and daughter Princess Lilibet. (Photo by Toby Melville – WPA Pool/Getty Images)
Christopher Andersen, author of "The King," told Fox News Digital that the appearance will be "a very uncomfortable, highly awkward situation for Harry," following the publication of his explosive memoir "Spare." Therefore, it made sense that the Duchess of Sussex would avoid the intense scrutiny and stay behind in their California home with their two children.
"Harry will be cheered, but he will also probably be booed, and he is also likely to feel sidelined and marginalized," Andersen explained. "But there's no doubt that this was the right decision. I'm sure King Charles is breathing a sigh of relief.
As compromises go, this is a good one."
"One has to wonder, however, how Meghan feels about all this," Andersen shared. "Does she fully support Harry's decision to go solo, or did she beg him to stay behind with her and the children in Montecito? Was this a bone of contention between them? If this was a decision made jointly, then it shows a level of maturity and unity in the marriage that is to be admired."
PRINCE HARRY TO ATTEND KING CHARLES' CORONATION WITHOUT MEGHAN MARKLE, PALACE CONFIRMS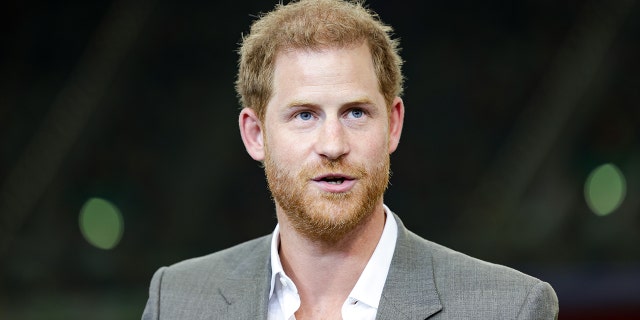 On Wednesday, Buckingham Palace confirmed that Prince Harry will be attending King Charles' coronation. (Chris Jackson/Getty Images for Invictus Games Dusseldorf 2023)
"However, if Meghan is only reluctantly supporting Harry's decision or opposes it, you can only imagine what a strain that might put on their marriage going forward," Andersen continued. "My guess is that they both understand this is a do-or-die moment in their relationship with the royal family. I don't think Charles or [Prince] William would ever forgive Harry if he didn't show."
It's noted that Archie's fourth birthday falls on the same day as the coronation. "Finding Freedom" author Omid Scobie tweeted that it was a factor in the couple's decision.
"Expect it to be a fairly quick trip to the U.K. for Prince Harry, who will only be attending the coronation ceremony at Westminster Abbey," Scobie tweeted.
Prince Archie's fourth birthday is on May 6th, the same day his grandfather, King Charles, will be crowned in London. (Photo by Dominic Lipinski – WPA Pool/Getty Images)
According to People magazine, the former American actress, 41, will spend the coronation weekend celebrating Archie's birthday alongside 22-month-old Lilibet. A friend told the outlet that Harry, 38, wanted to be at the service to support his father.
Charles, 74, became king upon the death of his mother, Queen Elizabeth II, in September of last year.
"I can't say I'm surprised," said Andersen. "As I've said in the past, this is not only a singular moment in history, but the most important moment in his father's life. How could he not show up? It would have closed the door on any relationship with the royal family in the future. Harry made a Solomon-like decision that shows he is still a prince of the realm but not quite willing to subject his wife and children to the pressures that will inevitably be brought to bear. He is also making the point that issues regarding the security of his family and who will pay to protect them remain unresolved."
CLICK HERE TO SIGN UP FOR THE ENTERTAINMENT NEWSLETTER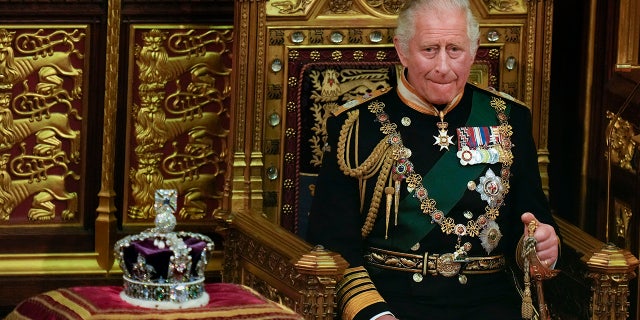 Charles became king following the death of his mother, Queen Elizabeth II, in September 2022. (Alastair Grant)
Royal commentator Jonathan Sacerdoti told Fox News Digital that Harry choosing to attend the coronation on his own is a smart move for the Sussexes. He said that Markle's appearance alone would overshadow the king's big day, which would only deepen the rift between the families.
"The coronation isn't about Harry and Meghan and their ongoing family psychodrama," Sacerdoti explained. "It's about Britain and our new king and queen. But still, we may not be spared more attention-grabbing headlines by the couple, especially if they deliberately throw a massive birthday party for their son Archie and make sure they have their celebrity supporters there. It will be a shame if they do so, especially given their desire for their children to grow up without the gaze of the world's media and in relative privacy."
"Harry may want to get back to America in time for the last few hours of his son's birthday which could just be possible by private jet if he leaves immediately after the coronation ceremony," said Sacerdoti. "We'll have to wait and see. If the couple decide to celebrate their son's fourth birthday over several days they may yet manage to steal some attention away from King Charles and Britain's important day."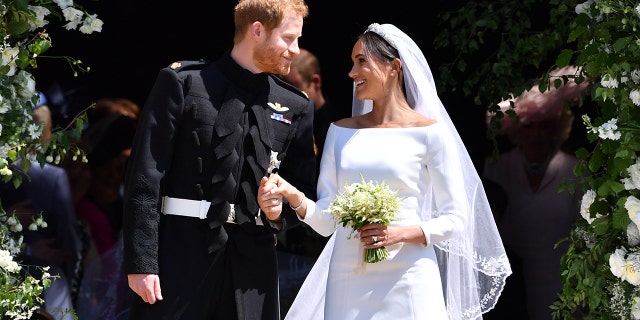 Meghan Markle, an American actress who starred in the legal drama "Suits," became the Duchess of Sussex when she married Britain's Prince Harry in 2018. (Photo by Ben STANSALL – WPA Pool/Getty Images)
Between the couple's Netflix docuseries, where they detailed their struggles with royal life, and Harry's explosive memoir "Spare," any appearance together will look as if they're gathering new material, he said.
"It is probably a wise choice for Meghan not to attend after the many allegations and breaches of confidence that have been made in the Netflix show, various interviews and in Harry's book," he said. "She doesn't need to be there at all, especially given her declared desire not to be in the spotlight as a working member of the royal family but to do things on her terms. Certainly, there are few in the U.K. who will miss her being there."
Kinsey Schofield, the host of the "To Di For Daily" podcast, agreed.
SARAH FERGUSON'S HARSH MESSAGE TO ROYALS AFTER PRINCE HARRY, MEGHAN MARKLE'S EXIT: 'CAN'T HAVE IT BOTH WAYS'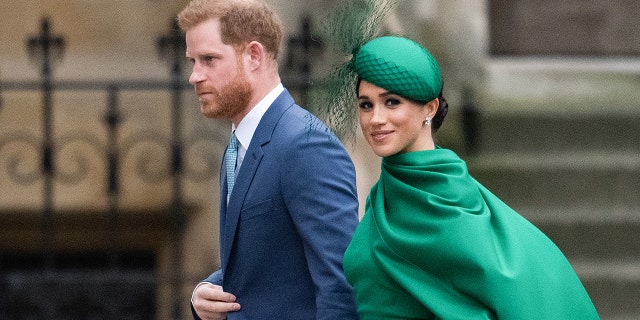 The Duke and Duchess of Sussex announced they were stepping back as senior members of the British royal family in 2020. (Photo by Ben STANSALL – WPA Pool/Getty Images)
"Meghan's absence seems like self-preservation," she told Fox News Digital. "The Sussexes' polling numbers and likability rating have taken a disastrous dive since the release of 'Spare' and the Netflix series. I don't think Meghan wants any negative attention and Harry will likely receive a far less hostile reaction from the thousands of people that will be visiting for the king's coronation – without Meghan by his side."
"Meghan will want to appear busy and unavailable so perhaps a new project will be announced around the same time as the coronation," she shared. "Or even a photo of Archie as a distraction."
Royal commentator Richard Fitzwilliams told Fox News Digital that Markle's popularity in the U.K. is at an all-time low – and she would have received a frosty reception at best.
Meghan Markle was last seen in the U.K. in September for Queen Elizabeth's funeral. (Photo by Hannah McKay – WPA Pool/Getty Images)
"Their popularity ratings have tumbled on both sides of the Atlantic," he said. "… [But] they had to be represented at the coronation as this is an event of worldwide importance. They would otherwise have no credibility, as their lucrative contracts have been obtained because they are members of the royal family. There is an extremely deep rift as we all know. It is extremely sad, but I see no possibility of a reconciliation at the moment."
The palace's announcement ended months of speculation about whether Harry would be welcome after airing his grievances.
Harry and Megan, who is biracial, have alleged the duchess faced racist attitudes from both the palace and the U.K. press. The treatment contributed to their decision to step back as senior royals in 2020 and move to North America.
PRINCE WILLIAM'S NEW MOVE SENDS MESSAGE TO PRINCE HARRY, EXPERTS SAY: 'THE CROWN WILL WIN OUT OVER TINSELTOWN'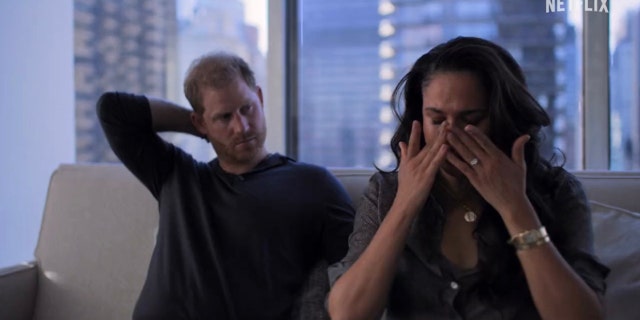 The Duke and Duchess of Sussex detailed their struggles with royal life in a six-part Netflix docuseries that premiered in December. (Netflix)
The revelations in "Spare,″ including details of private conversations with Harry's father and brother, Prince William, fanned tensions between the prince and his family that became public when he and his wife made their exit. Harry's memoir, which was published in January, also included allegations that members of the royal family regularly feed the press unflattering information about other members of the House of Windsor in exchange for positive coverage of themselves.
The acrimony between Harry and his family once again spilled into public view last month when the Sussexes said that they had been asked to vacate their home in Britain. Frogmore Cottage, a royal residence on the grounds of Windsor Castle, was the couple's main residence before they gave up royal duties and moved to Montecito, a wealthy enclave in Southern California.
The Sun newspaper reported that Charles asked them to relinquish the dwelling on Jan. 11, the day after Harry's memoir was published. But issues other than the book may have sparked the request.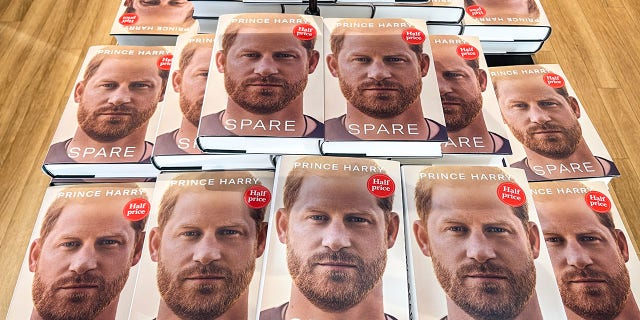 Prince Harry's memoir "Spare" was published on January 10. (Photo by Matt Cardy/Getty Images)
Charles has said he plans to cut the number of working royals and reduce the cost of the monarchy as he seeks to modernize the 1,000-year-old institution in hopes of ensuring its survival.
Duncan Larcombe told Fox News Digital that Markle's decision is far from a snub.
"King Charles will be pleased that both his sons will be there for the big day," he pointed out. "… Harry will not play any part other than a spectator."
PRINCE HARRY, MEGHAN MARKLE 'WILL BE SIDELINED' DURING CORONATION, EXPERT CLAIMS: 'TOO MUCH BITTERNESS'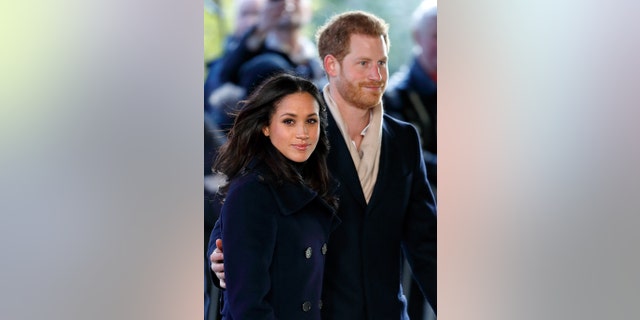 The Duke and Duchess of Sussex reside in the wealthy, coastal city of Montecito. (Photo by Max Mumby/Indigo/Getty Images)
"Question remains as to what role Prince Harry will play," noted royal expert Hilary Fordwich, who had long suspected the duchess wouldn't attend the coronation. "We know the king has changed the rules. During every other coronation, all the royal princes collectively went down on one knee to pledge loyalty… Neither Prince Andrew nor Prince Harry will have such a role or swear the oath during the ceremony… [Harry] is also not expected to take part in either the King's Procession or the Coronation Procession to and from Buckingham Palace."
The king and his wife will be crowned on May 6.
The Associated Press contributed to this report.