John Mellencamp and Meg Ryan's tumultuous love affair must have hurt so good to last for 10 years, since it featured several separations, one engagement and a final breakup in 2019.
Reflecting on his relationship with the "You've Got Mail" actress, Mellencamp said he's still got love in his heart.
"I love Meg Ryan. I went with her for ten years," he wrote in an article for Esquire.
"She doesn't love me so much. She's a great girl. I'm just a s—ty boyfriend."
JOHN MELLENCAMP GIVES LOVE ADVICE: 'GIRLS, NEVER TRUST A MAN UNDER 40'
Ryan was previously married to actor Dennis Quaid from 1991 to 2001.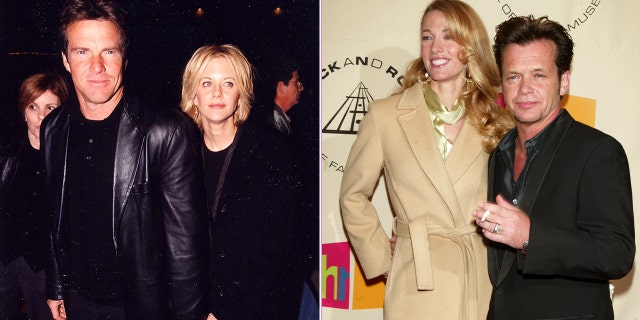 Meg Ryan was married to Dennis Quaid for 10 years. They share son Jack Henry Quaid together. Elaine Erwin and John Mellencamp were married for 18 years. They share two sons together, Speck and Hud. (Jeff Kravitz/Jim Spellman)
"I've never checked out of a hotel by myself," Mellencamp remembered of himself at the time. "Her and I went to a grocery store, and they wanted our credit card, and we looked at each other and said, 'Here it is,' and they said, "No, you've got to put it in this thing,' and we went, 'Then what happens?' We laughed at how stupid we are, so hard we cried. I think she's learned how to do everything, and I've learned how to do nothing," he admitted.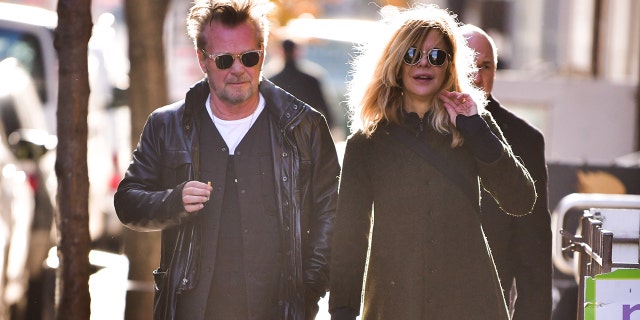 Meg Ryan and John Mellencamp broke off their engagement in 2019. (James Devaney/GC Images)
In 2018, the couple announced they were engaged.
At the time, he told TODAY, "I'm engaged . . . at 67 to a very funny woman. Funniest woman I've ever met . . . One can well imagine, I'm probably not the easiest guy to get along with. So, let's leave it at that."
By August 2019, the couple were still together, with Ryan telling InStyle, "Yes, I'm going to get married at some point. But for now this engagement thing is a state of grace."