A suspected underground gas explosion during the evening rush hour on Wednesday ripped open roads and flipped more than 20 cars in South Africa's biggest city of Johannesburg, injuring at least nine people, authorities said.
The nine were sent to hospital with what authorities said were not life-threatening injuries. Meanwhile, others were being evacuated from the area at the site amid fears of a second explosion or that multi-story buildings in a downtown part of Johannesburg that has become rundown and decrepit in parts over the years could collapse.
Huge cracks and holes had opened in the middle of roads, some so big that vehicles slid down into them.
"Buildings are in danger of collapsing," said Panyaza Lesufi, the premier of Gauteng province where Johannesburg is located. "The damage is extensive."
The 5 p.m. explosion happened as many people were gathering on the street to catch a minibus taxi home, one of South Africa's most common commuting methods in the cities. Several minibus taxis and other cars were lying on their sides or backs, some even on top of each other.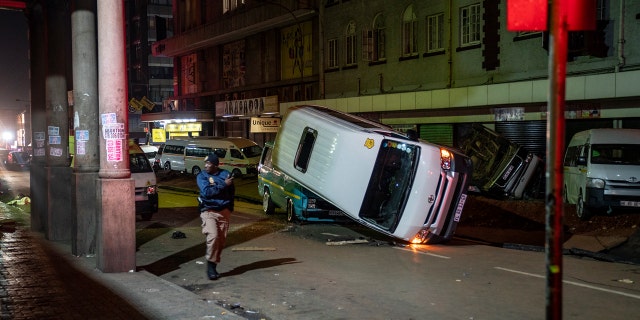 Emergency services gather at the scene of a gas explosion downtown Johannesburg, South Africa, on July 19, 2023. (AP Photo/Shiraaz Mohamed)
Eyewitnesses said people were already inside some of the minibuses when they were thrown in the air by the explosion.
One man, who did not give his name, told television station eNCA that he was in his car when he heard "a big sound. The next thing, I was in the air and my car was overturning," he said. He said he was shaken but unhurt.
"This place is still dangerous," Lesufi said.
In the immediate moments after the explosion on the busy Bree Street in downtown Johannesburg, people were seen running as smoke poured out of a crack in the road.
Earlier this month, a toxic nitrate gas leak killed 17 people, including at least three children, in an informal settlement on the outskirts of Johannesburg. That was blamed on an illegal gold processing operation in the settlement.