An entrepreneur who quit school and still does not know how to write as an adult has bought a Lamborghini, telling young people, "Anything is possible."
The Lamborghini cost him about £300,000 — or about $374,000 — said news agency SWNS.
U.K.-based Matt Fiddes, 43, "failed all his exams," he told the agency, but he recently posted a video showing himself picking up his new and very expensive ride, a Lamborghini Aventador.
X-RAY IMAGES REVEAL NEW LAMBORGHINI'S 986 HP HYBRID SYSTEM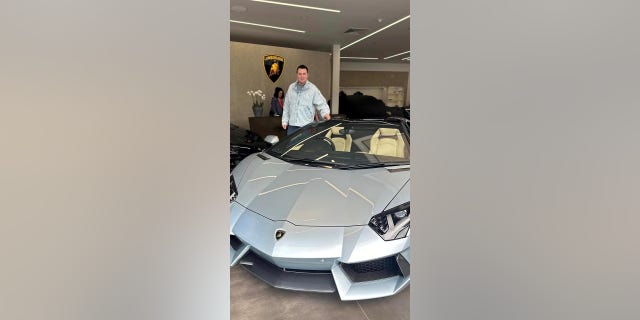 Matt Fiddes, an entrepreneur who reportedly left school with no qualifications and still can't write, bought a Lamborghini with a price tag of about $374,500, telling young people that "anything is possible." (SWNS)
Fiddes also said he wants young people to know that "you may get knocked back, struggle with learning, fail to get the grades you want, go through tough times [and be] trolled or bullied for being different."
He added, "But you can make your own successes in life. I still can't write and failed all school exams."
HIGH SCHOOL STUDENTS HAVE A STRONG SHOT AT SUCCESS WITH CAREER TECHNICAL EDUCATION: 'A WIN-WIN'
"Education is an impressive tool that can be used to initiate social change, promote economic development and increase prosperity," the website also notes.
AS GEN Z OPTS OUT OF BLUE-COLLAR WORK IN AMERICA, EXPERT SHARES BENEFITS OF LEARNING A TRADE
Some young people, however, are not cut out for traditional learning. They find other paths that lead to personal fulfillment and financial success.
In the Midwest, "you're talking six figures" for a trades career, he noted, and yet "they can't find people" to fill all the open positions.
CLICK HERE TO SIGN UP FOR OUR LIFESTYLE NEWSLETTER
As for Fiddes, the owner of the new Lamborghini, he said he was able to build his global business and property empire with "an incredible team around me" ­— and with "pure passion and determination."