A man has been accused of placing two explosive devices in a New Hampshire town, state and federal authorities said.
Both devices went off in the town of Weare. The first one went off Wednesday evening along a road. There was no property damage and a small fire was extinguished, police said.
The second one went off on Thursday on a different road. WMUR-TV reports a man driving to work saw some smoke coming from a ditch. He went to take a look and witnessed an explosion. He said he suffered minor injuries.
ATF INVESTIGATES TWO EXPLOSIONS NEAR NEW HAMPSHIRE TOWN: REPORTS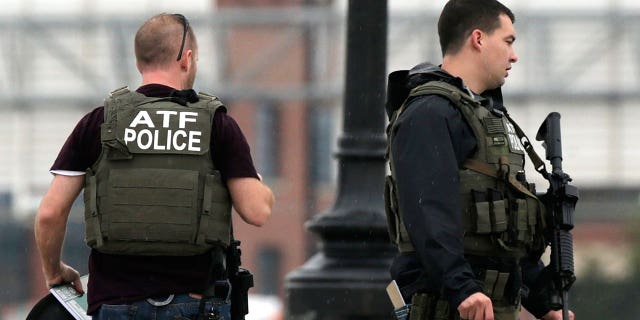 The Bureau of Alcohol, Tobacco, Firearms and Explosives investigated two explosions Thursday morning that went off near a New Hampshire town, local police said. A male suspect has been charged in the two explosions. (Win McNamee/Getty Images)
The Bureau of Alcohol, Tobacco, Firearms and Explosives said it did not believe anyone was targeted.
A 54-year-old man from Webster was charged with two counts of throwing or placing explosives, three counts of possession of an infernal machine, and additional counts of reckless conduct with a deadly weapon, assault, disorderly conduct and criminal mischief.
CLICK HERE TO GET THE FOX NEWS APP
Police said a "fully constructed" pipe bomb was seized following a search of his vehicle and home on Thursday.
The man was scheduled for a court appearance later Friday. It wasn't immediately known if he had an attorney.