LSU Women's Basketball coach Kim Mulkey joined "Sunday Night In America" to discuss her team's first NCAA women's basketball National Championship, defeating the Iowa Hawkeyes last weekend, 102-85.
"There's no way I could tell you that I saw this coming in two years," Mulkey told host Trey Gowdy.
Mulkey, who had previously won championships as both a player and an assistant coach, returned to her home state of Louisiana to take over the program at LSU in 2021 after leading the Baylor Bears women's college basketball team for more than two decades. She said she knew LSU had a history of success in women's basketball and believed that with the right direction, they could be supported.
LSU SURVIVES IOWA'S LATE CHARGE TO WIN FIRST WOMEN'S BASKETBALL NATIONAL TITLE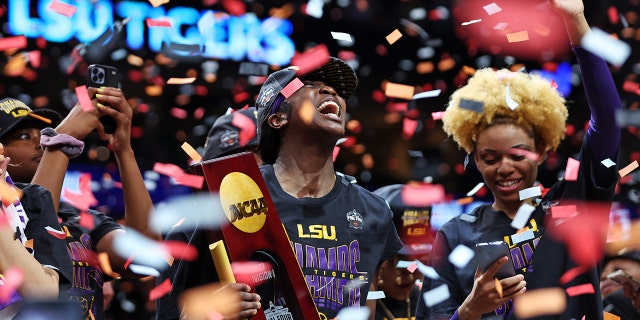 Flau'jae Johnson #4 of the LSU Lady Tigers reacts while holding the championship trophy after defeating the Iowa Hawkeyes. (Maddie Meyer/Getty Images)
"I was coming back to a place that loved me. I was coming back to an institution that had success with Final Fours in women's basketball. I knew that if we could get it going in the right direction, we would be supported," Mulkey said. "But man did I, there's just no way. I couldn't explain to you how this happened. We got in the transfer portal a little bit and got some great players, but come on now, two years. Obviously, we're on top of the world."
Gowdy asked Mulkey about the "noise" surrounding "matters unrelated" to basketball, particularly in the aftermath of the game against Iowa. Mulkey responded by stating that she tries not to pay attention to the "noise" and instead focuses on what is important.
"What you do, you can use the word accept or ignore. I don't really pay much attention to it," Mulkey said.
LSU STAR ANGEL REESE RECEIVES SUPPORT FROM TONY YAYO, CREATOR OF "YOU CAN'T SEE ME" TAUNT
Mulkey added, "This is the world we live in, the hits, the clicks, the negative stuff. I love that that was the highest rated Final Four and national championship game for women's basketball, and I understand a lot of the outside stuff contributed to that, but I will always believe the talent on that floor was the most important contributor."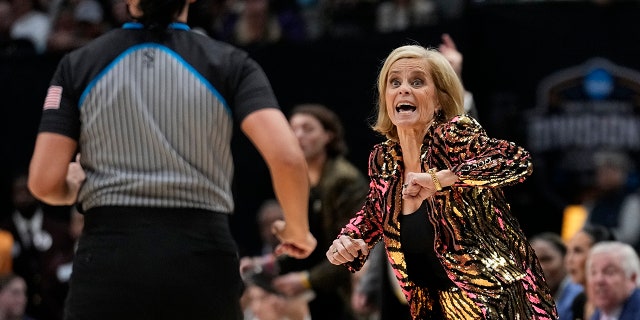 LSU head coach Kim Mulkey reacts during the second half of the NCAA Women's Final Four championship basketball game against Iowa. (AP Photo/Tony Gutierrez)
Mulkey also noted that her players benefit from the media attention. However, she believes that it is her job to guide and lead them in focusing on what is important and what is not.
CLICK HERE TO GET THE FOX NEWS APP
"They're very much independent young women that speak their mind. But now stop all the noise, concentrate on what's important and what's not important, and it's my job to help them with that and to guide them and to lead them," Mulkey said.