Louisville authorities have released 911 calls and radio traffic that reveal the panic Monday as police raced to stop an active shooter at an Old National Bank location downtown in the Kentucky city.
The gunman, 25-year-old bank employee Connor Sturgeon, killed four and wounded nine before police shot him dead. One of the wounded victims succumbed to her injuries later.
One of the calls came from the gunman's mother, Lisa Sturgeon.
"He has a gun, and he's heading toward the Old National … on Main Street here in Louisville," she told police in frantic words. "This is his mother. I'm so sorry, I'm getting details secondhand."
DEADLY LOUISVILLE BANK SHOOTING BODYCAM RELEASED; OFFICERS' ACTIONS DESCRIBED AS 'HEROIC'
LISTEN: Louisville 911 audio reveals frantic call from bank shooter's mother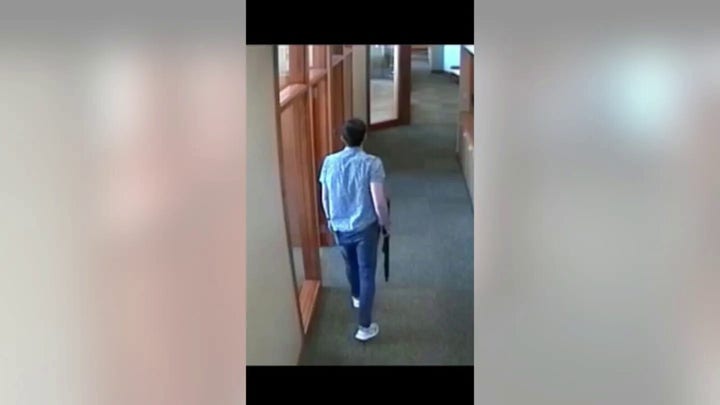 Video
Sturgeon's mother told the dispatcher that her son's roommate had called her to raise concerns. She said she did not know her son owned a gun.
"He's not violent," she says. "He's never done anything."
However, she concedes that his girlfriend may own guns.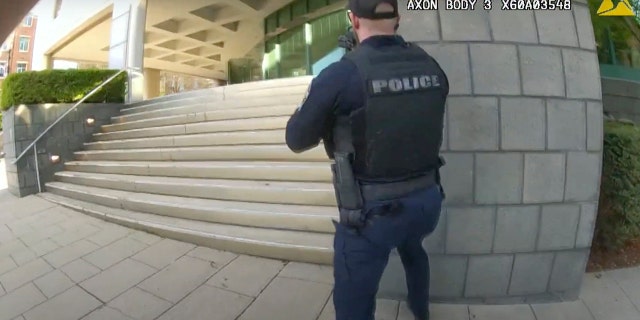 In this screengrab taken from the bodycam video of Louisville Metro Police Department Officer Nickolas Wilt, fellow Officer Cory Galloway approaches an active-shooting situation at Old National Bank in Louisville, Kentucky, on April 10, 2023. (Louisville Metro Police Department via AP)
KENTUCKY POLICE END BANK SHOOTING WITHIN MINUTES, 'ABSOLUTELY' SAVED LIVES: TIMELINE
The operator also discouraged Sturgeon's mother from going to the scene herself.
In a statement, Louisville Mayor Craig Greenberg said authorities chose to release the audio because "Transparency is important – even more so in times of crisis."
Another caller told police she had been attending a meeting remotely when she saw the chaos unfold on her screen. She broke down in tears during the call.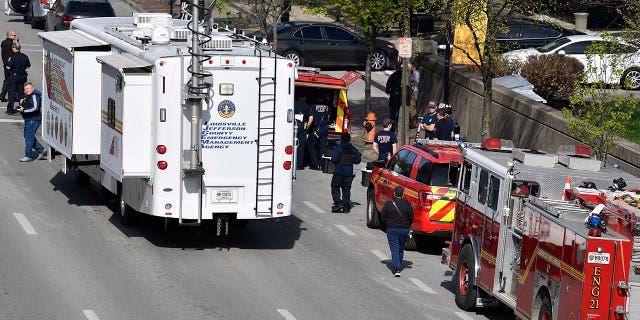 The Louisville Metro Police Department and Louisville Fire Department gather a block from the Old National Bank building in Louisville, Kentucky, on April 10, 2023. (AP Photo / Timothy D. Easley)
"How do you know the person," the dispatcher asks another caller, who dialed in while hiding in a closet.
"He works with us," she replies.
She lowers her voice to a whisper as the dispatcher attempts to reassure her. Then the sound of gunfire rings out repeatedly.
"Stay quiet," the dispatcher advises. "We've got everybody coming, OK?"
WHO ARE THE LOUISVILLE BANK SHOOTING VICTIMS?
Another caller said she was calling from down the street after a survivor came into her building and reported that someone had been shot at the bank.
In yet another call, a man tells police that someone fired at least 15 shots into a room with more than a dozen people inside.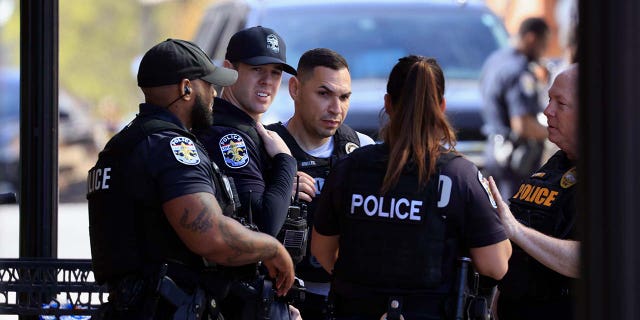 Law enforcement officers respond to an active shooter at the Old National Bank building on April 10, 2023, in Louisville, Kentucky. (Luke Sharrett / Getty Images)
The sixth and final call came from a driver outside.
"I saw a man with some type of assault rifle walking around in a bulletproof vest," she said.
Slain victims included a personal friend of Gov. Andy Beshear, Tommy Elliott, 63, as well as Joshua Barrick, 40, Deana Eckert, 57, Jim Tutt, 64, and Juliana Farmer, 45.
After shooting his co-workers, Sturgeon set up in the lobby to ambush responding officers.
He shot the first two on scene, Nickolas Wilt and Cory "CJ" Galloway.
Galloway suffered a minor injury and subsequently killed Sturgeon minutes into the standoff.
Wilt, who graduated from the police academy on March 31, remains in the hospital.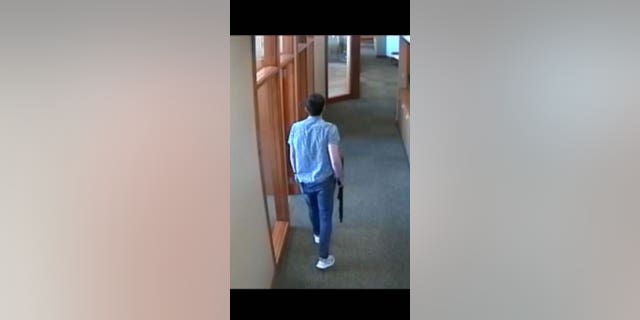 Surveillance video shows 25-year-old shooter Connor Sturgeon. (Louisville Metro Police Department )
CLICK HERE TO GET THE FOX NEWS APP
Police are asking anyone with information on the attack to call their tip line at 502-574-LMPD.
This is a developing story. Check back for updates.
Fox News' Garrett Tenney contributed to this report.