The secretary of Louisiana's Department of Wildlife and Fisheries resigned Friday amid a developing scandal that saw a former member of the state wildlife commission plead guilty to a federal bribery charge.
Secretary Jack Montoucet's resignation was confirmed by department spokesman Ed Pratt, who provided no additional comment. Montoucet has not been charged with wrongdoing in the bribery case.
Gov. John Bel Edwards issued a brief statement saying he had accepted Montoucet's resignation. Edwards said the department's deputy secretary, former state Rep. Robert Shadoin of Ruston, would replace Montoucet.
Montoucet was appointed to the Louisiana Wildlife and Fisheries position by Edwards, a fellow Democrat, in 2016. Prior to the appointment, Montoucet was a state representative, owned an alligator farm and served as the chief of the Lafayette Fire Department.
LOUISIANA DRIVER SCREAMS IN DISBELIEF OVER MASSIVE ALLIGATOR CROSSING ROAD: 'LOOK HOW BIG THIS B—H IS!'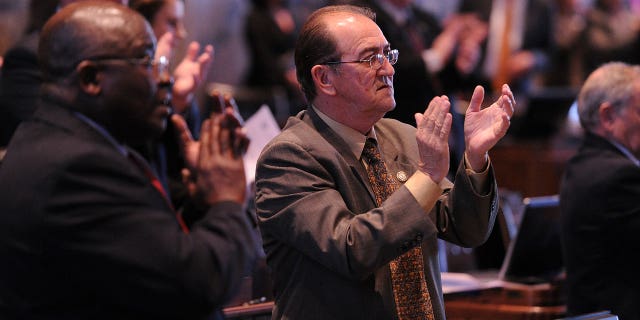 Louisiana state Reps. A.B. Franklin, D-Lake Charles, and Jack Montoucet, D-Crowley, applaud Gov. Bobby Jindal following his speech during the opening of the state Legislature at the state Capitol in Baton Rouge, Louisiana, on March 10, 2014.  (AP Photo/Hilary Scheinuk, File)
CLICK HERE TO GET THE FOX NEWS APP
On Monday, documents unsealed in federal court in Lafayette revealed that former wildlife commissioner Dusty Guidry had pleaded guilty in a bribery case stemming from his time working for the district attorney's office in Lafayette, and, as a member of the state wildlife commission.
Information in the court documents, first reported by The Advocate, shows Guidry worked with others to steer contracts to a vendor in return for money "and other tangible benefits."
Guidry, who was appointed to the wildlife and fisheries commission by Edwards in 2019, pleaded guilty to two federal counts of conspiracy to commit the solicitation of a bribe and one count of bribery.