Sen. Lindsey Graham put the Biden administration's review of the botched Afghanistan withdrawal on full blast Sunday, accusing officials of a "political whitewash" by repeatedly blaming former President Donald Trump and downplaying the risk of terrorism in the report.
"When the Biden administration tells you there are no terrorists in Afghanistan, they are lying," Graham, R-S.C., told "Fox News Sunday" host Shannon Bream.
"The [Biden administration's] report says that our mission had been accomplished and that's why Biden got out of Afghanistan. He's claiming that we eradicated all terrorist threats in Afghanistan; that's why he withdrew to end the longest war."
BIDEN ADMIN REVIEW OF AFGHANISTAN WITHDRAWAL REPEATEDLY BLAMES TRUMP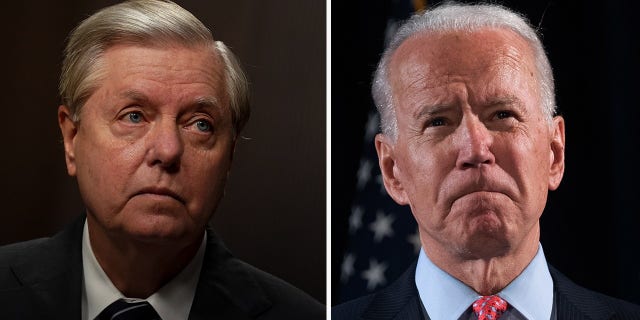 "When the Biden administration tells you there are no terrorists in Afghanistan, they are lying," Sen. Lindsey Graham said on "Fox News Sunday." (Fox News)
"Gen. [Anthony] Carrelli said last week… that the rise of ISIS-K and al-Qaeda in Afghanistan is so severe we could be attacked in America in the next six months without warning," he said earlier in the segment.
UN OFFICIALS CONDEMN TALIBAN'S DECISION TO BAN AFGHAN FEMALE STAFFERS FROM WORKING AT THE UNITED NATIONS
Graham warned of a "lethal cocktail" forming in the region, combined with the dangers of open-border policies domestically that could lead to another 9/11 unless leaders reverse course.
"My view of what happened in Afghanistan with Biden is he paved the way for another 9/11," he stressed.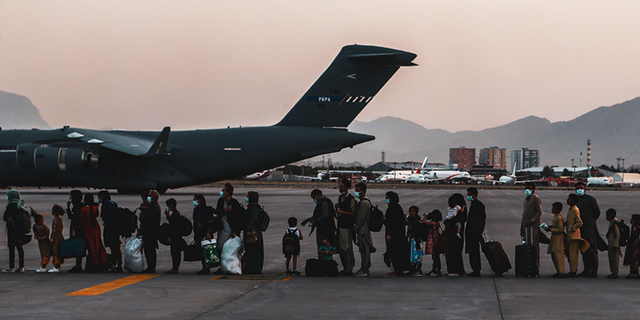 Evacuees wait to board a Boeing C-17 Globemaster III during an evacuation at Hamid Karzai International Airport, Kabul, Afghanistan, Aug. 23, 2021. (U.S. Marine Corps photo by Sgt. Isaiah Campbell)
Graham's comments come after the 12-page report's release on Thursday, which garnered attention for repeatedly lambasting Trump for allegedly constraining the conditions of the evacuation process, during which a suicide bombing claimed the lives of 13 U.S. service members at the Hamid Karzai International Airport.
"President Biden's choices for how to execute a withdrawal from Afghanistan were severely constrained by conditions created by his predecessor," the report claimed.
The document particularly shifted blame to Trump for providing no plans on how to conduct a withdrawal from the region despite plans to complete the withdrawal shortly after Biden took office in January 2021.
BIDEN ADMIN ACCUSED OF 'STONEWALLING' GOP ON KEY AFGHANISTAN WITHDRAWAL CABLE: 'IT RAISES MY SUSPICION'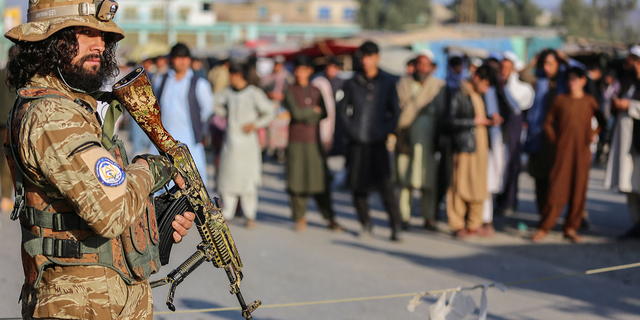 A Taliban security member stands guard as Afghan people wait to cross into Pakistan at the Torkham border crossing in Nangarhar province, on Feb. 23. (Shafiullah Kakar/AFP via Getty Images)
The withdrawal, executed in August 2021, took heat from critics as several U.S. citizens and Afghan allies were left behind in the wake of the Taliban's return to power for the first time since U.S. troops overthrew the radical Islamist regime nearly 20 years prior.
White House national security spokesman John Kirby alleged on the day of the report's release that the Trump administration's "lack of planning" "significantly limited options" available for Biden to take during the withdrawal under his tenure.
Critics like Graham dragged the Biden administration for shifting the blame on the botched withdrawal after the report went public, including Texas Rep. Michael McCaul, R., who slammed Kirby's language as "disgraceful and insulting."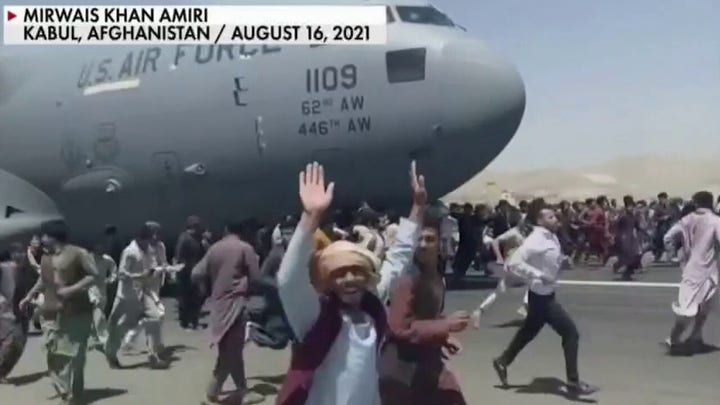 Video
Reps. Ronny Jackson, R-Texas, and Mark Green, R-Tenn., as well as Sen. Steve Daines, R-Mont. also criticized the document's claims.
CLICK HERE TO GET THE FOX NEWS APP
Fox News' Chris Pandolfo contributed to this report.