Laura Ingraham decries teenagers smashing cars and destroying property in Chicago and how today's youth is being "incentivized" to commit violence on "The Ingraham Angle."
LAURA INGRAHAM: Do you remember growing up and seeing stories on the news about young people in such numbers committing depraved acts of violence toward others? Now, there's always been crime and sometimes horrific crime. But I don't ever recall seeing scenes like the scene we saw last weekend in Chicago when people who were just walking in Chicago minding their own business were set upon by the mob. Hundreds of teens took over downtown, jumping on cars, running in traffic. You saw they were smashing windows. Two were shot and motorists were terrorized.
…
VIOLENCE SPIKED IN OUR FAILING SCHOOLS THANKS TO THESE POLICIES
And of course, we can't dismiss what we've seen on school buses. We used to think those were safe, where children and bus drivers alike have been beaten mercilessly. In metro Georgia, police are reporting that gang membership is growing, especially among the very young. Again, gangs have been around for most of our country's history. We all know that. But we're seeing something different. It's much more vicious and it seems more calculated.
…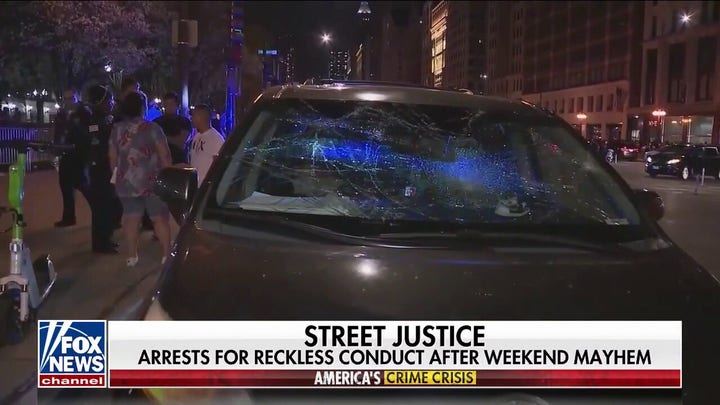 Video
A free-for-all, and permissive attitudes toward crime and liberal enclaves? That's given gangs the incentive to use younger kids to commit some of the worst acts of violence. That's new. The gangs are also getting more sophisticated in their recruiting, even using social media disguising themselves as public interest organizations. So in a nation facing recession, criminal gangs are now a growth industry.
CLICK HERE TO GET THE FOX NEWS APP
Young people in cities like Chicago know they have nothing to lose. The Floyd protests took away all inhibitions. Young people were encouraged, in fact, to be loud, to be disrespectful. They were told that the country is racist, that police are bigots. No wonder so many are angry. And of course, the politicians who helped fuel all of their fury, well, they're just downplaying the consequences.