A man accused of fatally shooting one person and wounding five others at a Southern California church luncheon last year has been charged with dozens of federal hate crimes in connection with the attack, which investigators said was motivated by political hatred of Taiwan.
The indictment announced Thursday by the U.S. Department of Justice charges David Chou, of Las Vegas, with 98 counts including weapons and explosives charges and forcefully obstructing the free exercise of religion.
Messages seeking comment from attorneys who have represented Chou, 69, in a separate case in state court were not immediately returned.
CALIFORNIA CHURCH SHOOTING SUSPECT WAS MOTIVATED BY 'HATRED OF THE TAIWANESE PEOPLE,' AUTHORITIES SAY
Authorities said Chou chained and nailed shut exit doors before launching the attack on a gathering of older parishioners from the Irvine Taiwanese Presbyterian Church in Laguna Woods on May 15, 2022.
Chou had two handguns, bags of ammunition and four Molotov cocktail-style devices, and was motivated by hatred of Taiwan, where he grew up, investigators said.
Among the charges were 45 counts of obstructing free exercise of religious beliefs by force, "which resulted in the death of one person, included attempts to kill 44 others, and involved the use of a firearm and attempted use of explosives and fire," the Justice Department said in a statement.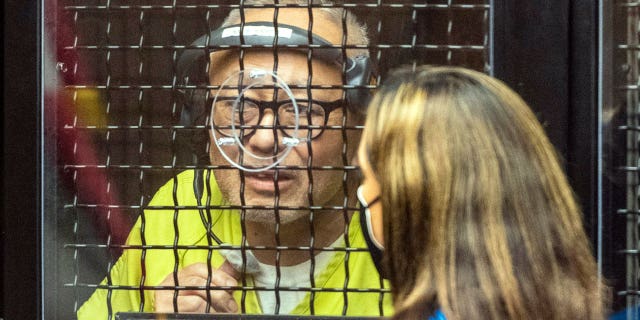 Suspected Laguna Woods, California church shooter David Chou faces 98 charges, including several dozen hate crime counts, for an anti-Taiwanese rampage that injured 5 people and killed Dr. John Cheng. (Mark Rightmire/The Orange County Register via AP)
Chou was charged last year by Orange County prosecutors with murder and attempted murder including enhancements for a hate crime and other counts. He pleaded not guilty. Online records show Chou is currently being held without bail in Orange County and due back in court July 14.
Authorities said Chou had no prior connection to the church. They said he spent an hour with attendees before the attack, apparently to gain their trust, then closed the doors and started shooting.
POLICE IDENTIFY SUSPECT IN LAGUNA WOODS CHURCH SHOOTING
Dr. John Cheng, the 52-year-old son of a congregant, charged at Chou and was killed, authorities say. His action helped disrupt the shooter, who was hit by a chair thrown by the church's former pastor and jumped on by several people who tied him up with an extension cord until police arrived.
The wounded victims ranged in age from 66 to 92.
Chou, a U.S. citizen, grew up in Taiwan after his family was forced from mainland China when communists took control, authorities have said.
CLICK HERE TO GET THE FOX NEWS APP
If convicted, he faces a maximum penalty of death or life in prison without parole.