Sens. Kyrsten Sinema, I-Ariz., and James Lankford, R-Okla., called out the Biden administration for not enforcing border laws, singling out false statements made by White House press secretary Karine Jean-Pierre that illegal immigration has gone down since President Biden took office.
Lankford and Sinema joined "Special Report" on Tuesday to discuss their bipartisan efforts to combat the border crisis.
Sinema hit back at Jean-Pierre and said, "Obviously, the border is not secure. Anyone with eyes can see that. And anyone who lives in a border state like I do, born and raised in Arizona, actually takes offense at comments like that because they're just factually not true. The reality is, is that border communities in my state are suffering already, and that's before the end of Title 42."
BIDEN ADMIN TO SET UP MIGRANT PROCESSING CENTERS IN LATIN AMERICA AS TITLE 42 SET TO EXPIRE
Jean-Pierre said during a Monday press briefing that the Biden administration deals with the immigration system "in a humane way [and] a way that actually deals with what we're seeing at the border."
"And that's why you've seen the parolee program be so successful. It has. It has. It has," she said. "When it comes to illegal immigration, you've seen it come down by more than 90%. And that's because of the actions that this president has taken. But we know that more action needs to be taken."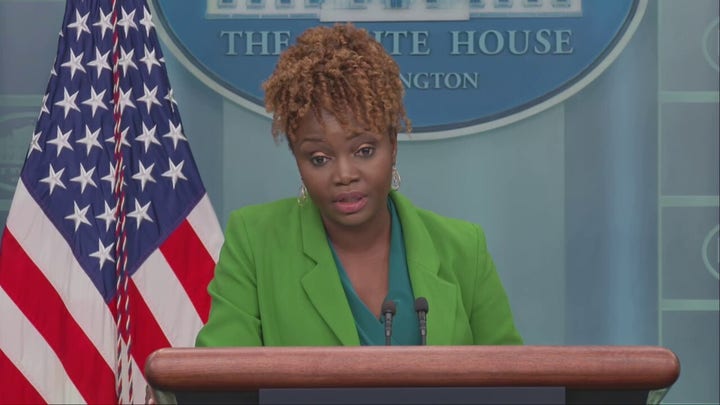 Video
Lankford also called out the statements made by Jean-Pierre and took issue with the White House's numbers, arguing the administration wants people not to "believe [their] eyes."
Sinema shared how small communities in her border state are suffering because of the border crisis.
"Just last week, I held a hearing in our border subcommittee and brought a Republican mayor and a Democratic mayor, both representing small border towns from Arizona," she said. "And we just asked them, what is it like every day in your town? And Bret, there are high-speed chases going on through the city of Sierra Vista right now with young teens driving cars and sometimes being killed or causing the death of others transporting drugs and other migrants through these communities."
"It is not secure. It is not safe," Sinema told host Bret Baier.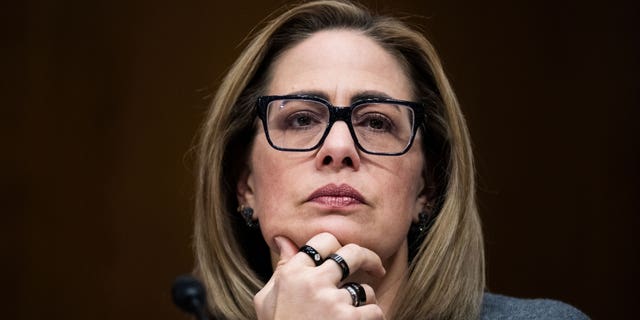 Sen. Kyrsten Sinema, I-Ariz., attends a Senate Homeland Security and Governmental Affairs Committee markup in the Dirksen Building in Washington, D.C., on March 15, 2023. (Tom Williams/CQ-Roll Call, Inc via Getty Images)
She said sending 1,500 troops to the southern border "should be helpful," but is "nowhere near enough" to make a significant impact.
Sinema, who was elected to the Senate as a Democrat but left the party last year, suggested that the Biden administration begin addressing the border crisis by "enforcing the laws that are on the books."
"There are a lot of bipartisan plans that we've been working on with some of our colleagues in the Senate and the House that could actually make a difference. It would be most helpful if the administration would start by actually enforcing the laws that are on the books, that would provide confidence, particularly to Republican members of the House and the Senate, that we could get something done," she said.
Title 42 is expected to expire May 11.
Fox News' Charles Creitz contributed to this report.