This Sunday will be a historic occasion for whoever wins the GEICO 500, but it will also be a special day for Kevin Harvick.
The 47-year-old will make his 800th NASCAR Cup Series start when he takes the green flag at Talladega Superspeedway.
Harvick will become the 10th driver in NASCAR history with at least 800 starts, the first since Jeff Gordon.
CLICK HERE FOR MORE SPORTS COVERAGE ON FOXNEWS.COM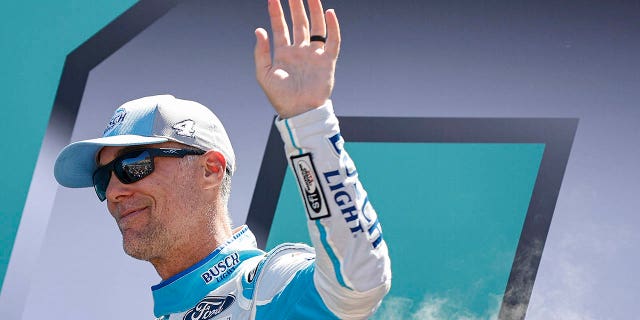 Kevin Harvick, driver of the No. 4 Busch Light Ford, waves to fans as he walks onstage during driver intros prior to the NASCAR Cup Series Dixie Vodka 400 at Homestead-Miami Speedway Oct. 23, 2022, in Homestead, Fla. (Sean Gardner/Getty Images)
He will join Richard Petty, Ricky Rudd, Dave Marcis, Terry Labonte, Mark Martin, Kyle Petty, Bill Elliott, Darrell Waltrip and Gordon.
"I think I've taken pretty good care of myself throughout the years to make myself durable through all the travel and time and things you put into doing this," Harvick said in a team press release. "Being able to adapt and adjust to new things and new people. And being honest with people in situations. And sticking up for yourself when you think something's right. And having those traits and the ability to have people who will accept those things because they know that you put a lot of thought and effort into what you're doing …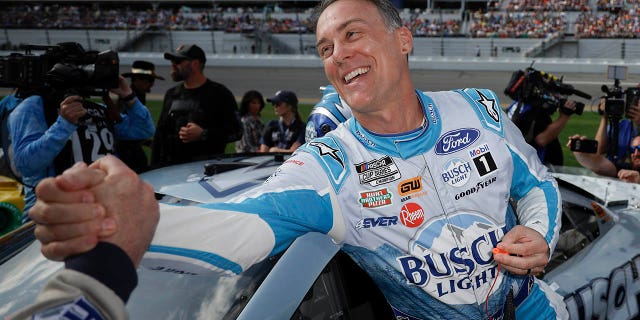 Kevin Harvick, driver of the No. 4 Busch Light Ford, greets a crew member prior to the NASCAR Cup Series 65th Annual Daytona 500 at Daytona International Speedway Feb. 19, 2023, in Daytona Beach, Fla. (Chris Graythen/Getty Images)
KYLE LARSON HOLDS OFF JOEY LOGANO AT MARTINSVILLE
"When you think about 800 races and you try to put it into perspective, you really start adding the years up," he continued. "It's a really wide body of work, and I think that's what I'm the most proud of. Through those 800 starts, it's not like we started the year cashing checks and just riding around.
"We've been competitive, racing at the front of the pack, leading laps and having the chance to win races. For me, that's the thing that I'm most proud of. And, I think, from your colleagues and people from other race teams, they see that body of work and being competitive across that long period of time. You hear it all the time, 'I can't believe they've been that competitive for that long.' And to me, that's the part I'm most proud of, being able to do this at a high level for such a long time."
Harvick announced he would retire at the end of this season. If he participates for a full season, he will finish his career with 826 starts, eighth most all time.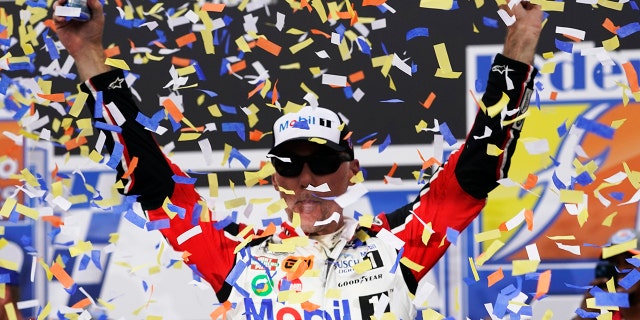 Kevin Harvick celebrates after winning a NASCAR Cup Series race at Richmond Raceway Aug. 14, 2022, in Richmond, Va. (AP Photo/Steve Helber)
In 44 starts at the famed track, he has finished in the top 10 19 times and won in 2010.
His last victory came at the 2022 Federated Auto Parts 400 in August when he earned back-to-back wins. He took home the checkered flag at the FireKeepers Casino 400 the week before. He had been winless in his previous 65 races, and the Federated Auto Parts 400 victory was the 60th of his career. His 60 wins are the 10th most in NASCAR history. He'd pass Kyle Busch for sole possession of ninth with two wins.
CLICK HERE TO GET THE FOX NEWS APP
The GEICO 500 kicks off Sunday on FOX at 3 p.m. ET.