Drug overdose deaths in Kentucky fell by 5% in 2022, offering a sign of hope that treatment efforts are relieving an addiction epidemic that remains a public health crisis, Gov. Andy Beshear said Thursday.
It was the first decline in four years, but overdose fatalities in Kentucky surpassed 2,000 again last year, according to the Kentucky Injury Prevention and Research Center. It found that 2,127 Kentuckians died from drug overdoses in 2022, down from 2,257 the prior year, the governor's office said.
"That number is still far too high," the governor said at his weekly news conference. "One is too many. But with the opioid epidemic, we see far, far too many."
NEVADA SENATE DEBATES HARSHER FENTANYL PENALTIES IN RESPONSE TO LARGEST OVERDOSE CRISIS IN US HISTORY
Increased use of fentanyl — a powerful synthetic opioid — has been widely blamed as a key factor behind the state's chronically high death toll from drug overdoses.
The issue has risen to the forefront of this year's campaign for governor. Republican Kelly Craft says she supports the death penalty for drug traffickers found responsible for causing a Kentuckian's fatal overdose. Craft is among 12 candidates competing for the Republican gubernatorial nomination in Kentucky's May 16 primary. Beshear, a Democrat, is seeking reelection to a second term.
Beshear pointed to a 50% increase in the number of drug treatment beds in Kentucky since he became governor in late 2019 — part of bipartisan efforts to bolster drug prevention and intervention efforts.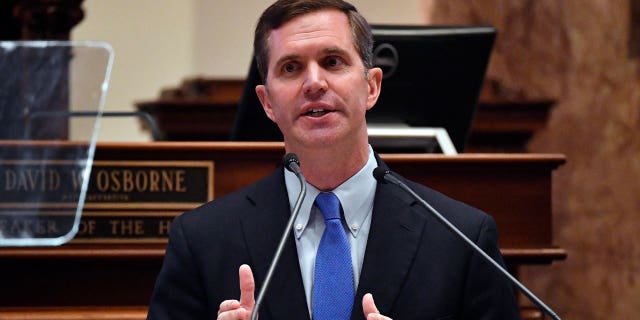 Kentucky Gov. Andy Beshear delivers a speech on Jan. 4, 2023, in Frankfort, Kentuky. Beshear said treatment efforts for relieving the state's addiction epidemic may be working after the state recorded a decrease in drug overdose deaths in 2022. (AP Photo/Timothy D. Easley, File)
"We've worked hard to remove the cost barrier of treatment, so that every single Kentuckian who wants help today can get it," he said. "That there is a bed available for them. Addiction spares no one."
Much more work remains to overcome what remains a public health crisis, but the decline in overdose deaths offers some good news in the state's fight against the opioid and drug epidemic, Beshear said.
"It ought to give us at least hope — hope that progress is possible," the governor said. "Hope that we can see fewer deaths next year than we saw this year. Hope that we can get more people better and back with their families, back in society, back in a good job."
KIPRC has been tracking drug overdose-related deaths since 2011, the governor's office said in a news release. The Office of Drug Control Policy, in partnership with KIPRC, will release the 2022 Kentucky Drug Overdose Report in coming months. The report will include additional data on the number of drug overdose deaths by county and various demographics.
FENTANYL EVEN DEADLIER WHEN MIXED WITH XYLAZINE (OR 'TRANQ'): WHAT YOU MUST KNOW NOW
Meanwhile, the governor reported a continuation of the state's historically low unemployment rates.
In the past 15 months, Kentucky's jobless rate has been between 3.8% — its lowest rate ever recorded — and 4%, Beshear said. That marks the longest period featuring the lowest unemployment rates in state history, he said. Kentucky has had a 3.8% rate during four months since the start of 2022.
Last month's preliminary jobless rate was unchanged from the 3.8% statewide rate recorded one year ago, according to the Kentucky Center for Statistics.
CLICK HERE TO GET THE FOX NEWS APP
The governor touts his administration's record-setting pace for economic development projects in making his pitch for a second term.
Kentucky now has nearly 46,000 more jobs than before the COVID-19 pandemic hit in early 2020, Beshear said Thursday. He said it's proof of what can be accomplished when "we don't worry about moving the state to the right or the left, but we move it forward."
"A good job isn't red or blue, isn't D or R, it's just good for that family," Beshear said.