Gov. Brian Kemp signed new laws Thursday that will require Georgia schools to perform annual drills for responding to campus shooters early in the school year and to perform literacy assessments for younger students three times per year to see if they can read at grade level.
Kemp signed the education measures, which passed the legislature with bipartisan support, into law during a conference of Georgia school superintendents in Savannah.
The school safety bill, House Bill 147, was one of the Republican governor's legislative priorities for the beginning of his second term. It mandates that all Georgia public schools conduct an active shooter drill involving teachers and students by Oct. 1 each year. Students would be required to participate unless local districts allow parents to opt their children out.
The measure also requires the state Professional Standards Commission to create a safety and anti-gang program for training teachers and other school personnel in improving security and identifying youth gang members and gang recruitment efforts.
"We continue to put the safety of our students and educators first in the state of Georgia," Kemp told the school superintendents. He said his safety bill "modernizes school safety protocols and equips those who work in our schools with the skills they need and want to protect our students in the classroom."
GEORGIA BAKERY PUTS 'URGENT ALERT' ON FACEBOOK TO FIND CUSTOMER ACCIDENTALLY SOLD A DONUT WITH GLUTEN
At Kemp's urging, lawmakers earlier set aside $115 million to make school safety grants worth $50,000 available to every K-12 school in the state.
The governor also signed House Bill 538 and Senate Bill 211, which aim to improve literacy among students in kindergarten through third grade.
Depending on what test is being administered, there are different estimates of how many Georgia students read on grade level. The state's own test had nearly 63% of students score below grade level on the English Language Arts test, although state education officials note a different figure shows 64% of third graders are reading proficiently. The National Assessment of Educational Progress, a nationwide test that allows for comparisons between states, found only 32% of Georgia fourth graders were proficient in reading in 2022.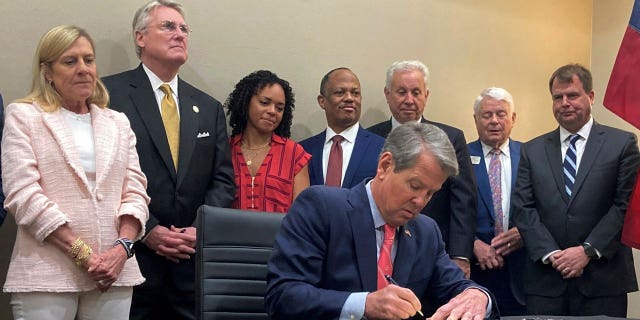 Georgia Gov. Brian Kemp signs into law a bill aimed at making public schools safer during a ceremony in Savannah, Georgia, on Thursday, April 13, 2023.
"That's a problem because third grade marks that transition where you stop learning to read and you have to start reading to learn to go further in your education," said state Rep. Bethany Ballard, a Republican from Warner Robins who sponsored the House literacy bill. "It's that make-or-break turning point year."
The state Department of Education will be required to develop a list of approved instructional materials for local school systems, and each school district must annually certify that it is using proven materials to support reading instruction. The state also must approve one or more screening tests to track reading progress, to be given three times yearly to children in kindergarten through third grade. The state must pay to make one of those tests freely available to all districts.
CLICK HERE TO GET THE FOX NEWS APP
Children identified as falling behind will get an individualized plan within 30 days to help them catch up.
The reading assessments will begin in the 2024-2025 school year.
It's unclear how the program will be funded. The state Department of Education estimated that it would cost $70 million to $80 million to implement the requirements of the bill, with most of the money being spent on a mandate to train or retrain teachers on the science of reading, structured literacy and foundational literacy skills by July 2025. Lawmakers argued over the cost and removed some costly elements, such as instructional coaches that could help teachers correctly translate lessons into practice.
A companion law creates a 30-member Georgia Council on Literacy, which will help oversee the implementation of new literacy efforts and produce an annual report.