When "American Idol" was revived in 2018 on ABC, it came with a new judging panel that included Katy Perry, Luke Bryan and Lionel Richie.
It was a fresh start for the show on a new network, but over the past few months, "Teenage Dream" singer Perry has been under fire for harsh critiques, earning her comparisons to the original "mean" judge, Simon Cowell.
The most notable instance of Perry's so-called harsh judgments came in March, when she was accused of "mom-shaming" contestant Sara Beth Liebe in the audition room.
Liebe surprised judges when they learned she was a 25-year-old mother of three. Perry noted that she looked so young and fake fainted.
"If Katy [lies on] the table, I think I'm going to pass out," Liebe said. Perry responded, "Honey, you've been laying on the table too much."
Liebe performed, and the "California Gurls" singer asked her if singing was her dream. Liebe had revealed being a mother hadn't left her much time for herself and that she was trying for the first time outside of karaoke and church choir.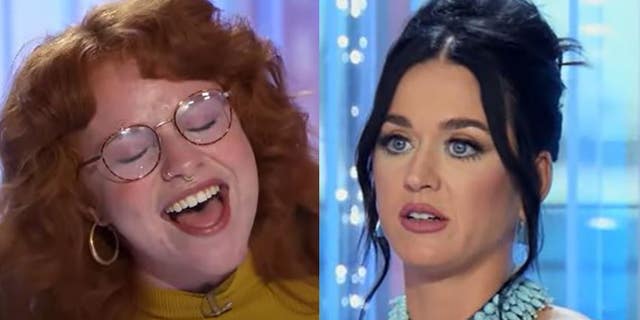 Fans came to Sara Beth Liebe's defense after they felt Katy Perry "mom-shamed" the contestant. (American Idol / YouTube)
KATY PERRY, PAT SAJAK, MAYIM BIALIK TRASHED BY FANS: TV HOSTS UNDER FIRE IN COMPETITION SHOWS
"If it's not your dream, you might need to leave because there's a lot of dreams behind you," Perry told Liebe, referring to other contestants waiting to sing.
Liebe ultimately went through to the next round after getting a chance to sing two different songs, with Perry being the deciding vote to let her through.
After the episode aired, Perry, despite being a mother herself, was accused of mom-shaming Liebe, with one commenter writing at the time, "A young mother following a dream while raising her children should be raised up not put down."
Liebe spoke out about the joke from Perry shortly after the controversy, saying on her social media at the time, "At the start of my audition before I sang, I mentioned that I have three children and was a young mother, and Katy Perry made a joke that wasn't super kind."
The mother of three continued in the competition until Hollywood Week, when she decided to leave the show to be with her family.
'AMERICAN IDOL' JUDGE KATY PERRY WEARS 'MAMA' HAT AFTER MOM-SHAMED CONTESTANT QUITS
The pop star's comments also drew comparisons to Cowell, one of the three original judges when "American Idol" began. Cowell was known for harsh assessments and reactions to contestants and was often dubbed "the mean one" compared to fellow original judges Paula Abdul and Randy Jackson.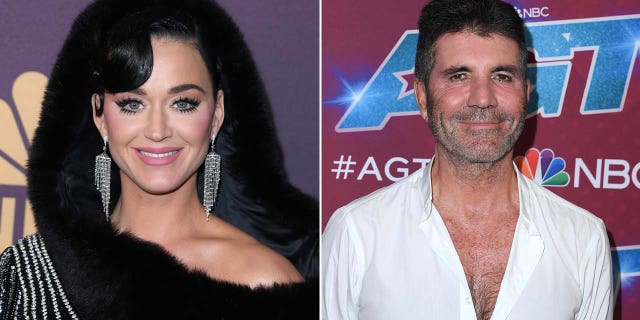 Katy Perry has drawn comparisons to original "American Idol" judge Simon Cowell for her harsh critiques and comments about contestants. (Steve Granitz / Getty Images / File)
"I haven't watched American Idol in some time but…is Katy Perry supposed to be Simon Cowell?" pondered one person on Twitter.
"Katy Perry is so mean on this season of American idol and it's icky. It wasn't okay when Simon did it, and it's not okay now," stated another.
A third wrote, "They let Katy Perry bully this woman on live national tv before she even started singing. So ugly."
Earlier this year, another former contestant, Adriel Carrion, posted a video on his TikTok that said he was "traumatized" by Perry's comments.
In the video, Carrion shared a clip from his audition in which he set up a duet of the Harry Styles song "Watermelon Sugar" with fellow contestant Anthony Guzman.
Before the duo began, Perry had been joking about "banning" the song from auditions due to its popularity. When they announced that was the song being performed, Perry exclaimed, "Is this 'Watermelon Sugar'? Oh f—!"
"It's the way that it's been three years, and I'm still traumatized by this moment," he explained. "I can be getting my beauty rest and all I hear in my nightmares, 'Not 'Watermelon Sugar.'"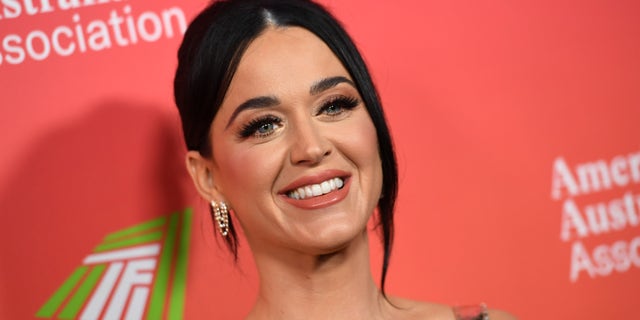 Katy Perry has been a judge on "American Idol" since it's revival on ABC in 2018. (JC Olivera via Getty Images / File)
SIMON COWELL REVEALS HOW HIS SON CHANGED HIS JUDGING STYLE: 'I HAVE MUCH MORE EMPATHY'
The backlash Perry has faced seems to be more intense than Cowell's. One reason is certainly the rise of social media, with viewers able to react in real time to episodes as they air. The original "American Idol" first aired on FOX in 2002, while Twitter didn't exist until 2006 before really taking off in 2007.
"Even though there should be no notable difference in holding public figures equally accountable, whether you're Katy Perry or Simon Cowell, unfortunately we live in a world where women are at times held to different standards and scrutinized under a microscope that men are not," says Kara Schmiemann, strategic communications director for public relations firm Red Banyan.
Schmiemann added, "Also, there's often no rhyme or reason why some celebrities are given more benefit of the doubt than others, but one notable distinction is that Cowell built his brand on his harsh and biting rhetoric and persona."
Perry's public persona has trended toward colorful, playful and fun throughout her career, from her music videos to her red carpet fashion. In 2014, Vogue dubbed her the "Queen of Camp" for playful looks, such as the memorable peppermint swirl dress with an actual rotating bust.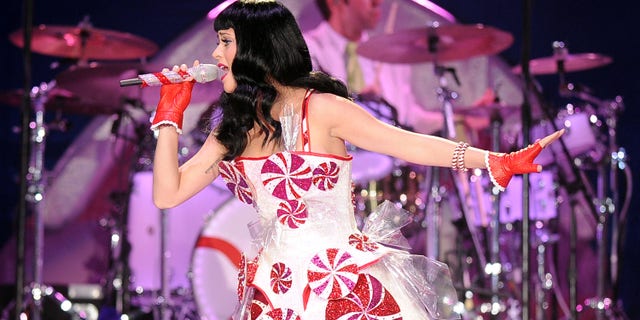 Katy Perry performs during the North American leg of her "California Dreams Tour 2011." (Kristian Dowling / File)
There's also her award-winning and platinum career. Her 2010 album, "Teenage Dream," become the first album by a female artist to produce five No. 1 Billboard Hot 100 singles and the second album overall after Michael Jackson's "Bad."
The contrast between her public-facing personality and career with Cowell is stark. The British judge, prior to being put in the spotlight on "American Idol," was mostly a behind-the-scenes producer. And as far as fashion goes, Cowell was known mostly for wearing black or other neutral colored T-shirts with deep V-necks.
SIMON COWELL SHOWS OFF DRAMATIC WEIGHT LOSS AFTER LOSING 20 LBS
Kathy Fielder of Kathy Fielder Designs said the Cowell comparisons are "incomparable because she is a strong woman with her own voice. Ms. Perry has her own career, she's not trying to emulate Mr. Cowell, she is being true to herself and her own platform."
"Simon Cowell brought brutal commentary to 'American Idol,'" Fielder continued. "Ms. Perry has always been a polarizing figure in her own right outside 'American Idol,' comparing her to Simon Cowell is not doing her justice as the mega-star that she is on her own accord."
Some of Perry's earlier controversies include the content of her breakout hit, "I Kissed a Girl," various fashion and costume choices that have been deemed culturally insensitive, such as wearing a Geisha-inspired outfit for a performance at the AMAs in 2016, and her one-time beef with Taylor Swift.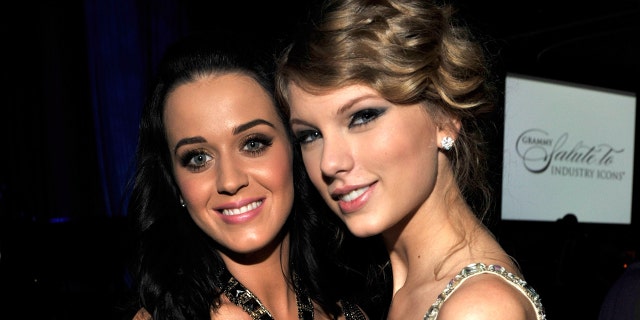 Katy Perry and Taylor Swift had an ongoing feud in the 2010s reportedly over backup dancers. The singers later healed their rift in Swift's music video for "You Need to Calm Down." (Kevin Mazur / WireImage / File)
"Katy Perry is a pop star and knows the struggle of the music industry better than anyone, as a mega-star as well as a female star," Fielder said. "She has always had a platform, sound and look of her own that she embraces and that propelled her to stardom. She's been criticized in the past for all of these things and has stayed true to her brand throughout, not changing and morphing to conform to what the masses may deem more acceptable."
CLICK HERE TO SIGN UP FOR THE ENTERTAINMENT NEWSLETTER
In all the social media back and forth from contestants, Perry has not responded or commented to contestants or fans.
And recently, despite another social media uproar, an "American Idol" hopeful actually apologized to Perry.
In an early April episode, Perry called out two contestants who struggled to connect during the duet round of Hollywood Week. The pop star commented that the performance given by Carina DeAngelo, 25, and Nutsa Buzaladze, 25, was "underwhelming."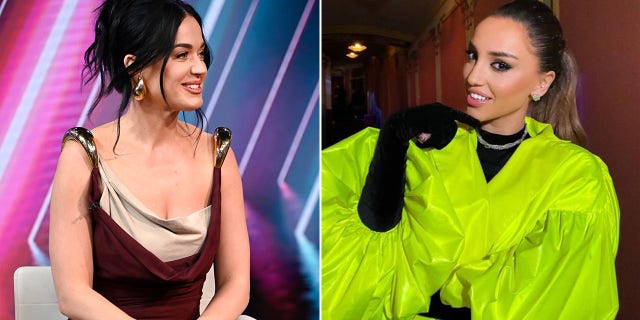 Katy Perry, left, and Nutsa Buzaladze (Paula Lobo / Getty / File | Nutsa Buzaladze / Instagram)
"I just think the energy was broken between both of you, and so I think you couldn't give each other the energy you both needed, that you both deserved," Perry said.
The 38-year-old was criticized online for being "condescending."
"Katy is so rude and condescending to the contestants unless it's a male cutie then she acts like a teenage fool," one user commented on a photo shared by host Ryan Seacrest following the show.
However, the next episode, Buzaladze took a moment to apologize to her about the previous performance.
"Katy, I wanted to apologize because I felt very bad when you said to me, 'More grace, more grace,'" Buzaladze said.
KATY PERRY BLASTED FOR BEING 'CONDESCENDING' ON 'AMERICAN IDOL' FOLLLOWING MOM-SHAMING DRAMA
"And I wanted to, like, tell also my side of the story," she continued, "and I felt so bad, I was, like, frozen. Then I didn't want to bring negative energy, so that's why I didn't say nothing. I thought that because I didn't speak up that I could not really speak because I did not want to cry onstage, but after I left the stage, I was just, like, destroyed, so I wanted to apologize for this."
Perry hugged Buzaladze, and said, "I really relate to you because I know what it means to be a strong woman and to want to be strong and to never break and to never feel like anything could get to me, but that's not real."
Buzaladze performed and went on to the next round of the competition.
Host Ryan Seacrest cheered the moment on social media, writing at the time, "This moment between @katyperry and @nutsabuza is everything."
Fielder noted, "She understands better than most the criticism, scrutiny and microscope this industry puts you under. In a time where we want to hand out participation trophies, Ms. Perry is keeping it real. It appears she sees the value in toughening up contestants' skin and teaching them an invaluable lesson about the industry while providing a little perspective."
The lasting effect, if any, of Perry's Cowell comparisons remain to be seen.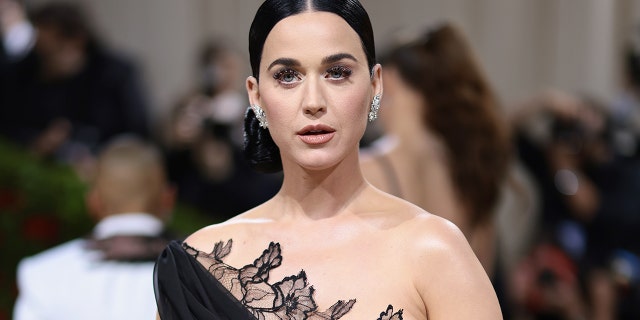 Katy Perry has a Las Vegas residency ending in the fall but no other announcements on touring or releasing a new album since her 2020 album "Smile." (Dimitrios Kambouris / Getty Images for The Met Museum / Vogue / File)
CLICK HERE TO GET THE FOX NEWS APP
The singer has not made any mention of leaving the show soon and is wrapping up her Las Vegas residency in the fall.
"It depends on how she does or does not respond to the criticism," Schmiemann said of Perry's future. "But something like this can be easily remedied with a proper apology and accountability and forgotten in the blink of an eye."