Kate Middleton has got on her dancing shoes!
Although it was unintentional, Middleton's footwork from her February 2022 visit with Queen Margrethe and Crown Princess Mary of Denmark is having a viral moment.
The video resurfaced via TikTok with the caption, "Royal fans are going crazy for the 'Princess Shuffle' that Kate uses to discreetly get closer to people in pictures!"
PRINCE HARRY AND PRINCE WILLIAM'S FEUD WEIGHS 'HEAVILY' ON KATE MIDDLETON, EXPERTS CLAIM: 'EVERYONE IS HURT'
In the 11-second clip, Middleton is seen shuffling her feet closer to Queen Margrethe. The two, along with Crown Princess Mary of Denmark, posed for a picture at the Queen's Christian IX's Palace.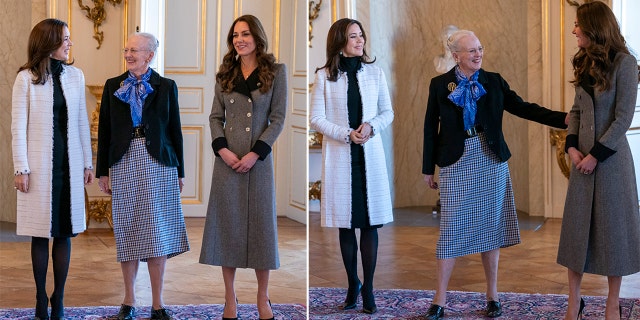 Kate Middleton's "princess shuffle" went viral ahead of King Charles' coronation. (Getty Images)
The Queen reached out her arm to hint at Middleton to move in closer for the photo.
The next scene in the video showed a red circle around Middleton's feet for fans to focus on her groovy dance moves.
Middleton is seen subtly sliding her heels over, with upbeat music playing in the background.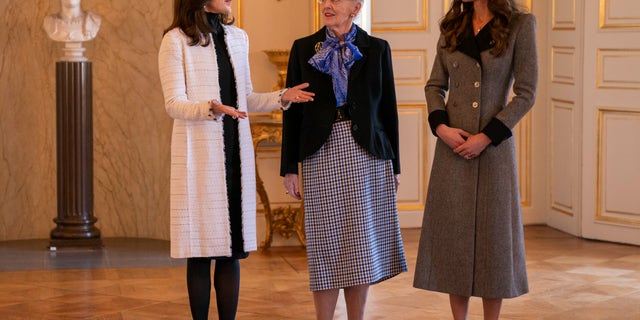 Kate Middleton's footwork had a viral moment during her February 2022 visit with Queen Margrethe and Crown Princess Mary of Denmark. (Getty Images)
PRINCE WILLIAM AND KATE MIDDLETON SNUB PRINCE HARRY AND MEGAN MARKLE WHILE PAYING TRIBUTE TO QUEEN ELIZABETH
The last few seconds of the clip zoomed in on the Princess of Wales' heels for fans to see the move one last time.
The viral video has racked nearly two million views and royal fans were quite impressed with Middleton's footwork.
"The princess shuffle! I love everything about this," one TikTok user wrote.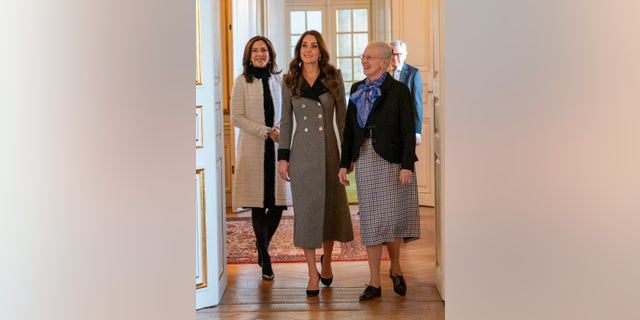 Catherine, Duchess of Cambridge is welcomed by Queen Margrethe II and Crown Princess Mary of Denmark during an audience at Christian IX's Palace on Feb. 23, 2022. (Getty Images)
"Shufffffffle!! Discreet and elegant love you Kate," another fan added.
Others noted that Middleton's footwork was flawless. "And in heels! I would definitely get caught on the carpet and wipe out," wrote one.
Middleton's "princess shuffle" comes ahead of her father-in-law King Charles III's coronation on May 6.
However, amid the joyous celebration, tensions remain high between her husband, Prince William, and his brother, Prince Harry.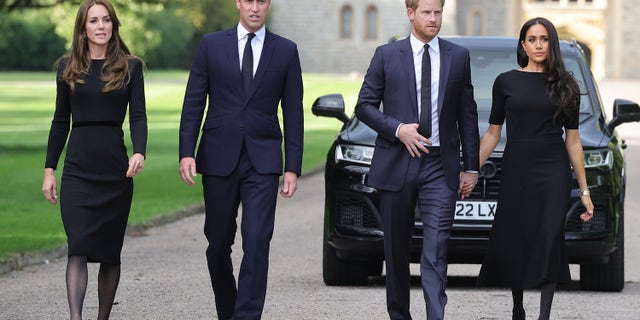 Meghan Markle and Prince Harry hold hands while walking at Windsor Castle with Prince William and Kate Middleton to view flowers and tributes to Queen Elizabeth II. (Chris Jackson)
A source recently told People magazine that it was the Princess of Wales who came up with the idea to step out with the Duke and Duchess of Sussex following Queen Elizabeth II's death in September. The insider alleged it was meant to be a first step in reconciliation between the brothers and their wives — one that proved to be difficult for everyone involved.
"Kate certainly had to have talked Prince William into making that appearance with his brother outside Kensington Palace," Christopher Andersen, author of "The King," told Fox News Digital. "William certainly was in no mood to make nice with Prince Harry, and by all accounts still isn't. Whenever these four are together, I don't think we have seen anything but forced smiles on all their faces."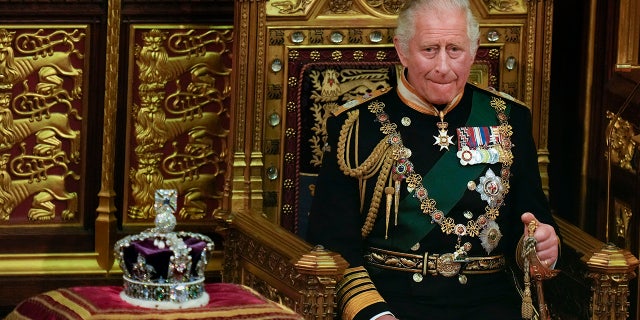 King Charles III's coronation is set to take place May 6. (Alastair Grant)
CLICK HERE TO SIGN UP FOR THE ENTERTAINMENT NEWSLETTER
Buckingham Palace announced that Harry will attend his father's coronation. However, it is believed that Harry and William will keep their distance.
CLICK HERE TO GET THE FOX NEWS APP
Harry will be flying solo, while his wife Meghan Markle stays in California with their two children, Prince Archie and Princess Lilibet.
Fox News Digital's Stephanie Nolasco contributed to this report.