A London Pride parade was interrupted by the climate change activism group Just Stop Oil after protesters halted a truck by sitting in the middle of the road.
On Saturday, videos emerged online showing nine members of the group marching onto the street and sitting in front of a Coca-Cola truck carrying multiple people. According to a statement from their website, the protest emerged after London Pride refused to give into demands regarding the parade's sponsors.
"This afternoon's action comes after LGBTQ+ representatives from Just Stop Oil met with London Pride to discuss their demands, after it was revealed Just Stop Oil would consider disrupting the event. London Pride have so far failed to make a commitment to take necessary steps to protect the LGBTQ+ community from the unfolding climate collapse, and have failed to address their relationship with destructive industries co-opting Pride to 'pinkwash' their reputations," the statement read.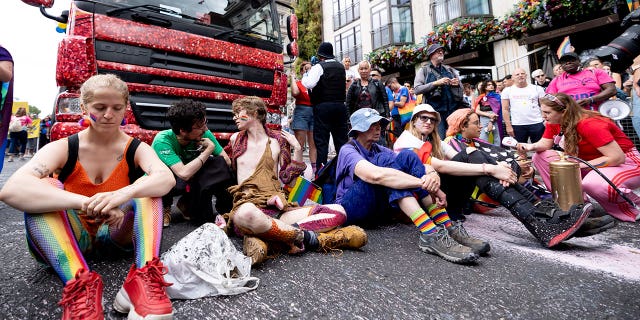 Protesters from Just Stop Oil are seen refusing to leave after they disrupted the Pride Parade London 2023 with spray pink paint to the vehicle from Coca Cola. Multiple protests happened on the side while crowds cheer for the participants for Pride Parade London 2023.  (Getty Images)
CRICKET PLAYER CARRIES JUST STOP OIL PROTESTER OFF PITCH BEFORE MATCH
The Just Stop Oil organization has taken part in many controversial protests to raise awareness on climate change. Most notably, they were one of multiple groups who targeted and defaced priceless works of art such as Vincent van Gogh's "Sunflowers."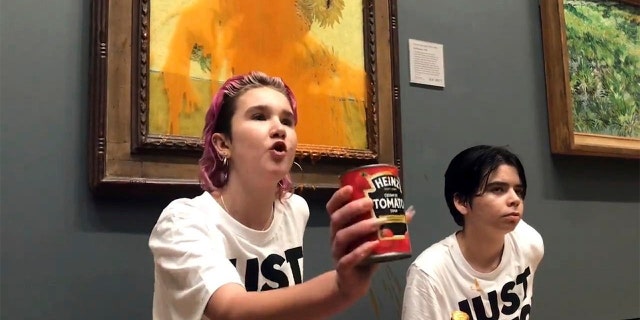 Handout photo issued by Just Stop Oil of two protesters who have thrown tinned soup at Vincent Van Goghs famous 1888 work Sunflowers at the National Gallery in London, Friday Oct. 14, 2022.  (Just Stop Oil via AP)
The group has since seen major backlash from London citizens, leading to hostile and even violent confrontations. In May, when the group continued its pattern of blocking traffic, a commuter shoved a protester to the ground. Though the commuter was arrested at the time, the protesters were not, prompting further criticism from the onlookers.
ANGRY COMMUTERS UNLEASH ON CLIMATE PROTESTERS BLOCKING TRAFFIC AS COPS WATCH
Fox News Digital reached out to London Pride for a comment.