Criminal or martyr? People can never seem to agree on which label to give infamous info leaker Julian Assange.
The WikiLeaks founder accused of publishing classified U.S. military information looks at up to 175 years in prison if extradited to the U.S. from his current location in a high-security U.K. prison.
His father and brother are among those heralding him as a hero, reiterating their belief in a recent appearance on Fox Nation's "Piers Morgan: Uncensored."
"Everything that Julian published was in the public interest and he partnered with these media organizations… so you're talking about all the largest media organizations around the world that published this exact same information," Gabriel Shipton, Assange's brother, said.
JULIAN ASSANGE'S BROTHER AND FATHER SPEAK OUT OVER HIS DETAINMENT, CALL FOR CHARGES TO BE DROPPED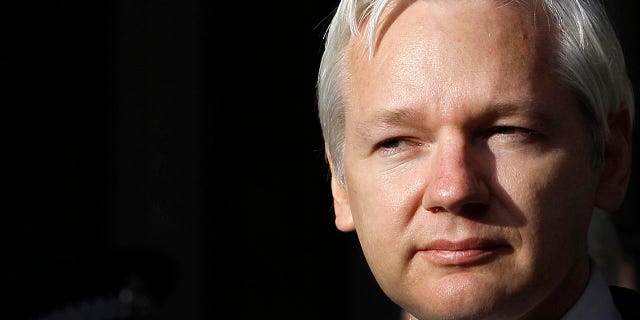 WikiLeaks founder Julian Assange pauses as he makes a statement to media gathered outside the High Court in London, on Monday, Dec. 5, 2011. ((AP Photo/Kirsty Wigglesworth, File)
Shipton fired back at former U.S. National Security Adviser John Bolton, who recently remarked that Assange committed "clear, criminal activity" that placed "many people in jeopardy" and that he deserves to be prosecuted to the fullest extent for the leaks.
"People like [him], they would like to be able to classify everything so that the public had no idea what the governments that they elected were getting up to, and I think, particularly in the United States now, you're seeing a larger and larger movement for government accountability," he continued.
Shipton claimed the public is becoming aware that classifying documents is allegedly an overused action, pointing to examples from some of the nation's most prestigious political leaders, including President Biden and former President Donald Trump who were both subjected to classified documents scandals in recent months.
US CHARGES WIKILEAKS FOUNDER WITH PUBLISHING CLASSIFIED INFO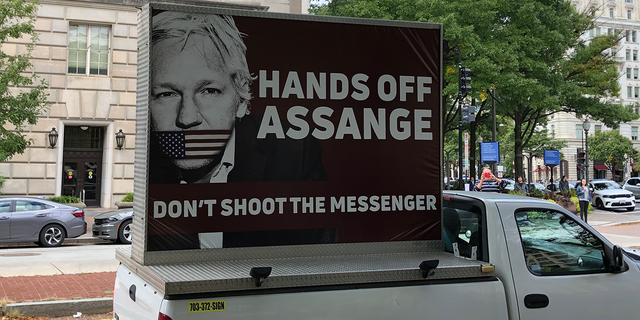 Julian Assange protest at the Justice Department (Fox News Digital/Landon Mion)
"This over-classification of documents so that the public doesn't understand what the government is doing is really a problem for democracy," he argued, adding that the public reserves the right to know what actions their governments are taking in their name.
John Shipton, Assange's father, sat alongside Gabriel for the interview, discussing Assange's arrest and how the world views his crime of sharing too much.
"You deal with each day as it comes…. the ending will be the yearning for justice in people's heart and the revulsion that injustice will prevail in this matter," he said. He continued, claiming that several civil society organizations have pled for Attorney General Merrick Garland to drop charges against Assange.
REP. RASHIDA TLAIB URGES FELLOW HOUSE MEMBERS TO DEMAND DOJ DROP CHARGES AGAINST JULIAN ASSANGE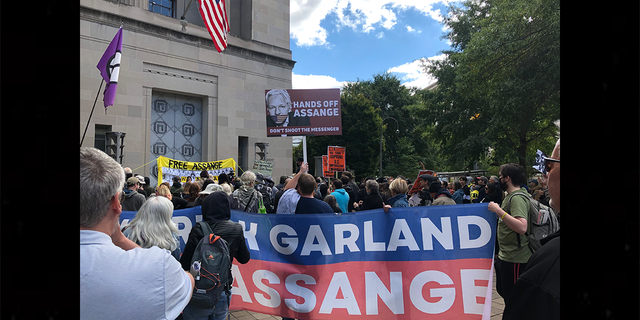 Julian Assange supports gather at the DOJ (FOX News Digital/Landon Mion)
Among the prominent voices calling for the charges against Assange to be dropped is Michigan Rep. Rashida Tlaib, D., who urged her fellow House members to sign a letter calling on the Department of Justice to end its prosecution against the WikiLeaks founder.
The letter, signed by several congressional Democrats, allege Assange "is being prosecuted under the notoriously undemocratic Espionage Act" and that the move violates freedom of the press guaranteed by the First Amendment.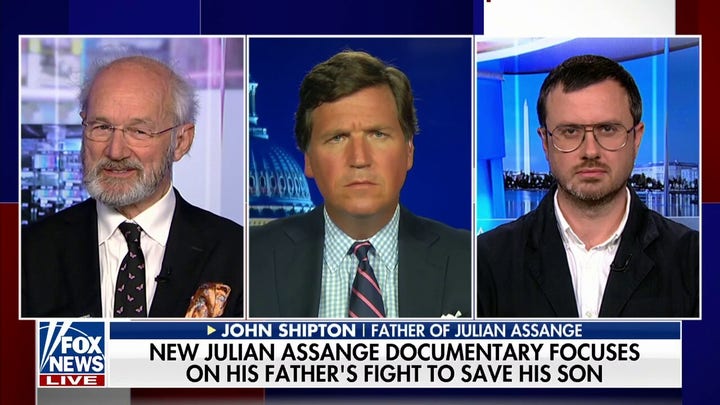 Video
Fox News' Landon Mion contributed to this report.