A federal judge on Wednesday agreed to delay a detention hearing for Massachusetts Air National Guardsman Jack Douglas Teixeira, granting a request from the defense.
Teixeira also waived his right to a preliminary hearing Wednesday, according to court documents, and he made a brief appearance in Boston's federal courthouse.
The detention hearing previously scheduled for Wednesday was postponed for around two weeks, and Teixeira will continue to be detained. No firm date was decided on during Teixeira's brief appearance.
PENTAGON LEAK SUSPECT SEARCHED 'LEAK' ON CLASSIFIED NETWORK AFTER STORY BROKE: FBI
"The defense requires more time to address the issues presented by the government's request for detention," Teixeira's attorney Brendan Kelley wrote Wednesday.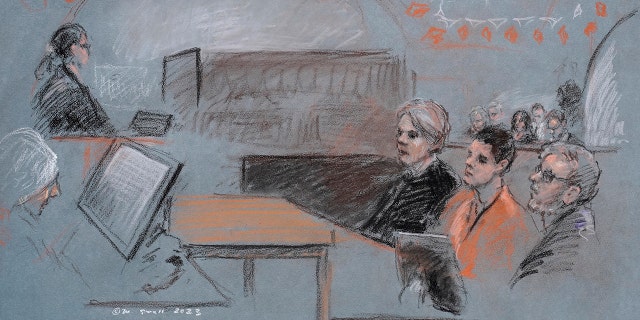 Massachusetts Air National Guardsman Jack Teixeira, seated second from right, appears in U.S. District Court, in Boston, Wednesday, April 19, 2023. (AP Photo/Margaret Small)
Wearing an orange prison jumpsuit, Teixeira walked into the courtroom wearing and was unshackled before sitting between his lawyers. Teixeira briefly looked back at his father, and when the hearing ended, the suspect was handcuffed again.
PENTAGON LEAK SUSPECT JACK TEIXEIRA CHARGED IN FEDERAL COURT, TELLS DAD 'I LOVE YOU'
FBI agents arrested Teixeira at a home in North Dighton, Massachusetts, Thursday in connection with a trove of classified documents that have been leaked online in recent months.
Teixeira, who joined the Air National Guard in September 2019, held the highest level security clearance granted by the federal government for top-secret information, according to an internal Department of Defense email reviewed by Fox News.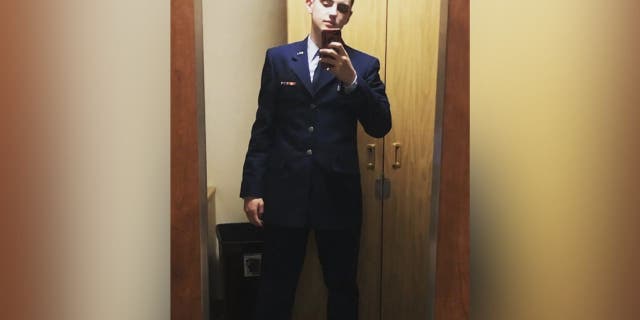 Selfie of Jack Teixeira, the 21-year-old National Guard Airman accused of leaking classified information. (Facebook)
WHO IS JACK TEIXEIRA, THE AIR NATIONAL GUARDSMEN ALLEGEDLY BEHIND LEAKED CLASSIFIED DOCUMENTS?
Teixeira was most recently stationed at Otis Air National Guard Base as a member of the of 102nd Intelligence Wing. He was promoted to Airman 1st Class in July, according to the unit.
Attorney General Merrick Garland said Teixeira, 21, is being investigated for the "alleged unauthorized removal, retention and transmission of classified national defense information."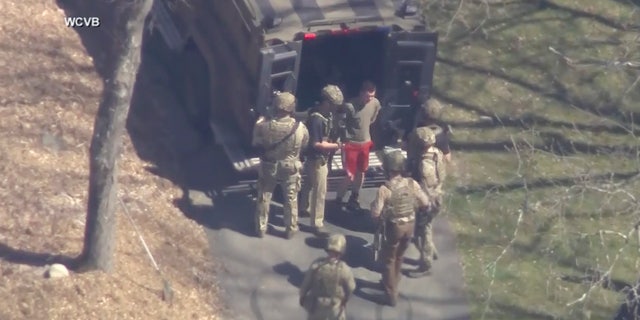 This image made from video provided by WCVB-TV, shows Jack Teixeira, in T-shirt and shorts, being taken into custody by armed tactical agents on Thursday, April 13, 2023, in Dighton, Mass. (WCVB-TV via AP)
Teixeira allegedly starting sharing classified documents with the private group in recent months, but the leaks gained wider attention after another member shared them in a public forum, according to the report.
CLICK HERE TO GET THE FOX NEWS APP
The leaked documents mainly concern Russia's invasion of Ukraine but also include intelligence on China, the Middle East, Israel's spy agency Mossad and world leaders.
Fox News' Greg Norman, David Spunt, Liz Friden, Gillian Turner, Jake Gibson and Paul Best contributed to this report.