Johnny Depp spent the last year proving he is still a major force in Hollywood.
His highly publicized defamation trial with ex-wife Amber Heard came to a conclusion exactly one year ago.
During their bombshell six-week court battle, the 59-year-old actor and 37-year-old actress both testified, lobbing shocking allegations of physical and sexual abuse against each other. On June 1, 2022, a Virginia jury ruled largely in Depp's favor, as they found Heard liable on all three counts of defamation stemming from a 2018 Washington Post op-ed in which she referred to herself as domestic abuse survivor.
She was ordered to pay Depp $8.35 million in damages. Depp, who was found guilty on one count of defamation in Heard's countersuit, was to pay his former spouse $2 million. Though the two both appealed the verdict, they reached a settlement in December with Heard agreeing to pay Depp $1 million, which he pledged to donate to charity.
"The best is yet to come and a new chapter has finally begun," he added.
Last summer, Depp performed alongside the late Jeff Beck at several shows in Europe. In July, the two debuted their first joint studio album "18," which would be the legendary guitarist's final release before his death at the age of 78 in January.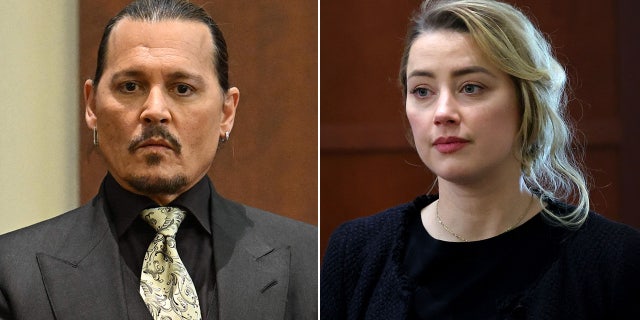 The verdict was mostly considered a win for Depp after a jury found his ex-wife Amber Heard liable on all three counts of defamation related to a 2018 op-ed that she wrote in which she referred to herself as a domestic abuse survivor. (Getty Images)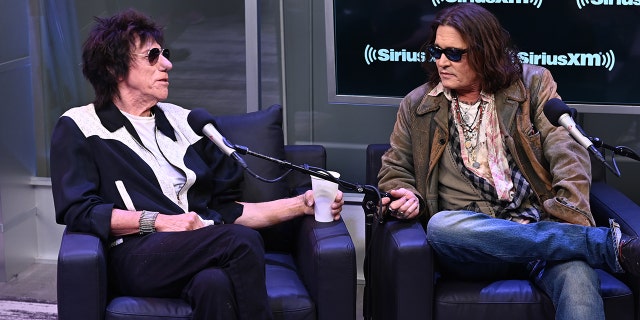 Depp and the late Jeff Beck debuted their first collaborative album last summer, which would be the legendary guitarist's last release before his death in January. (Noam Galai/Getty Images for SiriusXM)
Depp and Beck also embarked on a 29-date tour in support of the album from September to November of last year.
A month later at the MTV Video Music Awards, Depp made a surprise virtual appearance as the network's iconic Moonman. The cameo saw the "Edward Scissorhands" actor's face projected on an astronaut suit that floated above the stage.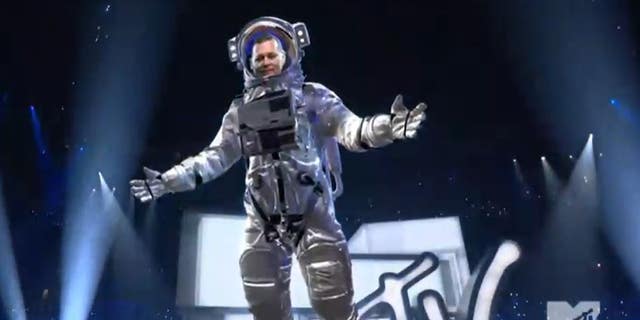 The actor made a surprise appearance as the VMAs moonman throughout the night at the MTV Video Music Awards last August. (MTV)
"You know what? I needed the work," he said in a pre-recorded video.
Later in the show, Depp reappeared, saying, "Hey VMAs, let's get back to the f–king music, shall we?" In his final appearance, the Golden Globe winner joked, "I just want you guys to know that I'm available for birthdays, bar mitzvahs, bat mitzvahs, weddings, wakes — any old thing you need. Anything. You name it. Oh, I'm also a dentist."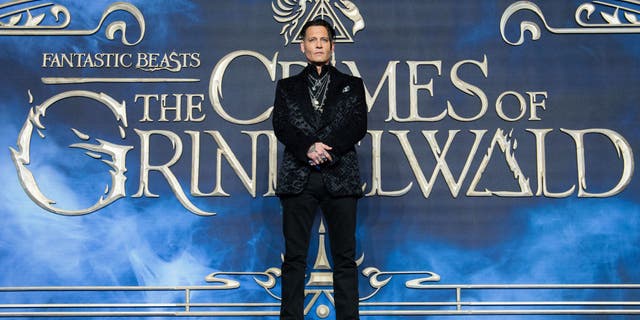 In 2020, Depp was dropped from the "Fantastic Beasts" franchise over Heard's allegations. (Jeff Spicer/Getty Images)
In 2020, Warner Bros. asked Depp to resign from his role as Gellert Grindelwald in the third installment of the "Fantastic Beasts" franchise. Depp, who had played the dark wizard in 2016's "Fantastic Beasts and Where to Find Them" and 2018's "Fantastic Beasts: The Crimes of Grindelwald" was replaced by Mads Mikkelson in 2022's "Fantastic Beasts: The Secrets of Dumbledore."
During the trial, Depp said he was also fired from the sixth installment of the "Pirates of the Caribbean" franchise. Depp, who starred as Captain Jack Sparrow in the blockbuster film series' five previous movies, testified that Disney cut ties with him after Heard's op-ed was published.
'PIRATES OF THE CARIBBEAN' PRODUCER SAYS HE WOULD 'LOVE' TO SEE JOHNNY DEPP RETURN TO THE FRANCHISE
The outlet reported that Depp teared up upon receiving a seven-minute standing ovation following the screening. During a press conference to promote the film, Depp opened up about how he felt he was treated by Hollywood amid his years-long legal battle with Heard.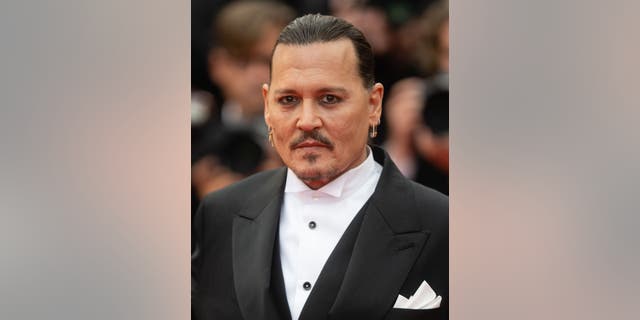 The star made his return to the red carpet at the 76th Annual Cannes Film Festival. ( Samir Hussein/WireImage)
"Did I feel boycotted by Hollywood? Well, you'd have to not have a pulse to feel at that point like this was all just a weird joke," he said per Variety.
"Of course, when you're asked to resign from a film you're doing because of something that's merely a bunch of vowels and consonants floating in the air, yes, you feel boycotted," he added, referring to losing his role in "Fantastic Beasts."
Depp also took issue with his return to the big screen being described as a "comeback."
"I've had my 17th comeback, apparently" he said. "I keep wondering about the word 'comeback,' because I didn't go anywhere," adding, "I live about 45 minutes away."
JOHNNY DEPP'S EX-WIFE AMBER HEARD SPOTTED JOGGIN IN SPAIN AFTER REPORTEDLY QUITTING HOLLYWOOD
"Johnny is doing fantastic. He really enjoys working and touring again. He has managed to turn his life around," the insider shared. "He is prioritizing his health and work."
"He was living a destructive life and people close to him were concerned," the source added. "Everyone is excited about how he turned things around. He is much happier too."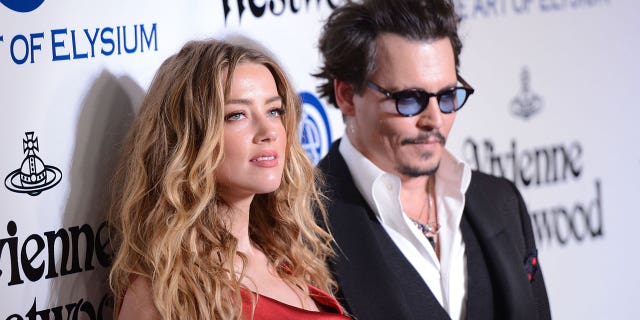 Heard and Depp were married from 2015 to 2017. (Getty Images)
In April, a source provided an update on Depp's personal life. "Johnny has been living in Europe since the trial. He has been dating, but doesn't have a girlfriend," the insider told People magazine.
Earlier this month, Depp signed a reported historic deal to remain the face of Dior men's fragrance Sauvage. According to Variety, Depp inked a more than $20 million three-year deal with Dior, which is the highest for any men's cologne.
Depp hit a minor roadblock this week, announcing he had postponed several dates on his upcoming tour with his band the Hollywood Vampires due to an ankle injury that he sustained at Cannes. He took to Instagram to apologize to fans for the cancelation of his upcoming concerts.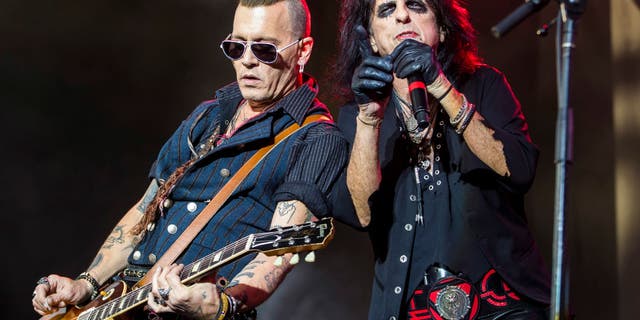 Earlier this week, Depp announced that he was postponing tour dates with his band the Hollywood Vampires due to an ankle injury. His bandmates include Alice Cooper, Tommy Henriksen and Joe Perry.  (MICHAEL CAMPANELLA/Redferns)
"My dear friends, I am sorry to say that I have fractured my ankle, which is a drag!!!" he wrote.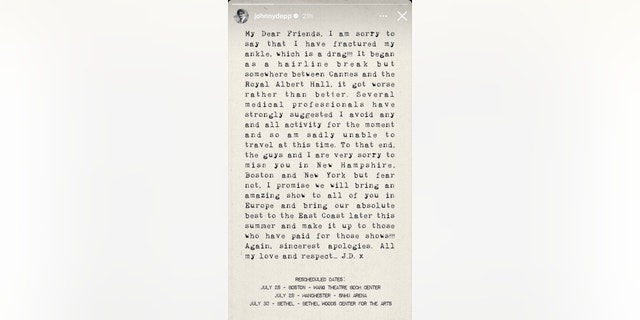 The guitarist took to social media to apologize to fans.  (Instagram)
Paid tickets will be honored for the new dates on July 28, 29 and 30.
CLICK HERE TO GET THE FOX NEWS APP
"Again, sincerest apologies. All my love and respect… J.D. x," he concluded.