Tennessee state Rep. William Lamberth, R., came under fire from comedian John Oliver last week following the contentious debacle that rocked the state House of Representatives and led to the expulsion of two Democratic lawmakers who disrupted proceedings by leading a protest on the House floor.
Lamberth, who represents an area northeast of Nashville, responded to state Rep. Gloria Johnson, D., in a recent video after she claimed she was the lone Democrat spared from expulsion after protesting with her colleagues Rep. Justin Jones, who is Black and Filipino, and Rep. Justin Pearson, who is also Black, and the two were later expelled.
"It might have to do with the color of our skin," Johnson told a reporter last week.
TENNESSEE DEMOCRATIC LEGISLATOR FACING EXPULSION CLAIMS 'NORTH KOREA HAS MORE DEMOCRACY THAN WE DO'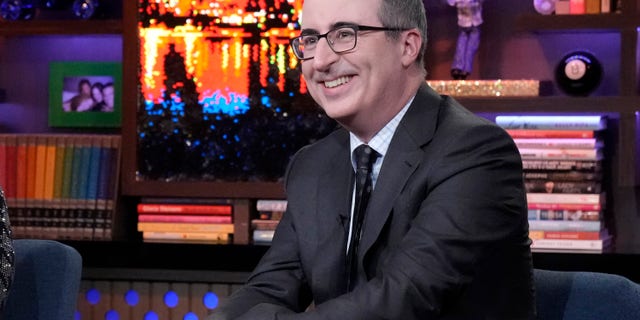 Pictured:John Oliver  (Photo by: Charles Sykes/Bravo via Getty Images)
Lamberth dismissed the notion, saying, "Our members literally didn't look at the ethnicity of the members that were up for expulsion."
Oliver, who roasted Tennessee Republicans during the show, used the opportunity to home in on Lamberth's statement.
"Ok, legally, I can't say that guy is lying," Oliver said. "Which is why it's going to be an interesting day for our lawyers tomorrow when they find out I said, 'That guy is definitely lying!' We literally don't see color is the universal tell for people who spent all day thinking about how they'd like to see less color."
DEMOCRAT LAWMAKER SUGGESTS SHE AVOIDED EXPULSION FROM TENNESSEE LEGISLATURE BECAUSE SHE IS WHITE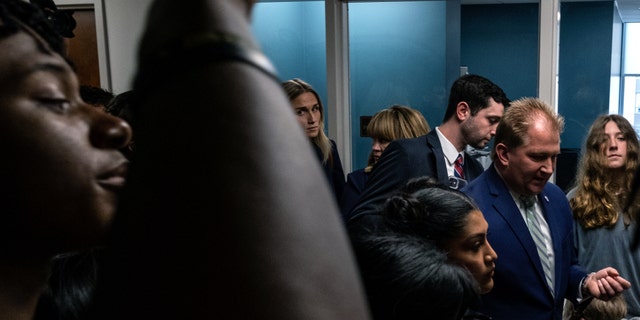 Republican Representative William Lamberth, R., speaks with students inside Cordell Hall in Nashville after students walked out of schools to gather at the Tennessee State Capitol building in protest to demand action for gun reform laws in the state. (Photo by Seth Herald/Getty Images)
The remarks coincided with others on Lamberth for his take on defending assault weapons, particularly one in which he stated the tragic Covenant School shooting was "not about this one gun."
"You're not going to like my answer… If there is a firearm out there that you're comfortable being shot with, please show me what it is," he continued.
Oliver mocked the response, saying, "That is a hall of fame s—y response. But also, if your opening is, 'you're not going to like my answer,' maybe start thinking of the better ones."
TENNESSEE'S GOP-LED HOUSE VOTES TO EXPEL DEMOCRAT JUSTIN JONES FROM LEGISLATURE FOR HIS ROLE IN GUN PROTEST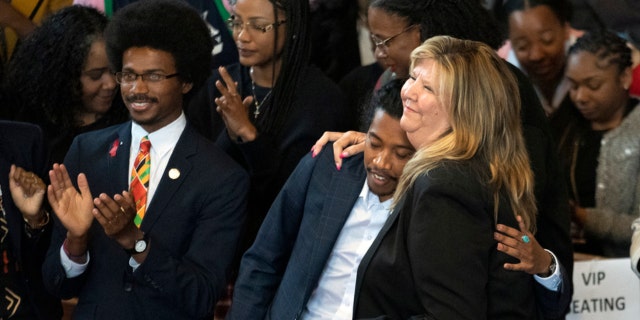 Expelled Rep. Justin Pearson, D-Memphis, from left, expelled Rep. Justin Jones, D-Nashville, and Rep. Gloria Johnson, D-Knoxville, are recognized by the audience at Fisk University before Vice President Kamala Harris arrives, Friday, April 7, 2023, in Nashville, Tenn.  ((AP Photo/George Walker IV))
He also roasted other Volunteer State Republicans, including House Speaker Cameron Sexton, for comments regarding the three Democrats under scrutiny, particularly Sexton's remark that "you can't prove" the representatives encouraged protesters to be violent.
The Republican-led Tennessee House voted to expel Jones and Pearson last week for their role in bringing the protests into the House chamber where they led protesters standing in the balcony in a chant while standing on the House floor.
CLICK HERE TO GET THE FOX NEWS APP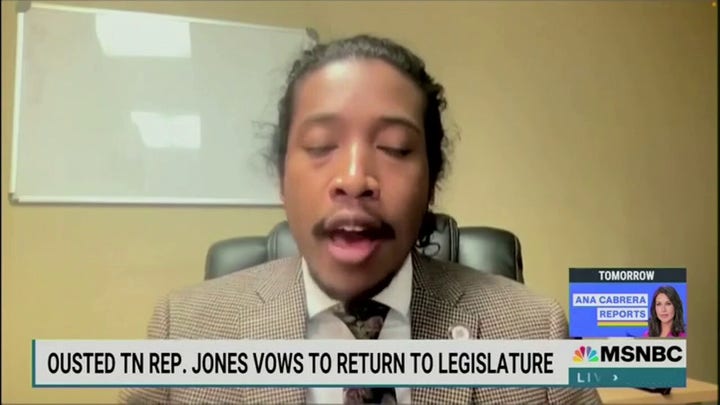 Video