"Jeopardy! Masters" became a contact sport on Monday evening when contestant James Holzhauer lashed out at fellow competitor Andrew He with his 2019 championship belt — all in jest, of course.
James playfully heaved the heavy belt in Andrew's direction after he teased him about having no money on the board.
"I'll bet $2,000 plus all of James' points," Andrew joked after landing on a Daily Double early in the show.
"Yeah, I think James's score is still on there, actually," host Ken Jennings piled on in a reference to when James teased Brad Rutter for having no money during a 2020 tournament the three competed in.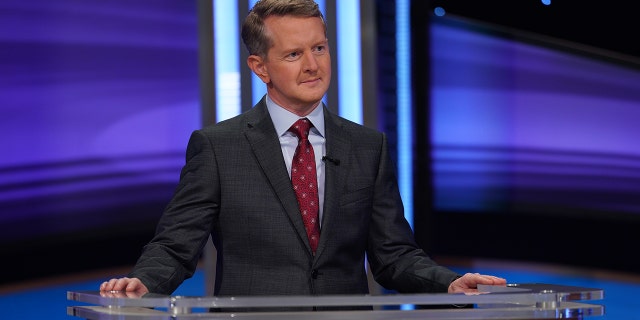 "Don't make me come over there," host Ken Jennings told James Holzhauer Monday after the competitor made a joke out of his Final Jeopardy answer at the host's expense.  (Christopher Willard/ABC via Getty Images)
The Daily Double was only the fourth clue of the night and competitor Sam Buttrey, who managed to stay out of the fray, was also at zero.
CLICK HERE TO SIGN UP FOR THE ENTERTAINMENT NEWSLETTER
Jennings joked about James bringing his belt at the top of the show: "Only one of them has brought a foreign object to the ring: James' championship belt. I don't know what's next. Folding chairs?" he suggested, referencing the use of folding chairs to hit opponents in professional wrestling. "Anything can happen out here."
Jennings quipped, "Don't make me come over there. I know you've got the belt." "Oh yeah," James answered, holding it up. "Let's go. Let's go, buddy. Come on."
Jennings replied he didn't think "I have any weapons at all at my lectern."
CLICK HERE TO GET THE FOX NEWS APP