Jana Kramer shared that her 4-year-old son Jace is home from a hospital and recovering after undergoing surgery to remove a nevus sebaceous birthmark.
On Tuesday, the 39-year-old country singer uploaded a photo of Jace in which the birthmark could be seen on the side of his scalp. She explained that Jace's doctor recommended that the lesion be removed to eliminate the risk of it developing into skin cancer.
"These lesions appear at birth as a yellow-tan plaque and are most commonly located in the scalp," the "Dancing With The Stars" alum wrote on the image she posted on her Instagram story.
JANA KRAMER SAYS EX, WHO ALLEGEDLY CHEATED WITH MORE THAN 13 WOMEN, WOULD HAVE BEEN UNFAITHFUL 'FOREVER'
Jana Kramer's 4-year-old son Jace is home from the hospital after undergoing surgery.  (Jana Kramer Instagram)
"After puberty, these lesions tend to become raised and thickened, and often become more visible and irritated.
"A small number of these lesions can go on to develop forms of skin cancer (usually basal cell cancer)," the "One Tree Hill" actress added. "Your doctor may ask that these lesions be surgically removed to prevent skin changes and possible skin cancer in the future.
"So Jace's doctor recommended to have it removed. Apparently at puberty the Nevus can grow large bumps."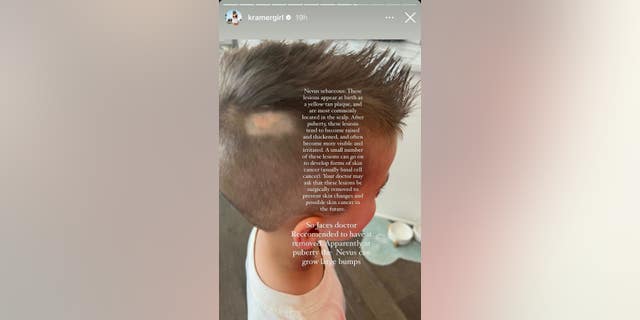 She shared that Jace had a nevus sebaceous birthmark on his scalp removed Tuesday. (Jana Kramer Instagram)
According to Healthline, a nevus sebaceous is a rare type of birthmark that usually occurs on the scalp but can also be found on the neck, face or forehead. Though a nevus sebaceoous is "technically classified as a hair follicle tumor," it is benign.
However, the lesion must be closely monitored for changes like "bumps or sores" as "certain types of skin cancer like basal cell carcinoma and squamous cell carcinoma may also occur in as many as 22% of patients with a sebaceous nevus," Healthline notes.
Kramer later shared a snap in which Jace was beaming and giving a thumb's up as he stood on a hospital bed.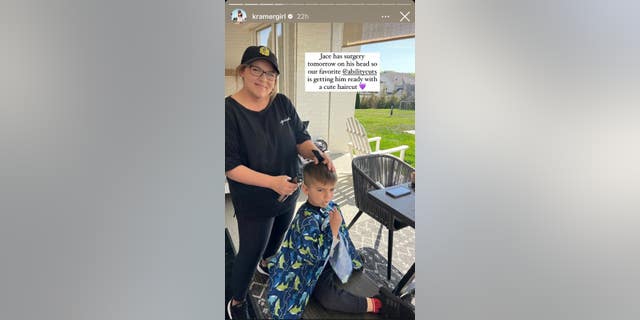 In another image the country star posted, Jace was getting a haircut ahead of his surgery.  (Jana Kramer Instagram)
"This photo was pre-removal," she wrote. "We are home now and it went great."
"Thanks for all the prayers and [red heart emoji]," Kramer added. "Vandy children nurses and staff are AMAZING."
On Monday, the Michigan native posted a photo of Jace getting his hair cut by stylist Elizabeth Cervantes, writing, "Jace has surgery tomorrow on his head so our favorite @abilitycuts is getting him ready with a cute haircut."
The "Dance in the Rain" singer shares Jace and daughter Jolie, 7, with her ex-husband Mike Caussin. They divorced in 2021 after almost six years of marriage. In October, Kramer alleged that the former NFL player cheated on her with more than 13 women during their relationship.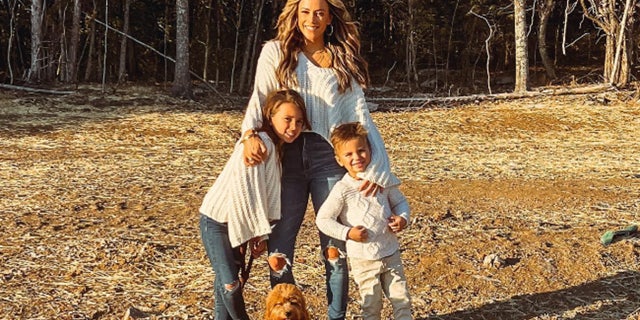 Kramer shares Jace and daughter Jolie with ex-husband Mike Caussin. (Jana Kramer Instagram)
The couple married in 2015 and, a year later, they separated for a year over his alleged infidelity, and the former Jacksonville Jaguards tight end sought treatment for sex addiction.
CLICK HERE TO SIGN UP FOR OUR ENTERTAINMENT NEWSLETTER
In February, the "One Tree Hill" alum shared she is dating professional soccer coach Allan Russell.
"I don't know if this is my forever person … but … I'm not going to push away love just because I've been hurt before," she said in a previous episode of her "Whine Down" podcast. "I'm going to embrace it. I'm going to have fun. And if it doesn't work out, well, you know what? I'm gonna learn a lot of lessons. And I had a lot of fun along the way."
 
 

 
 
View this post on Instagram
 

 
 
 

 
 

 
 
 

 
 

CLICK HERE TO GET THE FOX NEWS APP
She revealed last month that Russell hasn't met her ex yet, but she planned to introduce them at some point because he and Caussin will both be around her children.
On Monday, Kramer shared an Instagram video in which Russell was spending time with Jolie and Jace as he helped them spray paint their names on the floor of their rooms.
"Time to mark their new rooms. #newhouse," she wrote, adding a purple heart emoji.
Fox News Digital's Brie Stimson contributed to this report.