Agriculture Minister Francesco Lollobrigida was heavily criticized after suggesting that Italy should adopt policies to increase native birthrate instead of importing immigrants from abroad.
Lollobrigida is one of the close allies of Italian Prime Minister Giorgia Meloni in Italy's government. Meloni's conservative Brothers of Italy party was one of many conservative parties that have won major victories in Europe amid recent years of mass migration from Africa and the Middle East. Meloni in particular has won fame as Italy's first female Prime Minister, who has staked her political brand on being a Catholic and patriotic Italian mother. Her party appears to advocate similar values for Italy as a whole.
"We can't give in to the idea of ethnic replacement – 'the Italians are having fewer children, so we'll replace them with someone else.' That's not the way," Lollobrigida reportedly said at a trade union conference on Tuesday.
He also reportedly declared, "We have to incentivize births. We have to build welfare to allow everyone to work and have a family."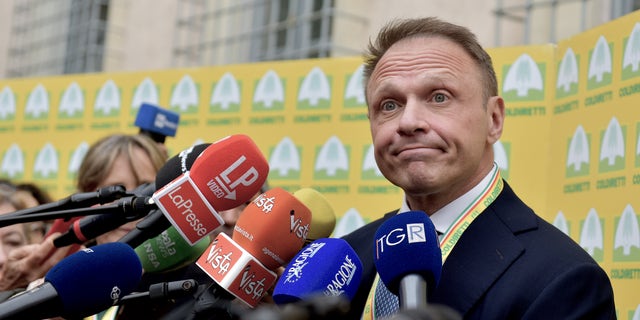 ROME, ITALY – DECEMBER 21: Francesco Lollobrigida, Minister of Agriculture and Food sovereignty, participates in the national assembly of Coldiretti ,on December 21, 2022 in Rome, Italy. (Photo by Simona Granati – Corbis/Corbis via Getty Images)
ITALY ESTIMATES 680K MIGRANTS IN LIBYA WANT TO CROSS MEDITERRANEAN SEA FOR EUROPE
The British Telegraph summarized he was "not against legal channels of immigration," but suggested that Italy should instead encourage Italians to "have more children through better childcare and work opportunities for women."
The Telegraph also observed that his comments came after "warnings that Italy's birth rate is so low that the population is expected to shrink by nearly nine million people by 2100," which is, "the most dramatic among the 27 countries of the EU, according to the Eurostat statistics agency."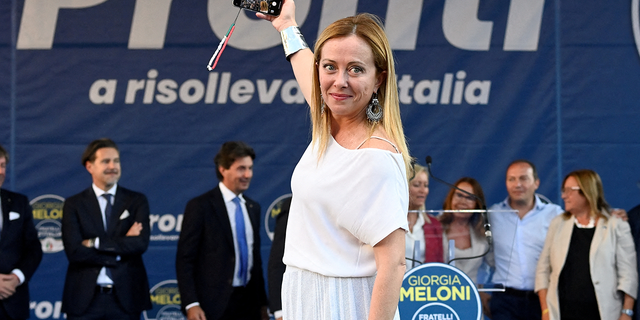 FILE PHOTO: Giorgia Meloni, leader of the Brothers of Italy party, takes a selfie during a rally in Duomo square ahead of the Sept. 25 snap election, in Milan, Italy, September 11, 2022. REUTERS/Flavio Lo Scalzo/File Photo (REUTERS/Flavio Lo Scalzo)
PIERS MORGAN ON ITALY ELECTIONS: PEOPLE ACROSS THE WORLD ARE FED UP WITH THE 'ULTRA-WOKE, LEFT AGENDA'
The same article also noted that there is "acute concern at the large number of migrants and refugees who are arriving from Libya and Tunisia. So far this year, 34,000 have landed in Italy – compared with 8,600 in the same period last year."
Italian Democratic Party leader Elly Schlein reportedly called Lollobrigida's rhetoric "disgusting" and claimed his words echoed of the fascist regime of Benito Mussolini. "The minister's words take us back to the 1930s. They are words that have a flavor of white supremacism," she said.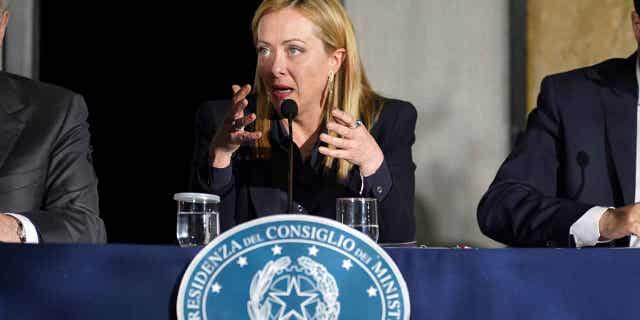 Italian Premier Giorgia Meloni presides over a Cabinet session in Cutro's town council hall, southern Italy, Thursday, March 9, 2023. Italian Premier Giorgia Meloni on Thursday brought her planned crackdown on people smugglers to a southern town near the coast where a wooden boat packed with migrants broke apart. (Antonino D'Urso/LaPresse via AP) (Antonino D'Urso/LaPresse via AP)
Filippo Sensi, a senator from the same left-wing party claimed Lollobrigida's words were "evoking the pseudo doctrine of ethnic replacement" and claimed he was "not fit to hold office".
On Thursday, Lollobrigida denied any bigoted intent, speaking out in an interview: "Defining Italians by skin color is a mistake, and anyone who does not understand the difference between ethnicity and race is a fool." He added, "I respect music or ethnic dishes regardless of the skin color of the person playing or cooking." Politico's headline read, "I'm not racist, Italian agri minister says after white nationalist remarks."