Illinois Gov. J.B. Pritzker is reportedly drawing White House speculation as Chicago prepares to host the 2024 Democratic convention.
Pritzker, a billionaire businessman and heir to the Hyatt hotel fortune who has contributed millions to Democratic causes and candidates, was a major proponent for his city getting the convention. The announcement last week that the DNC would choose Chicago over Atlanta in 2024, drawing ire from Georgia Democrats, elevated the governor's profile and is drawing speculation he might have aspirations for higher office.
After traveling to New Hampshire and Florida last year, Pritzker similarly stirred rumors he had eyes on the White House.
"It shows he has clout, to use a Chicago term," Dick Simpson, professor emeritus at the University of Illinois Chicago and a former city alderman, told The Hill. "It causes people to look at the governor more closely as a potential candidate.
GEORGIA DEMOCRATS SAY SNUBBING ATLANTA, CHOOSING CHICAGO FOR 2024 CONVENTION FELT LIKE 'SLAP IN THE FACE'
"And yes, it does position him because I'm sure he'll be offered a chance to give a major speech at the convention. It offers him a chance to become one of the early contenders for the 2028 presidential election."
"He's got a very progressive agenda, but he's also fiscally conservative. So I think even his harshest critics have to admit that he's been a good manager of the state's taxes," political operative Victor Reyes told The Hill.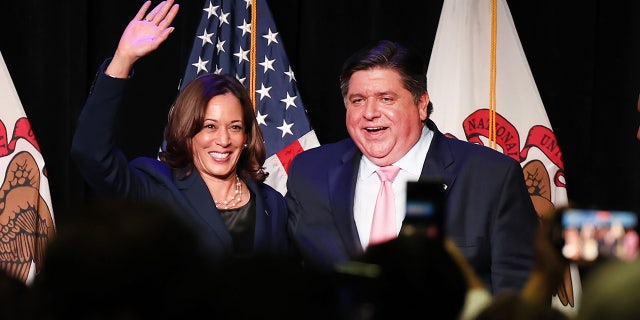 Vice President Kamala Harris rallies in support of Illinois Democrats with Gov. J.B. Pritzker on the campus of UIC Sept. 16, 2022, in Chicago. Pritzker is recently stirring White House speculation with the DNC going to Chicago.  (Scott Olson/Getty Images)
The DNC said Chicago represents the party's diversity and a "formidable coalition" and that the Midwest will "showcase President Biden's economic agenda," including spending on public works, as part of a sweeping bipartisan infrastructure package that cleared Congress in 2021. At a press conference, Pritzker, who vowed to contribute to some of the convention costs, which could run as high as $90 million, described Chicago as the "ideal" location for Biden and Vice President Kamala Harris.
Last month, Pritzker remarked on CBS's "Face the Nation" that no "serious" Democrats will enter the 2024 primary ring with Biden, who has not formally announced a re-election bid. The comment came just a day after Democrat Marianne Williamson officially announced her candidacy.
During his State of the State address in February, Pritzker did denounce "demagogues who are pushing censorship," taking thinly-veiled swipes at Florida Gov. Ron DeSantis, a presumed 2024 candidate for the White House. DeSantis has shied away from publicly announcing a challenge to former President Donald Trump for the Republican ticket. The political shots from Pritzker seemed to condemn DeSantis' administration for rejecting an AP course on African American Studies.
Since taking office in 2019, Pritzker, a self-described "pragmatic progressive," celebrated a slew of legislative victories aided by a Democratic supermajority in the state legislature. The governor signed laws to legalize marijuana for recreational use, raise the minimum wage by 2025 to $15 an hour and, more recently, to add legal protections for patients coming from outside of Illinois to get an abortion, The Hill noted.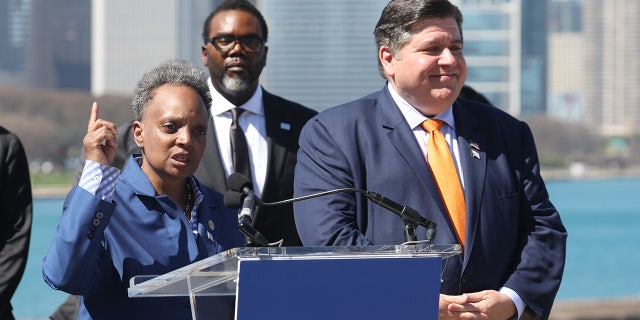 Illinois Gov. J.B. Pritzker, right, during an event to officially announce Chicago as the host city for the 2024 Democratic National Convention April 12, 2023, in Chicago. Chicago last hosted the convention in 1996.    (Scott Olson/Getty Images)
ILLINOIS GOVERNOR TAKES SWIPES AT DESANTIS WITH 'DEMAGOGUE' CLAIM
Over the past two years, The Hill also noted that Illinois has seen seven credit rating upgrades.
Pritzker, known for contributing financially to his own campaigns, also is a key donor for several Democratic groups like the Democratic Governors Association. He's used his personal wealth to put funds into critical battleground elections, like Michigan Gov. Gretchen Whitmer's re-election campaign and the Wisconsin Supreme Court race.
Fox News Digital reached out to Pritzker's office Wednesday but did not immediately hear back.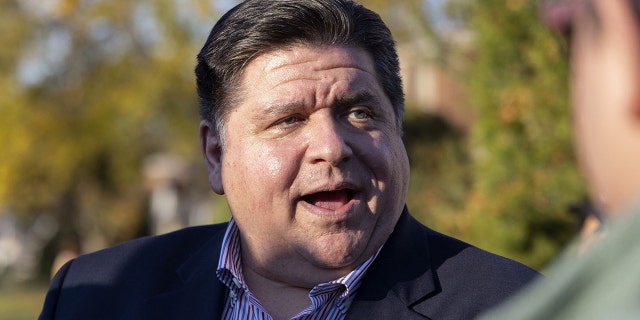 Gov. J.B. Pritzker is stirring rumors he has ambitions for higher office.  (Erin Hooley/Chicago Tribune/Tribune News Service via Getty Images)
The 2020 Democratic convention was supposed to be held in Milwaukee but happened virtually because of the coronavirus pandemic. Biden delivered a speech accepting his party's nomination that year at a nearly empty convention center in Wilmington, Delaware.
Chicago hosted the infamous 1968 Democratic convention, which is best remembered for a brutal clash between police and protesters opposing the Vietnam War. The last Democratic National Convention in the city was in 1996, when former President Bill Clinton was headed to a second term.
CLICK HERE TO GET THE FOX NEWS APP
Pritzker promised Tuesday the convention would be an "unforgettable event." He had pointed to Democrats' desires to expand their Midwestern electoral gains, particularly in Michigan, where the party held the governorship and won control of both chambers of the legislature during last fall's midterms.
The Associated Press contributed to this report.