The House voted Friday morning in favor of striking down President Biden's action last year which allows Chinese solar panel manufacturers to avoid Obama-era tariffs.
In a 221-202 vote, the House approved the resolution with 209 Republicans and 12 Democrats voting in favor. A bipartisan group of lawmakers led by Rep. Bill Posey, R-Fla., and joined by Rep. Dan Kildee, D-Mich., first introduced the resolution in January, arguing tariffs were necessary to protect the fledgling U.S. solar industry which is dwarfed by Chinese industry.
"Joe Biden's decision to protect Communist China's solar manufacturers from U.S. tariffs is another demonstration of weakness from an already spineless administration," House Majority Whip Tom Emmer, R-Minn., told Fox News Digital.
"House Republicans are continuing to lead where the White House has failed in holding China accountable by working across the aisle to nullify this absurd rule," he continued.
CONGRESS GEARS UP TO SMACK DOWN PRESIDENT BIDEN'S CHINESE SOLAR HANDOUT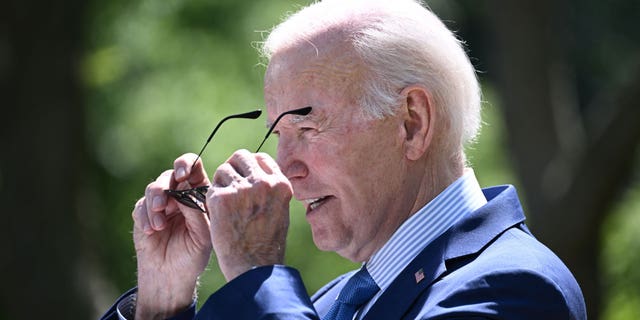 President Biden vowed to veto the legislation with the White House saying he is "working aggressively to support domestic solar panel manufacturing." (BRENDAN SMIALOWSKI/AFP via Getty Images)
After the resolution passed via voice vote, House Ways and Means Chairman Jason Smith, R-Mo., who has been a strong supporter of the effort, requested a roll call vote, a measure usually requested by the minority. Twelve members didn't participate in the vote.
In June 2022, Biden implemented a 24-month moratorium on the enforcement of solar panel anti-circumvention tariffs introduced under the Obama administration to protect U.S. companies. The White House characterized the move as a two-year "bridge" that would allow companies to build solar panel production capabilities on U.S. soil.
CHINESE TECH COMPANIES ARE EXPLOITING US GREEN ENERGY GOALS, FORMER STATE DEPARTMENT OFFICIALS WARN
The move, however, came after the Commerce Department said months earlier it would investigate whether Chinese manufacturers were routing solar panels through countries in Southeast Asia to avoid U.S. tariffs. And in December, the agency published its preliminary findings showing four large solar companies had routed products through Cambodia, Malaysia and Vietnam to circumvent duties.
The Commerce Department is expected to release its final findings in May. Still, the White House vowed earlier this week that Biden would veto the legislation if it made it to his desk regardless of the findings, though House Democratic leadership opted against recommending how members vote.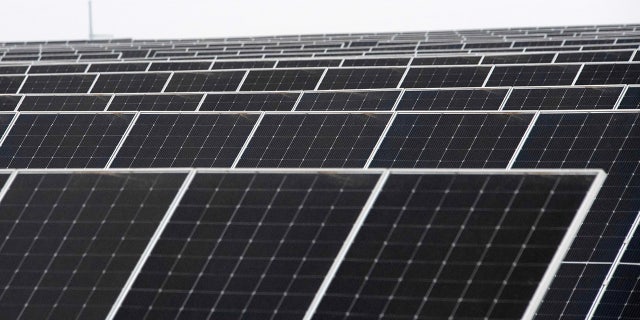 Solar panels are pictured at the ENGIE Sun Valley Solar project in Hill County, Texas, on March 1. The Chinese solar industry dominates global solar supply chains. (MARK FELIX/AFP via Getty Images)
"With every passing month the CCP gets closer to dominating the solar market, making it harder for Americans to compete," Posey said in a statement to Fox News Digital after the vote Friday. "Today's bipartisan vote holds China accountable for violating our trade laws and scores a big win for American solar manufacturers and workers."
"The United States can and should focus its resources into developing our own capability to manufacture quality solar products and boosting American competitiveness around the world and I want to thank my colleagues for advancing this important bipartisan legislation," the Florida Republican added.
And Kildee previously told Fox News Digital that while he supports Biden, he disagreed with the president's actions on the issue. He said the U.S. has failed to respond China's violations of trade laws.
Green energy industry groups like American Clean Power and the Solar Energy Industries Association (SEIA), meanwhile, have pushed back on the legislation and have expressed support for Biden's emergency declaration. SEIA, which counts energy utility and Chinese solar companies among its members, has argued the Commerce Department investigation had a chilling effect on the solar supply chain, hurting American jobs.
A group of environmental groups have also lobbied Congress to vote against the bill.
CLICK HERE TO GET THE FOX NEWS APP
But pro-tariff groups like the Coalition for a Prosperous America have supported the bill, saying it is a "commonsense piece of legislation that protects American workers and manufacturers by ensuring Chinese solar manufacturers that are illegally violating U.S. trade law are held accountable."
The Senate is expected to hold a floor vote next week on companion legislation introduced by Sen. Rick Scott, R-Fla., and sponsored by Sen. Joe Manchin, D-W.Va. Several Democratic senators have already come out in support of the resolution.