Reading about an amazing act of heroism is one thing, but seeing it come to life is another thing entirely; just ask anyone who read "Black Hawk Down" before watching the movie.
The Association of the United States Army (AUSA) seems to agree, because it regularly publishes free comic books depicting Medal of Honor actions. Previous stories include World War I hero Samuel Woodfill, Vietnam War helicopter pilot Bruce Crandall and two heroes from the "Black Hawk Down" incident, Gary Gordon and Randy Shughart.
AUSA's latest graphic retelling is the story of Sgt. 1st Class Alwyn Cashe, who repeatedly ran into a burning Bradley Armored Fighting Vehicle to rescue his fellow soldiers during the Iraq War.
Read: Comic Book Greats Band Together to Tell the Medal of Honor Story of Samuel Woodfill
On Oct. 17, 2005, Cashe was a platoon sergeant based at Forward Operating Base MacKenzie in northern Iraq. That night, he led soldiers from the 15th Infantry Regiment on a mission to clear a road of improvised explosive devices in Iraq's Salah Ad Din?Province. Cashe was serving as the gunner of a Bradley as his platoon traversed the road.
Just before 7:30 p.m., Cashe's Bradley struck an IED, which ignited the vehicle's fuel cell and sent flaming diesel shooting all over the road, the vehicle and the men inside. Cashe, though wounded and covered in fuel, got out of the gunner's position and went to the driver's hatch. He found the driver wounded and on fire, helping the soldier out of the driver's hatch and to safety. He then went back to the burning vehicle, where six soldiers and their translator were trapped inside.
With fire coming out of every possible entry point, Cashe located a hatch they managed to open from the inside and stuck in his fuel-drenched arm to help get them out. When he reached through the flames, his uniform caught fire and spread across his entire uniform, but Cashe kept going.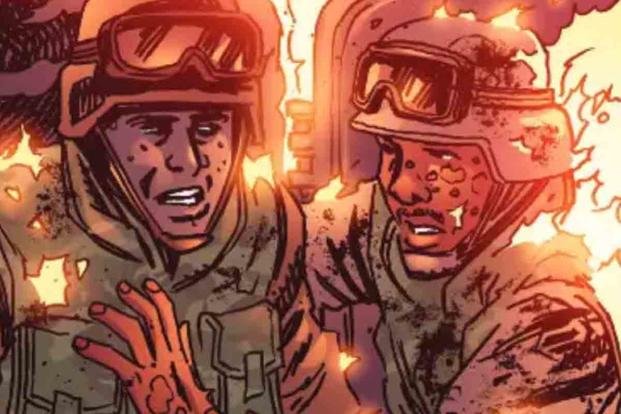 After he pulled one soldier out and carried him to safety, Cashe -- still on fire -- went back to the Bradley to retrieve another. One by one, he helped them out of the Bradley. As help arrived, the translator died and 10 soldiers were injured in the attack, including Cashe, but the six soldiers inside the vehicle survived.
The wounded were all evacuated from the scene via helicopter to Balad Air Base, where the wounded were treated. As they flew, Cashe, suffering burns over 72% of his body, asked repeatedly, "How are my guys? What's going on with them? Where are they at?"
He said the same thing after regaining consciousness at Brooke Army Medical Center in San Antonio. His first thought was the well-being of his soldiers. Cashe died weeks later, on Nov. 8, 2005, at just 35 years old.
Cashe was initially awarded the Silver Star for his heroism that night in Iraq, but only because his commander didn't know the extent of Cashe's injuries and the men who were evacuated couldn't give statements.
It would take another 14 years, the support of multiple members of Congress, and special legislation signed by President Donald Trump before the Department of Defense finally upgraded Alwyn Cashe's Silver Star to the Medal of Honor. President Joe Biden presented the award to Cashe's wife Tamara at a White House ceremony on Dec. 16, 2021.
Learn more about the life and career of Alwyn Cashe with AUSA's free Alwyn Cashe graphic novel.
-- Blake Stilwell can be reached at [email protected]. He can also be found on Facebook, Twitter, or on LinkedIn.
Keep Up With the Best in Military Entertainment
Whether you're looking for news and entertainment, thinking of joining the military or keeping up with military life and benefits, Military.com has you covered. Subscribe to the Military.com newsletter to have military news, updates and resources delivered straight to your inbox.