What goes up must come down, sure. But after the pilot of a Marine Corps F-35B fighter jet was forced to eject from their aircraft over South Carolina this past weekend, the U.S. military was left to wonder: When? And most importantly, where?
According to officials from Joint Base Charleston, the unfortunate pilot (thankfully) did come down safely. But while normally there would be a clear indicator of when and where the aircraft came down to Earth, officials have yet to find a crash site. The pilot put the F-35B on autopilot before ejecting, but because the F-35B's transponder wasn't working, the U.S. military can't apparently track it.
These factors have led many aviation observers to wonder if one of the world's stealthiest planes is still flying as a "zombie" aircraft, silently patrolling the skies above the continental United States before it loses fuel and crashes.
And while it might seem hard to believe, this wouldn't be the first time zombie aircraft kept going without a human element.
The Cornfield Bomber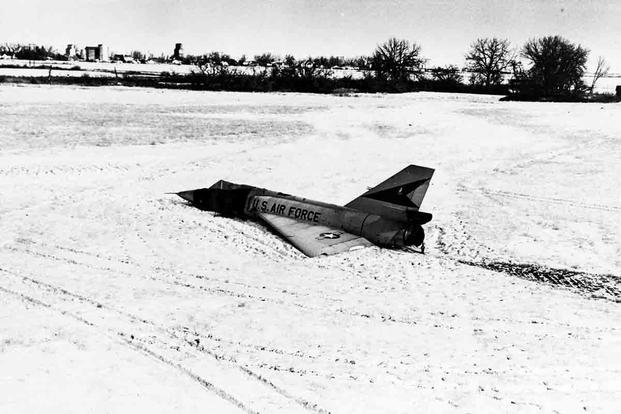 By most accounts, the F-106 Delta Dart was a pretty great plane. It was fast and maneuverable and would serve the Air Force for 30 years between 1958 and 1988. It was the aircraft 1st Lt. Gary Foust was flying during a training exercise out of Malmstrom Air Force Base, Montana, on Feb. 2, 1970, when he went into a flat spin.
A flat spin is incredibly difficult (and nearly impossible) for any pilot to recover from, so Lt. Foust was forced to eject from his F-106. He even pulled the plane's drag chute. It turned out that ejecting from the plane was exactly what was required for the plane to recover. When he bailed out at 15,000 feet, he watched as the plane descended into a farmer's field, (relatively) gently landing on its belly. The still-running jet engine even pushed the plane's fuselage across the field for another hour-and-a-half before running out of fuel.
Once recovered, the F-106 was nicknamed the "The Cornfield Bomber" and returned to service. Foust even flew it again in 1979.
The 1989 Belgian MiG Crash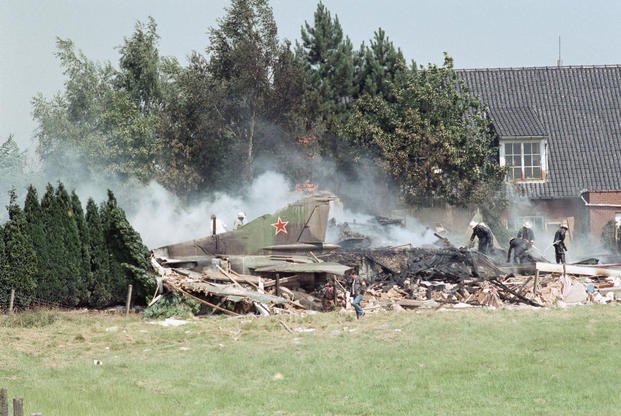 This was another training mission gone awry, but it comes from the Soviet Union, and like most things coming from the USSR, it doesn't have a happy ending.
Soviet Air Force Col. Nikolai Skuridin was supposed to fly a MiG-23 during a routine training exercise on July 4, 1989. While taking off from a base in Poland, the MiG's afterburner failed and the plane lost power. Only 150 meters from the ground and falling fast, Col. Skuridin wisely ejected from the plane. But the plane didn't hit the ground. It was on autopilot and headed west.
Flying across East Germany into West Germany, the Soviet plane was intercepted by American F-15s with orders to shoot it down over the North Sea. Unfortunately, the MiG never made it to the sea. Running out of fuel with no pilot to correct its course, it gradually crashed into a house in Bellegem, Belgium, killing a teenage student asleep at the time.
If history is any indicator, the missing Marine Corps F-35B, if it is, in fact, still flying in the skies above the United States, has two paths: either land harmlessly in a cornfield or crash into an occupied structure. Here's hoping for the former.
-- Blake Stilwell can be reached at [email protected]. He can also be found on Facebook, Twitter, or on LinkedIn.
Want to Learn More About Military Life?
Whether you're thinking of joining the military, looking for post-military careers or keeping up with military life and benefits, Military.com has you covered. Subscribe to Military.com to have military news, updates and resources delivered directly to your inbox.