"Indiana Jones and the Dial of Destiny" director James Mangold said this week that the fifth installment of the franchise opens with a 25-minute action sequence in which Harrison Ford, 80, plays a 35-year-old version of himself.
"I just shot him, and he just pretended that he was 35," Mangold told Total Film magazine of Ford who he called "incredibly gifted and agile."
He added, "But the technology involved is a whole other thing."
Mangold explained that dots were placed on Ford's face during the scene that takes place in 1944 and using VFX technology and old Lucasfilm footage of the actor as a younger man, he was de-aged.
HARRISON FORD DOESN'T CARE WHAT PEOPLE THINK: 'I KNOW WHO THE F— I AM AT THIS POINT'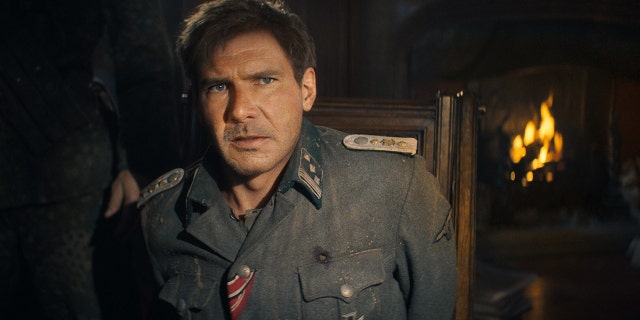 Harrison Ford was digitally de-aged in an extended opening sequence for "Indiana Jones and the Dial of Destiny." (Disney/Lucasfilm)
The new film is set in the space race-era of 1969.
"We had hundreds of hours of footage of him in close-ups, in mediums, in wides, in every kind of lighting, night and day," he told the magazine. "I could shoot Harrison on a Monday as, you know, a 79-year-old playing a 35-year-old, and I could see dailies by Wednesday with his head already replaced."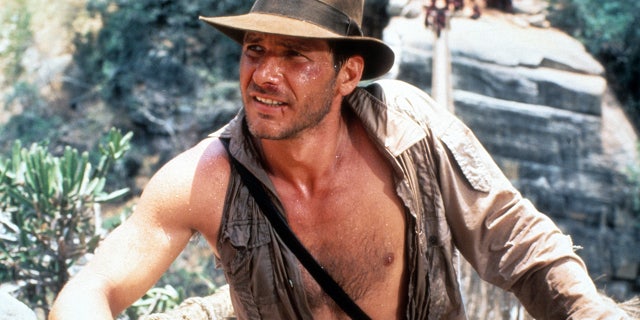 Harrison Ford in a scene from 1984's 'Indiana Jones and the Temple Of Doom." (Photo by Paramount/Getty Images)
The director called the technology "incredible," saying he did not think about it while shooting the sequence.
HARRISON FORD CHOKES UP WHILE TALKING ABOUT HIS LAST 'INDIANA JONES' FILM AT DISNEY 23 EXPO: 'I'M VERY PROUD'
"I just focused on shooting what's [approximately] a 25-minute opening extravaganza that was my chance to just let it rip," he said. "The goal was to give the audience a full-bodied taste of what they missed so much. Because then when the movie lands in 1969, they're going to have to make an adjustment to what it is now, which is different from what it was."
In February, Ford told The Hollywood Reporter that he had to be convinced that de-aging was the way to go.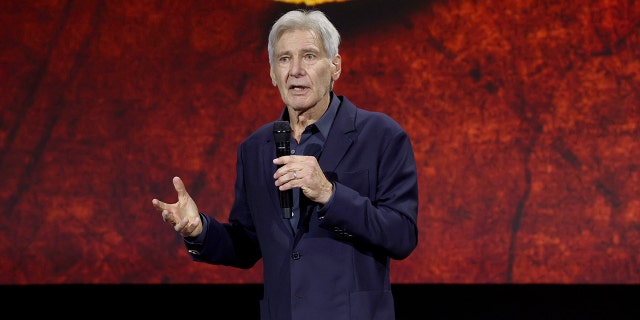 Harrison Ford has called the technology "fantastic" but says he is not yearning to be younger. ( Jesse Grant/Getty Images for Disney)
CLICK HERE TO SIGN UP FOR OUR ENTERTAINMENT NEWSLETTER
"I never loved the idea until I saw how it was accomplished in this case — which is very different than the way it's been done in other films I've seen," he said. "They've got every frame of film, either printed or unprinted, of me during 40 years of working with Lucasfilm on various stuff. I can act the scene and they sort through with AI every f—ing foot of film to find me in that same angle and light. It's bizarre and it works."
Ford first put on Indy's fedora in 1981's "Raiders of the Lost Ark," which was followed up by the "Temple of Doom" and the "Last Crusade" in 1984 and 1989. The fourth film "Kingdom of the Crystal Skull" premiered in 2008 to mixed reviews.
Mangold is taking over the reins for Steven Spielberg, who directed the first four installments.
"I wanted the chance to dive into this kind of full-on George-and-Steven old picture and give the audience an adrenaline blast," Mangold told Empire magazine last November of his reasoning for the de-aged scene. "
"And then we fall out, and you find yourself in 1969, so that the audience doesn't experience the change between the '40s and '60s as an intellectual conceit, but literally experiences the buccaneering spirit of those early days… and then the beginning of now," he added.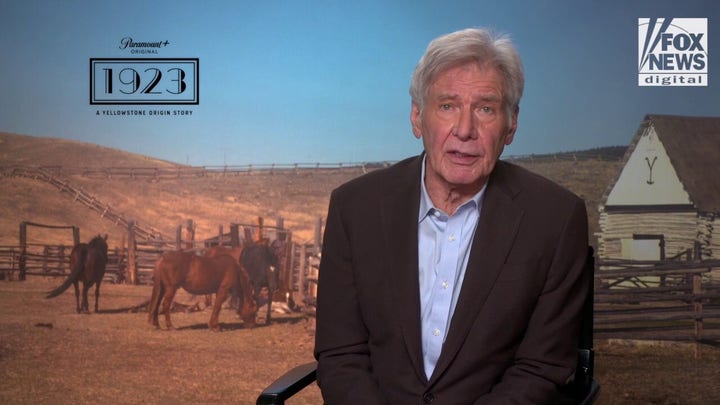 Video
Longtime "Indiana Jones" producer Kathleen Kennedy said she hopes that viewers will forget they're watching something computer generated.
"My hope is that, although it will be talked about in terms of technology, you just watch it and go, 'Oh my God, they just found footage," she told Empire. "This was a thing they shot 40 years ago'. We're dropping you into an adventure, something Indy is looking for, and instantly you have that feeling, 'I'm in an Indiana Jones movie.'"
CLICK HERE TO GET THE FOX NEWS APP
Ford also told the outlet at first he thought it was "spooky" but it doesn't make him yearn for his youth. "I'm glad to have earned my age."
Others, including "Indiana Jones 5" co-star Mads Mikkelsen, have remarked about how fit Ford remains.
"Harrison is a monster of a man, a very nice monster," Mikkelsen told the Hollywood Reporter last year, explaining how the actor left a night shoot that wrapped at 5 a.m. on the first day of filming and proceeded on a 30-plus mile bike ride.
"It was the first time I met him, and he's an insanely powerful person," he added.