The Russian branch of the environmental group Greenpeace on Friday announced it would close after the authorities declared Greenpeace International to be an undesirable organization.
A statement from the national prosecutor-general's office said it had determined that Greenpeace posed "a threat to the foundations of the constitutional order and security of the Russian Federation" and pointed in particular to the conflict in Ukraine.
"Since the beginning of the special military operation of the Russian Federation to demilitarize and denazify Ukraine, Greenpeace activists have been engaged in anti-Russian propaganda, calling for further economic isolation of our country and tougher sanctions," it said.
LARGE RUSSIAN CITY'S ANTI-PUTIN FORMER MAYOR JAILED FOR 14 DAYS PENDING TRIAL
The authorities have methodically targeted people and organizations critical of the Kremlin, branding many as "foreign agents", declaring some as "undesirable" and prosecuting those found to have discredited the military.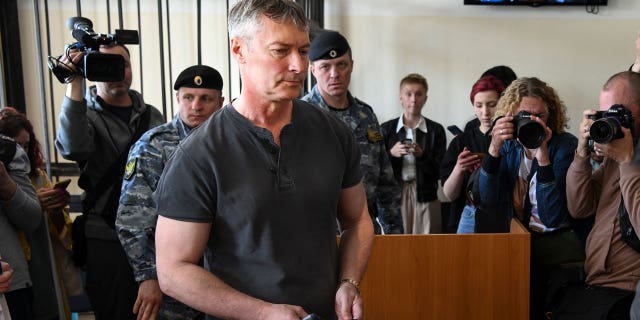 Former Yekaterinburg, Russia Mayor Yevgeny Roizman has avoided prison time for his outspoken anti-Putin and antiwar views, instead being ordered to pay a substantial fine. (AP Photo/Vladimir Podoksyonov)
The dissident former mayor of Russia's fourth-largest city was found guilty Friday of such discrediting, but avoided a prison sentence.
Yevgeny Roizman, 60, a sharp critic of the Kremlin, is one of the most visible and charismatic opposition figures in Russia. He enjoyed broad popularity while serving as mayor of Yekaterinburg, a city of 1.5 million people in the Ural Mountains.
The ex-mayor told reporters Friday that he didn't plan to appeal the verdict, which he described as "an acquittal in the current conditions."
RUSSIA DETAINS OPPOSITION LEADER OVER CRITICISM OF WAR IN UKRAINE
Russian courts have regularly handed out fines and, occasionally, prison terms for public criticism of Moscow's actions in Ukraine.
In March, a Russian court also convicted a father over social media posts critical of the military operation and sentenced him to two years in prison. His 13-year-old daughter, who drew a sketch at school expressing distress over Moscow's actions, was sent to an orphanage before being taken to live with her estranged mother.