Sen. Marsha Blackburn, R-Tenn., will introduce legislation on Monday increasing maximum prison sentences for anyone who attempts to illegally influence Supreme Court justices.
Blackburn's bill, backed by 10 other Senate Republicans, would increase the maximum sentence from one to five years in prison. The bill comes in response to the waves of protesters who targeted the homes of conservative Supreme Court justices in the weeks before and after the overturning of Roe v. Wade last year.
"The woke liberal mob will go to great lengths to target those they disagree with – even illegally intimidating Supreme Court Justices at their private residences," Blackburn told Fox News Digital in a statement.
"The Protecting Our Supreme Court Justices Act will deter intimidation of our Justices and send a message that the Biden administration has refused to send: Justices must be allowed to do their jobs without fearing for the safety of themselves or their families," she added.
ARMED SUSPECT ARRESTED NEAR JUSTICE KAVANAUGH HOME IDENTIFIED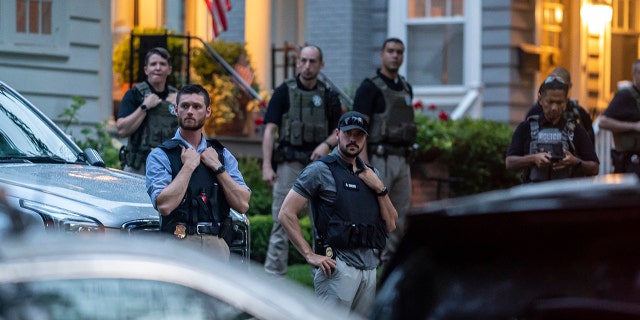 U.S. marshals stood guard outside the homes of conservative Supreme Court justices after protesters targeted them over the fall of Roe v. Wade. (Nathan Howard/Getty Images)
Blackburn also blasted President Biden's administration and Attorney General Merrick Garland for declining to prosecute the protesters who targeted private residences. At the time, Garland's Justice Department urged U.S. marshals guarding the justices' homes to avoid arresting protesters "unless absolutely necessary."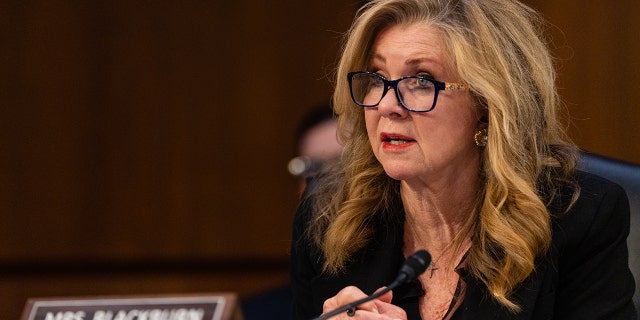 Sen. Marsha Blackburn introduced legislation that will increase the penalty for attempting to influence a Supreme Court justice from one to five years in prison. (Eric Lee/Bloomberg via Getty Images)
ABORTION IS 'GRUESOME SIGN' OF WHAT SOCIETY HAS FORGOTTEN, SAYS CATHOLIC ARCHBISHOP
"Under a future administration that is committed to enforcing federal law, increased criminal penalties will send a strong message to these far-left protesters that Supreme Court Justices must be allowed to do their jobs without fearing for the safety of themselves or their families," Blackburn and her fellow GOP lawmakers wrote Monday.
Protesters most recently targeted a justice's home in late January, when pro-abortion groups gathered outside Supreme Court Justice Brett Kavanaugh's private residence on the 50th anniversary of the Roe v. Wade decision. The protesters converged on the sidewalk outside his Chevy Chase, Maryland, home. The march appeared to be organized by the far-left group known as Our Rights DC.
The group chanted as they marched in the rain, saying things like, "Cut his time short, a rapist should not rule the court," and, "No privacy for us, no peace for you."
Several law enforcement officers could be seen standing nearby on Kavanaugh's property.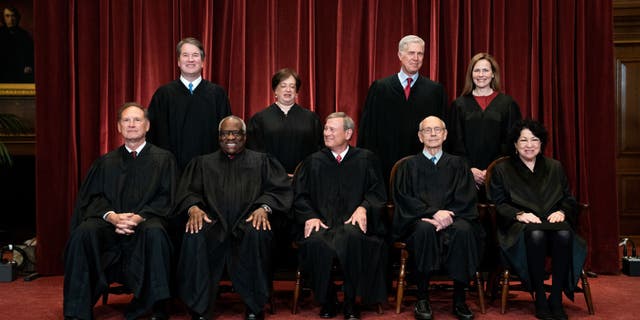 The homes of conservative Supreme Court Justices Brett Kavanaugh, Clarence Thomas, Samuel Alito and Amy Coney-Barrett were targeted by protesters. (Erin Schaff-Pool/Getty Images)
CLICK HERE TO GET THE FOX NEWS APP
Additional sponsors of Blackburn's bill are U.S. Sens. Tom Cotton, R-Ark., John Cornyn, R-Texas, Ted Cruz, R-Texas, Bill Hagerty, R-Tenn., Josh Hawley, R-Mo., Marco Rubio, R-Fla., Cindy Hyde-Smith, R-Miss., Katie Britt, R-Ala., Roger Wicker, R-Miss., and John Boozman, R-Ark.
Fox News' Jon Brown contributed to this report.