FIRST ON FOX: A Republican congressman has introduced a bill that would require more transparency from the State Department as to how wrongful detainment determinations are made following several high profile Americans being locked up abroad in recent years.
Rep. Guy Reschenthaler of Pennsylvania has introduced the Marc Fogel Act, which amends the Robert Levinson Hostage Recovery and Hostage-Taking Accountability Act and "would require the State Department to provide Congress with copies of documents and communications on why a wrongful determination has or has not been made in cases of U.S. nationals detained abroad within six months of arrest."
Rep. Reschenthaler, who represents Pennsylvania's 14th congressional district, said in a press release that he takes issue with the fact that American schoolteacher Marc Fogel has been held in Russia since August 2021 without being labeled as wrongfully detained by the U.S. government.
"Marc Fogel meets six of the eleven criteria established by the Robert Levinson Hostage Recovery and Hostage-Taking Accountability Act to be designated as wrongfully detained," Reschenthaler wrote. "Since last year, I have urged the State Department to classify him as wrongfully detained and prioritize securing his release. The Department has failed to do either and refused to explain its inaction – effectively stonewalling my efforts to bring him home."
Fogel had worked as a teacher at a Moscow school for nearly 10 years when he was stopped at an airport upon his return to Russia. He was in possession at the time of medical marijuana his doctor recommended he take for "severe chronic pain" that was caused by years of spinal injuries and resulting surgeries.
AMERICAN HELD IN RUSSIAN PENAL COLONY FOR MONTHS BUT STILL NOT LABELED 'WRONGFULLY DETAINED,' FAMILY SAYS
He was detained in August 2021, when he reportedly had approximately half an ounce of medically-prescribed marijuana. In June of this year, he was sentenced to 14 years in a Russian prison after he was convicted of "large-scale drugs smuggling," according to officials and reports.
Fogel's sister, Lisa Hyland, told Fox News Digital that the family says his health "continues to deteriorate both mentally and physically." She continued, "The family is extremely grateful to the Pennsylvania House members for their efforts, and hope this will shine a brighter light on Marc's case."
Sasha Phillips, an attorney who is assisting Fogel's family with his case, told Fox News Digital that an acquittal, a pardon, or even a reduction of his sentence are "highly unlikely" and "the recent wave of government-stirred xenophobia has reduced Marc's chances of receiving a fair appeal adjudication to zero."
"In other words, besides the U.S. Government, Marc Fogel has nowhere else to turn for help. The U.S. diplomatic engagement and intervention are essential to Marc's return to the United States. Considering Marc's rapidly declining physical and mental health, his safe return to the U.S. should be prioritized accordingly – we need to bring him home NOW."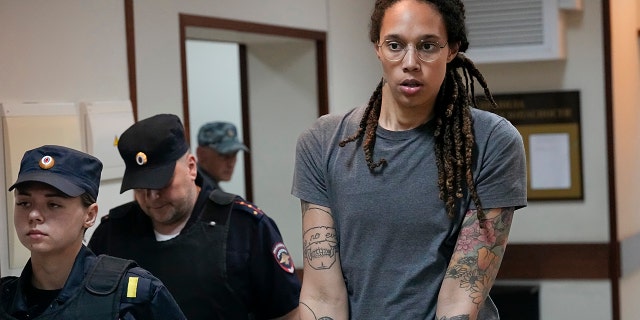 WNBA star and two-time Olympic gold medalist Brittney Griner is escorted from a courtroom after a hearing, in Khimki just outside Moscow, Russia, Aug. 4, 2022.  (AP Photo/Alexander Zemlianichenko, File)
CLICK HERE TO GET THE FOX NEWS APP
In addition to the Americans detained in Russia, Americans across the globe are facing wrongful detentions including in China where 38-year-old American Mark Swidan is facing the death penalty for drug charges the United Nations determined were baseless.
The State Department did not immediately respond to a request for comment from Fox News Digital.