A German government spokesperson on Friday rejected the notion that comments by Chancellor Olaf Scholz criticizing climate activists might have prompted raids against them this week.
Police on Wednesday searched more than a dozen properties across Germany linked to the group Last Generation, seizing assets as part of a probe into its finances. Prosecutors in Munich said they are investigating whether the group constitutes a criminal organization after its repeated road blockades and other protests drew numerous complaints from the public.
Days before the raids, Scholz said he thought it was "completely nutty to somehow stick yourself to a painting or on the street."
LEFT-WING GERMAN CHANCELLOR SLAMS 'NUTTY' CLIMATE PROTESTERS BLOCKING STREETS, DEFACING ART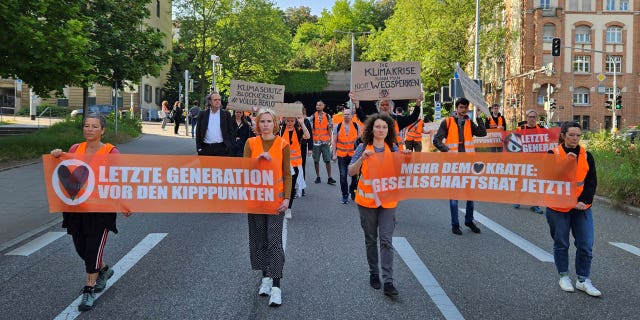 A spokesman for German Chancellor Olaf Scholz denies that the head of state's recent remarks deriding disruptive climate protests had any connection to raids on properties owned by Last Generation associates. (Andreas Rosar/dpa via AP)
"It has to be possible for the German chancellor to answer a question about what he thinks of the protests in a plain-spoken way," he said. "I think the chancellor did this in an appropriate way."
Buechner said the German government remains committed to tackling climate change and protesters must abide by the law.
GERMAN POLICE SURROUND AND CRACK DOWN ON CAMP OF ANTI-COAL PROTESTERS
CLICK HERE TO GET THE FOX NEWS APP
Last Generation and other groups have said they plan further protests in Germany over the coming days.