Funeral arrangements were disclosed Thursday for most of the five bank employees killed this week in Louisville, Kentucky, as the city continues to grieve the victims of one of the latest U.S. mass shootings.
As obituaries were posted online, more details surfaced about the lives of the employees killed Monday at Old National Bank. They have been identified as senior vice presidents Tommy Elliott, 63, and Joshua Barrick, 40; executive administrative officer Deana Eckert, 57; loan analyst Juliana Farmer, 45; and commercial real estate market executive Jim Tutt Jr., 64.
According to Elliott's obituary, a funeral service is set for 3 p.m. Friday at Broadway Baptist Church in Louisville, followed by a private burial. The same day, Eckert's visitation will be held from 10 a.m. to 3 p.m. followed by a funeral service at Northside Christian Church in New Albany, Indiana, just over the Kentucky border from Louisville, according to her obituary.
LOUISVILLE BANK SHOOTING 911 AUDIO REVEALS DESPERATE CALLS, MOTHER'S WARNING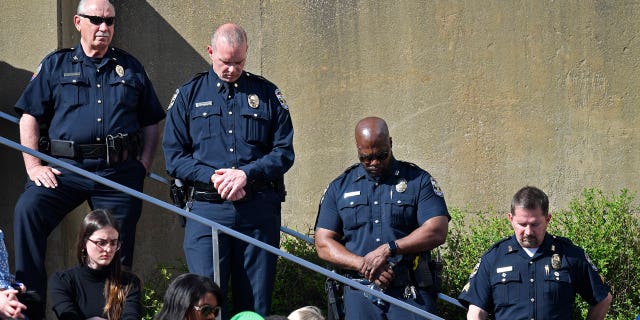 Officers with the Louisville Metro Police Department participate in a moment of silence during a vigil for the victims of Monday's shooting at the Old National Bank in Louisville, Kentucky, on April 12, 2023.  (AP Photo/Timothy D. Easley)
CLICK HERE TO GET THE FOX NEWS APP
Barrett's visitation will be held from 3 p.m. to 8 p.m. Friday at Ratterman Funeral Home, and a funeral Mass will be held at 10 a.m. Saturday at Holy Trinity Catholic Church, both in Louisville, according to his obituary.
Tutt's obituary says a visitation will be held from 2:30 p.m. to 5:30 p.m. Sunday followed by a funeral service at Southeast Christian Church Chapel in the Woods in Louisville.
Funeral arrangements for Farmer were pending.