Frasier Crane is back – and Anthony LaPaglia is listening.
In February 2021, Paramount+ announced that the '90s sitcom "Frasier" would be revived for the streaming service, with original star Kelsey Grammer reprising his role as Dr. Frasier Crane.
LaPaglia, who had a recurring role as Daphne Moon's (Jane Leeves) drunken brother Simon, told Fox News Digital he would be open to appearing in the reboot if he were asked. The Australian actor won an Emmy for the series.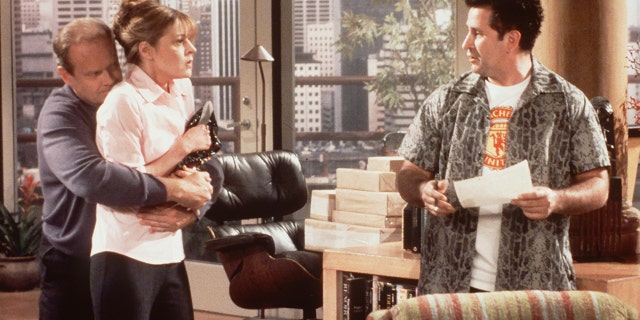 Anthony LaPaglia, right, had a recurring role as Simon Moon in "Frasier," which aired from 1993 to 2004. (Paul Drinkwater NBC/Deliverd by Online USA, Inc.)
"I would do it in a heartbeat," the 64-year-old said. "But I'm pretty sure that I'm not in the architecture of the new [series]. I think the new one will be slightly different. John Mahoney is not there, and I don't think David Hyde Pierce is in it either. I don't know what form is taking, but I'm perfectly happy with what I did. It was great fun at the time. And sometimes revisiting things could spoil that memory. I hope it does well. I certainly want to know how it all unfolds."
'FRASIER' STAR KELSEY GRAMMER SAYS RELIGION GUIDES HIS CAREER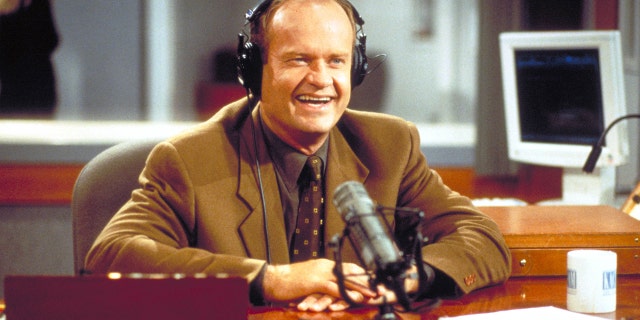 The original "Frasier,", a spinoff of "Cheers," ran for 11 seasons, picking up 37 Emmy Awards along the way, including five consecutive awards for outstanding comedy series. (Getty Images)
Mahoney, who starred as patriarch Martin Crane, passed away in 2018 at age 77. In November 2022, Grammer told People magazine that Hyde Pierce, who played Dr. Niles Crane, bowed out of the reboot.
"David basically decided he wasn't really interested in repeating the performance of Niles," the 68-year-old told the outlet at the time about his on-screen brother, 64. Grammer emphasized that the reboot would focus on "new friendships" and would explain the absence of some of the original characters, including Mahoney.
Kelsey Grammer recently confirmed that David Hyde Pierce won't be reprising his role as Dr. Niles Crane. (Bruce Glikas/FilmMagic)
In March 2023, it was announced that Bebe Neuwirth would reprise her role as Lilith in a guest-starring role.
LaPaglia said he runs into his former castmates "once in a blue moon."
"I think most actors might say the same thing," he explained. "When you're working on something, you develop these genuine relationships with people. But then when the project is over, you go off to work on something else. There are some actors that I'm still friends with, even if I speak to them twice a year. But that's just the nature of the business, the nature of the beast. You find yourself away on location for a good part of the year. So maintaining friendships can be difficult… It's not a normal life."
CLICK HERE TO SIGN UP FOR THE ENTERTAINMENT NEWSLETTER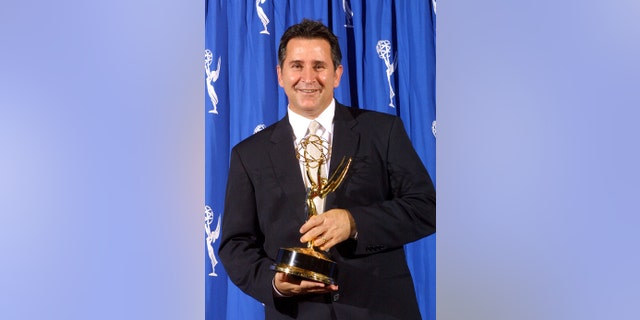 Anthony LaPaglia poses with his Emmy Award after his win in 2002. (Frederick M. Brown/Getty Images)
Still, the star said he has fond memories from his time on set. He described having a close bond with "the great" Mahoney.
"He had a set of headshots that he would give out to fans, and I would go in there and write some really insulting stuff on his headshots," LaPaglia chuckled. "And then he would find my headshot and write some really insulting stuff on mine! And we'd put them in each other's dressing rooms. We had a very funny, juvenile relationship, but we used to make each other laugh a lot."
"I had a really good time with him," LaPaglia continued. "Kelsey was great and the rest of the cast was great, but John Mahoney and I really hit it off… He was just a very funny, generous guy. I didn't even realize what an accomplished actor he was. In between 'Frasier,' he kept busy doing theater. He also had a substantial career even before 'Frasier.' And he's from Manchester in England, which floored me because his accent was perfect. I miss him."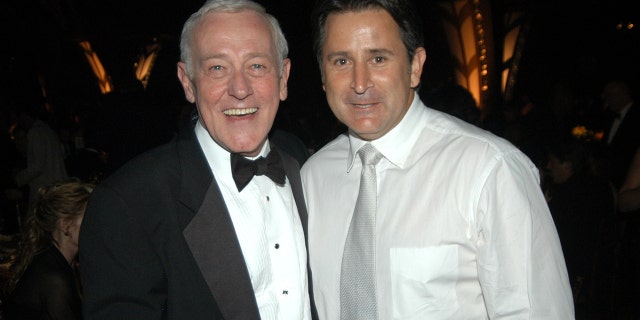 John Mahoney, left, who played one of TV's most beloved dads, passed away in 2018. He was 77. (Jeff Kravitz/FilmMagic)
LaPaglia also described Grammer as "welcoming on set."
"My favorite memory? That's easy," he said. "I remember walking on the set early one morning and I suddenly heard this beautiful piano piece. I don't remember what piece it was, but it was a classical piece. I just thought, 'That's nice, they're piping that music through the sound stage.' I walked around and, in the corner, there was a piano with Kelsey playing this beautiful piece. That just blew me away. I had no idea."
These days, LaPaglia is looking ahead. He's starring in "Florida Man" – no, not the meme. It's a scripted series premiering on Netflix. It stars Édgar Ramirez, who plays a struggling ex-cop and gambling addict who owes big time to a Philly mobster. He returns home to his home state of Florida, only for his woes to heat up. The show, which LaPaglia described as "a black comedy," also stars Abbey Lee, Clark Gregg and Paul Schneider, among others.
JENNIFER ANISTON, ADAM SANDLER'S 30-YEAR FRIENDSHIP STARTED WITH A PICKLE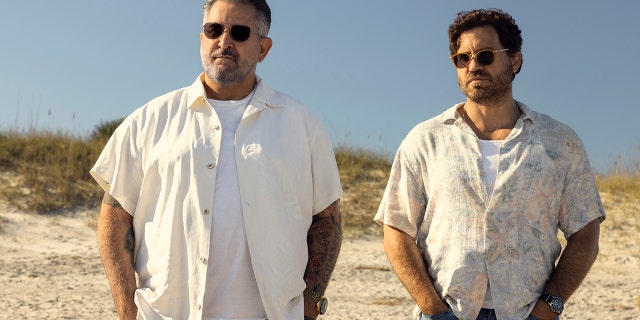 Anthony LaPaglia, left, is starring in Netflix's "Florida Man" alongside Édgar Ramirez. (Netflix)
"Édgar is an absolute sweetheart," said LaPaglia about the "American Crime Story" actor. "He is probably one of the most considerate, level-headed actors that I've worked with – and that's saying something! He was just very kind and very involved in the scenes. We had a lot of fun off-camera as well. He has a great sense of humor."
LaPaglia admitted he wasn't familiar with the "Florida Man" phenomenon, or kooky criminals causing havoc in the Sunshine State.
"Listen, here in Australia we have Darwin, which is like the Florida equivalent," he chuckled. "People go there to literally disappear… And I think that can be very attractive to some people. There's a different set of rules there. Like Florida, it's a diaspora of all kinds of people. I used to think it was the weather, like in Florida. But now? I'm not so sure."
SERIAL KILLER FEATURED IN NETFLIX SERIES 'THE SERPENT' SAYS HE NEVER KILLED ANYONE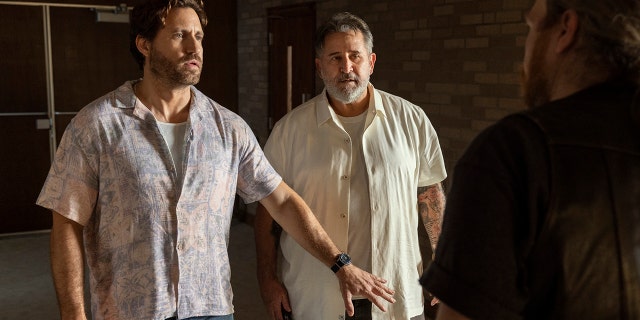 Anthony LaPaglia, right, told Fox News Digital he's having fun being on the small screen again. (Netflix)
"You know, I'm really enjoying my time being back on television," he reflected. "As this story progresses, it gets more and more absurd – or it gets more and more 'Florida Man.'"
"Florida Man" is available for streaming. The Associated Press contributed to this report.