The driver of a former Haitian senator has been detained for questioning in the assassination of former Haitian President Jovenel Moise, authorities said Thursday.
Mozart Prevot was detained Tuesday by National Police officers who also searched his residence in the capital, Port-au-Prince, where they found a 9mm pistol and ammunition, the National Police said on the agency's website. Prevot has not been charged.
HAITIAN PRESIDENT JOVENEL MOÏSE ASSASSINATED AT HOME, OFFICIAL SAYS
Prevot was the driver of former Haitian Sen. John Joel Joseph, who is currently facing charges in the United States related to the 2021 assassination.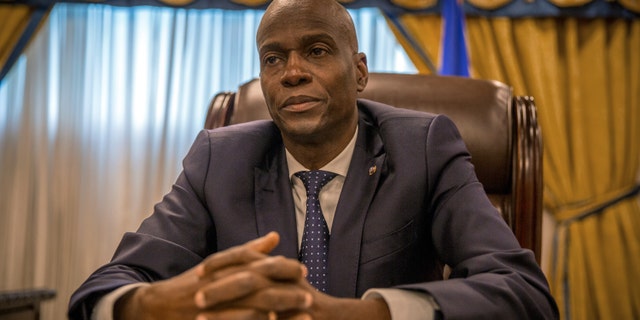 A former Haitian senators driver has been detained for questioning in an investigation into ex-President Jovenel Moises assassination. (Alejandro Cegarra/Bloomberg via Getty Images)
Joseph, a political rival of the slain president, was extradited from Jamaica to the U.S. last May to face a charge of conspiring to commit murder or kidnapping outside the United States and other charges. He faces a possible life sentence.
HAITI POLICE IDENTIFY NEW SUSPECTS IN PRESIDENT JOVENEL MOÏSE'S ASSASSINATION
According to a report from Haiti's National Police, at least one person identified Joseph as one of the leaders in the assassination plot. The source said Joseph paid cash for rental cars that other suspects used and met with them ahead of the killing.
CLICK HERE TO GET THE FOX NEWS APP
Prevot is one of more than 40 people who have been detained in the presidential slaying.