The Federal Bureau of Investigation failed to turn over a document subpoenaed by House Republicans that allegedly details a bribery scheme from then-Vice President Joe Biden.
The agency refused to provide the document Monday in a private meeting with the House Oversight and Accountability Committee. The unclassified FD-1023 document details criminal allegations of a pay-to-play scheme related to the Biden family's business dealings, according to a whistleblower at the agency who spoke with Sen. Chuck Grassley, R-Iowa.
FBI EXPECTS CONGRESS TO BE 'SHEEP,' IGNORE ALLEGATIONS OF ABUSE WHILE BUREAU PLANS $4B NEW HQ: TOP REPUBLICAN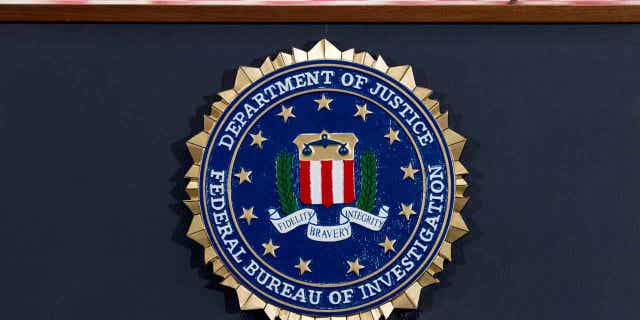 The FBI seal is displayed on a podium before a news conference at the agency's headquarters in Washington, D.C. (AP Photo/Jose Luis Magana, File)
Rep. James Comer, R-Ky., who chairs the Oversight Committee, issued the subpoena to the FBI, which previously failed to provide the document by a May 10 deadline. Comer said he wants to work with Senate Republicans to hold the FBI's budget "hostage" until the agency gets new leadership or provides the document.
House Speaker Kevin McCarthy, R-Calif., said he had a call with FBI Director Christopher Wray on Friday and is confident the agency will eventually provide the document.
CLICK HERE TO GET THE FOX NEWS APP
The FBI wrote a six-paged letter to Comer on May 10 explaining its concerns with the issued subpoena, which included claims that the wanted document is unverified and based on informants who must be kept private.