EXCLUSIVE DETAILS: An Illinois man, who appeared on "Family Feud" years before police accused him of gunning down his estranged wife in her home, believes an unidentified "prowler" may have broken in and shot her, according to his attorney.
"We have come across evidence that suggests there were individuals stalking out the neighborhood in the week leading up to the murder," Tim Bliefnick's defense lawyer, Casey Schnack, told Fox News Digital Friday. "QPD (Quincy Police Department), to our knowledge, has never followed up with identifying or even investigating the complaint. We are working with investigators to identify the person or persons we have pictures and video of."
She declined to share the images.
Becky Bliefnick, a 41-year-old nurse, was found dead in her home in Quincy on Feb. 23. She had been shot multiple times.
BECKY BLIEFNICK MURDER: ILLINOIS POLICE ARREST ESTRANGED HUSBAND IN NURSE'S SHOOTING DEATH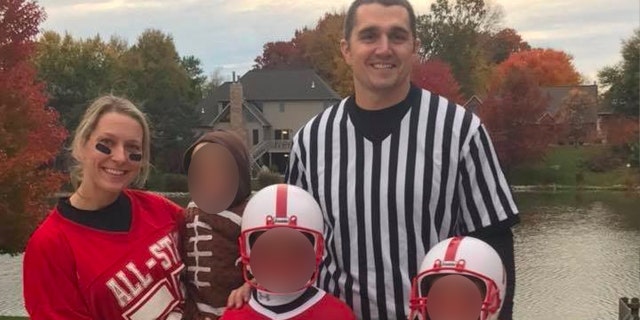 Becky Bliefnick pictured with her husband, Tim, and their sons on Halloween in 2018. Police said she was found shot to death in her Quincy home on Feb. 23, 2023. (Becky Bliefnick/Facebook)
Police arrested her estranged husband in March on charges, including murder and home invasion causing injury. The couple, who shared three sons, was going through a divorce and lived in separate houses a mile apart.
Prosecutors have characterized the crime as domestic violence, a claim Tim Bliefnick's defense denies.
ILLINOIS NURSE REBECCA BLIEFNICK SHOT DEAD, COPS SEARCH ESTRANGED HUSBAND'S HOUSE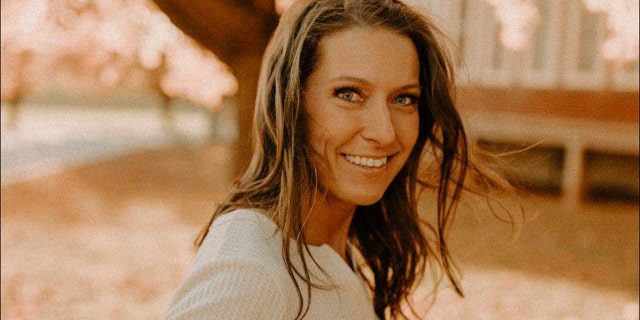 Rebecca Bliefnick, a 41-year-old nurse and mother of three from Quincy, Illinois, was found shot to death in her home on Feb. 23, 2023. (Becky Bliefnick/Facebook)
Earlier this week, a probate court ruled that he could not use funds from his wife's estate tied up in the couple's divorce battle for his criminal defense.
If the court had ruled in Tim Bleifnick's favor, the 39-year-old would have been able to hire a private investigator himself, according to his attorney.
"He was willing to sell his car to alleviate some debt and put the remainder toward an investigator, but obviously could not due to the probate court's order," Schnack said.
ALLEGED 'FAMILY FEUD' KILLER STUDIED CRIMINAL JUSTICE YEARS BEFORE ESTRANGED WIFE'S MURDER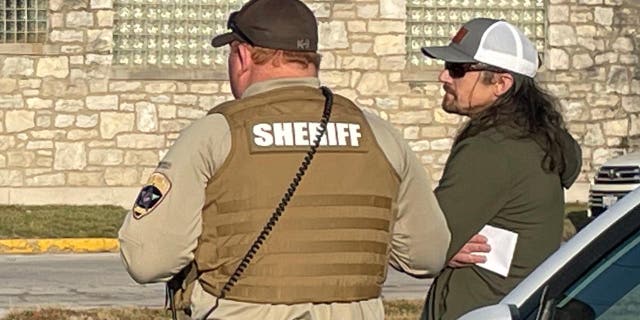 Police search a home and car in Quincy, Illinois, March 1, 2023. The home is rented by and the car belongs to Tim Bliefnick, the estranged husband of Rebecca Bliefnick, who was found dead on Feb. 23 in her home. (MuddyRiverNews.com)
However, the court granted $5,000 to go toward hiring a defense investigator and the option to double that amount if needed, Schnack told Fox News Digital.
If that isn't enough, the defense has the option to petition the court for more, she added.
CLICK HERE TO GET THE FOX NEWS APP
"If he was granted bail, he would have likely been able to work from home to generate his own income, but was denied that right off the bat," Schnack said.
Tim Bliefnick appeared on "Family Feud" with his family in 2019 and was a college football player who moonlighted as an amateur actor in the local theater group.
Becky Bliefnick's family announced a GoFundMe campaign in support of her three sons and for a scholarship in her name.