Former state representative Justin Jones, one of the expelled Tennessee House representatives, could be back in office as soon as Monday as Nashville's metro council moves to reappoint him, so he can reclaim his seat.
Jones and fellow Democratic lawmaker Justin Pearson were ousted by the Republican-controlled state House for their role in a protest calling for gun control after the March 27 Nashville Covenant School shooting.
State Rep. Gloria Johnson, D., who also participated in the protest, survived the expulsion attempt. Claims of racism were lobbied at the Republican House because Johnson, who is White, was not removed while Jones and Pearson, both Black, were removed.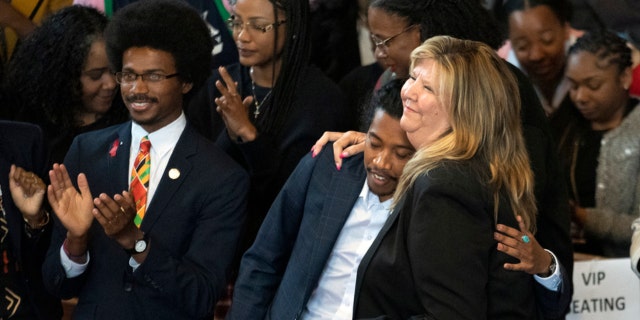 Expelled Rep. Justin Pearson, D-Memphis, from left, expelled Rep. Justin Jones, D-Nashville, and Rep. Gloria Johnson, D-Knoxville, are recognized by the audience at Fisk University before Vice President Kamala Harris arrives, Friday, April 7, 2023, in Nashville, Tenn.  ((AP Photo/George Walker IV))
Jones and Pearson argued their removals were tactics of voter disenfranchisement and voter suppression.
TENNESSEE LEGISLATOR WHO ESCAPED EXPULSION CLAIMED 'NORTH KOREA HAS MORE DEMOCRACY THAN WE DO'
Fox News contributor David Webb pushed back, saying voters were not disenfranchised by their removal.
"Your voters are not silenced. Even if they don't reappoint them, they get to vote in a special election so the voters get to send another left-wing Democrat back. These guys are flat out liars. They're not interested in representing their district," he said on "The Big Sunday Show."
"The Republicans should have thrown all three of them out evenly, Gloria Johnson included, because they all violated the rules. This was not a quiet moment in the well of the floor. They broke rules that have been in place for a very long time. And enough already with this racism. If everything's racism, nothing's racism. They didn't throw you out because you were Black. They threw you out because they had the votes, and you violated the rules," Webb said.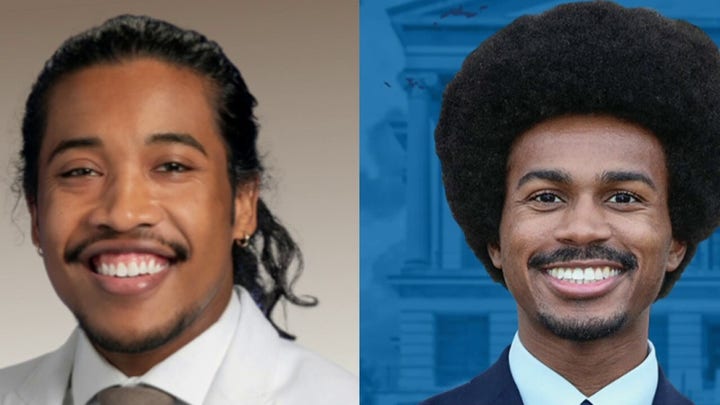 Video
Co-host Johnny "Joey" Jones had a different point of view arguing that the decision to remove the state representatives was an "unforced error" by the GOP.
"There's a difference between tactical and strategic. They made the tactical decision, which was the immediate– the path forward to expel these folks for what they did," Jones said.
BIDEN INVITES TENNESSEE DEMOCRATS TO WHITE HOUSE AFTER EXPULSION VOTES
"Sure, it was an egregious sin in the sense of decorum and how democracy unfolds, which is really the true irony here, is these protesters were impeding democracy as it exists, but it was not strategic in any way because it was unwise at this point. You look back, and now the entire conversation is the GOP in Tennessee defending themselves, saying, 'Yeah, we expelled two young Black men, but we're not racist.' And even if that's absolutely true, which everything leads me to believe that race had very little if nothing to do with it. The optics are there. And now that's the whole conversation."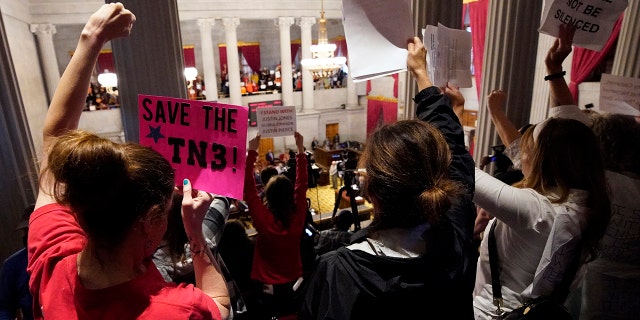 Gun reform and "Tennessee Three" supporters raise signs in the gallery of the House chamber Thursday, April 6, 2023, in Nashville, Tenn. Tennessee Republicans are seeking to oust three House Democrats for using a bullhorn to shout support for pro-gun control protesters in the House chamber.  (AP Photo/George Walker IV)
Fellow co-host Cheryl Casone agreed that the conversation shouldn't be focused on the expelled lawmakers but on the lives lost by the school shooting.
"You know the names we're not saying anymore? Mike Hill, Katherine Koonce, Cynthia Peak, Evelyn Dieckhaus. I mean, what about the victims? What about the shooting?" she asked.