After five years and 330 shows, Elton John is bidding farewell to touring.
The singer wrapped his "Farewell Yellow Brick Road" tour in Stockholm, Sweden on Saturday night.
According to the BBC, during the show, the Grammy award-winning music icon told the audience, "It's been my lifeblood to play for you guys, and you've been absolutely magnificent."
The tour kicked off in 2018 and was delayed for nearly two years after the COVID-19 pandemic in 2020, and finally resumed in 2022.
 
 

 
 
View this post on Instagram
 

 
 
 

 
 

 
 
 

 
 

In the video, it was noted that over 6,250,000 people attended the shows, and the clip shared photos of people in costume, including one of the two marriage proposals that took place.
In a statement to Fox News Digital, representatives for John confirmed the final concert began with "Benny and the Jets," and included many of his other hits, such as "Tiny Dancer," "Rocket Man," and "Candle in the Wind."
John confirmed during the show that he would "never be touring again", and said, "I want to appreciate my family, my sons, my husband, everything. I've earned it."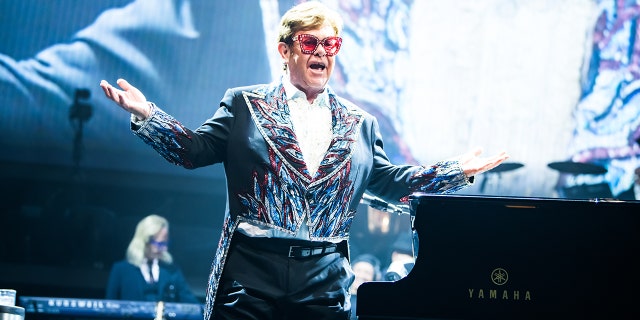 Elton John's "Farewell Yellow Brick Road" tour began in 2018, and after a delay for the COVID-19 pandemic, concluded on Saturday, July 8, 2023. (Ben Gibson/Rocket Entertainment)
During the show, a video message from Coldplay's Chris Martin, telling John and the crowd, "From all the bands and artists you've helped and inspired, we love you so much. We are so grateful for everything you've done for the Aids Foundation, anytime you've been kind to anybody."
In a statement to Fox News Digital, John said after leaving the stage, "When we set off on my final tour in 2018, I couldn't have foreseen in my wildest dreams the twists and turns and the highs and lows this tour – and the whole world – would have experienced in the next 5 years. And every step of the way, my fans have been there."