Artificial intelligence can't bring back the dead, but it may be able to simulate speaking to a lost loved one in an effort to help humans through the grieving process.
The high-tech revamp of the traditional seance comes amid the wild growth of large language models, a form of AI that is trained on copious amounts of text. ChatGPT's release year has sparked discussion on how far the tech can go as the chatbot mimics human conversation and answers prompts from humans.
Jarren Rocks, product designer and manager at the Los Angeles-based software development company AE Studio, is working on a program called Seance AI, which will allow people to talk with a chatbot that mimics their dead loved ones.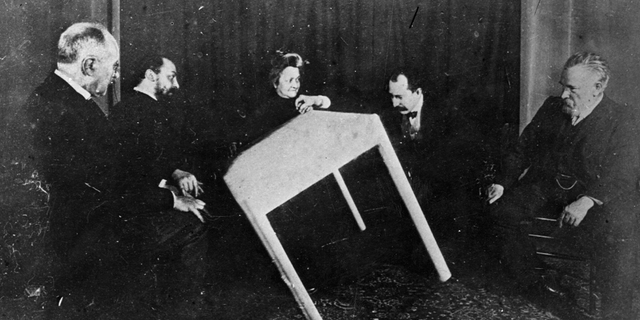 A table apparently moves of its own accord during a seance in Paris circa 1900. (Getty Images)
Humanity has long been fascinated with trying to communicate with the dead, hitting a fever pitch in the late 19th century when people flocked to attend seances and at least 4 million Americans identified as "spiritualists." Even cultural figures on the world stage, such as Mark Twain and Queen Victoria, dabbled in the occult by attending seances, according to the New Yorker.
Such activities, however, were shunned by many other Americans and Christians, with the Catholic Church issuing a decree in 1898 that condemned spiritualistic practices and another decree in 1917 that prohibited seances.
USING AI TO CHALLENGE DEATH'S FINALITY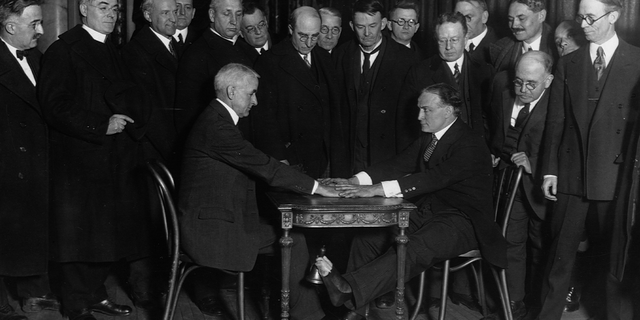 Harry Houdini, longtime opponent of fraud among the Spiritualist movement, shows how, during a seance, mediums can ring bells using their toes. (Library of Congress/Corbis/VCG via Getty Images)
With the planned AI seances, only a chatbot will be communicating with the living, but Rocks said he's leaning into the "magical" aspect of the tech.
Rocks told Fox News Digital that the name of the program is "intentionally striking because we're confident that we'll be able to provide real comfort to some people." He added that he and AE Studio are "greatly concerned about AI safety" and that they want "to draw attention to the potential implications of the technology" – but he said they do not want to halt AI's progress though they support "healthy regulation."
The program employs tech from OpenAI, the AI lab behind ChatGPT, and prompts users to tell the program the name of the person with whom they wish to speak, their age, personality traits and how they died, according to the outlet. Users will also upload text from their deceased loved one as a template on how the deceased person communicated when they were alive.
ANTI-'TERMINATOR': AI NOT A 'CREATURE' WORKING TOWARD SELF-AWARENESS, OPENAI CEO ALTMAN SAYS
"My key priority for Seance AI is that we provide people with tools to help them process loss," he added.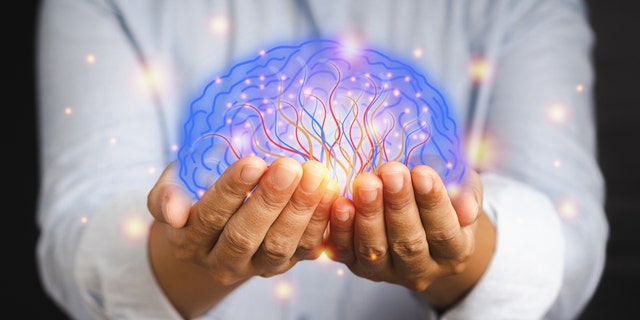 Artificial intelligence has gained traction among people who are grieving the loss of a loved one, including through recreating a deceased person's voice. (iStock)
Artificial intelligence has gained traction among people who are grieving the loss of a loved one, including through recreating a deceased person's voice.
CLICK HERE TO GET THE FOX NEWS APP
Rocks said SeanceAI will launch Tuesday, including testing a free tier level of the program as well as a paid tier for longer-term users.