New details have emerged about how four Colombian children survived in the Amazon jungle for 40 days after a deadly plane crash.
The siblings, aged 13, 9, 4 and 1, are part of the Huitoto Indigenous group and the eldest possessed some skills needed to survive and care for the younger siblings alone in the jungle, family have said.
Fidencio Valencia, an uncle, told the media outlet Noticias Caracol that the children were starting to talk after Friday's rescue and one of them said they hid in tree trunks to protect themselves from snakes, animals, and mosquitoes creeping in the jungle.
Some familiarity with the rainforest's fruits were also key to their survival, as the children also munched on seeds found in the jungle along with cassava flour that they took from the plane.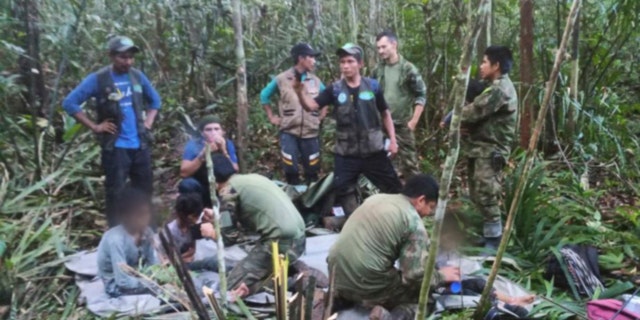 Soldiers and indigenous men tend to the four Indigenous children who were missing after a deadly plane crash, in the Solano jungle, Caqueta state, Colombia, Friday. (Colombia's Armed Force Press Office via AP)
The oldest of the four siblings, 13-year-old Lesly Jacobombaire Mucutuy said their mother was alive for about four days after the plane crashed on May 1, the father of the two youngest children, Manuel Ranoque, said.
MISSING COLOMBIAN CHILDREN FROM DEADLY JUNGLE PLANE CRASH FOUND ALIVE AFTER 40-DAY SEARCH
The children were flying with their mother from the Amazonian village of Araracuara to the town of San Jose del Guaviare when the Cessna single-engine propeller plane went down carrying three adults and the four children. The pilot had declared an emergency due to engine failure.
The Associated Press contributed to this report.