FIRST ON FOX: The super PAC backing Florida Gov. Ron DeSantis for president in 2024 dropped a new ad going after former President Trump with the two prominent Republicans slated to speak at the National Rifle Association (NRA) leadership forum in Indianapolis.
DeSantis and Trump are both set to speak at the NRA-ILA Leadership Forum Friday in a potential showcase of 2024 GOP candidates. DeSantis has not officially announced a bid for president yet.
Ahead of the forum, Never Back Down, the super PAC backing DeSantis as a potential 2024 GOP candidate, dropped an ad around the forum and will be handing out flyers with similar messaging.
DESANTIS, TRUMP TO HEADLINE NRA FORUM THAT WILL LIKELY SHOWCASE 2024 RIVALS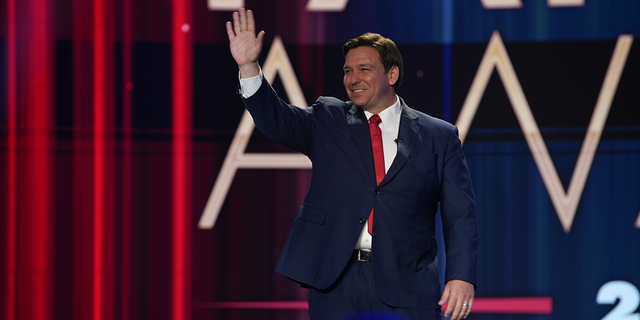 Florida Gov. Ron DeSantis welcomes Fox Nation Patriot Awards to the sunshine state. (Fox News)
"Trump promised NRA members he'd have their back," the video ad exclusively obtained by Fox News Digital says. "But when Second Amendment rights came under attack, Trump abandoned us and stood with liberal Democrats."
"Half of you are so afraid of the NRA," Trump says in a clip included in the ad. "We have to fight them every once in a while, that's OK.
"Some of you people are petrified of the NRA," Trump continued. "You can't be petrified. They have great power over you people. They have less power over me. I don't need them. What do I need?"
The ad highlighted Trump's call "for red flag laws," raising the age to buy assault weapons and clips of him backing "taking the guns early."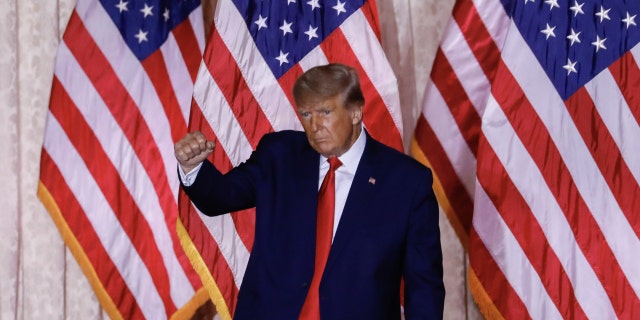 The ad highlighted former President Trump's call "for red flag laws," raising the age to buy assault weapons and clips of him backing "taking the guns early." (Eva Marie Uzcategui/Bloomberg via Getty Images)
"Take the guns first, go through due process second," Trump said.
The ad highlights Trump endorsing Democrat-backed gun control measures, including raising the age to buy an assault rifle to 21 as well as red flag laws.
The ad also links Trump to several prominent Democrats, saying he "agreed with" former House Speaker Nancy Pelosi of California, Senate Majority Leader Chuck Schumer of New York and his rival President Biden, as well as several others.
The flyers that will be handed out by Never Back Down say Trump agreed "with Joe Biden on Red Flag Laws," attacked "the NRA and sided with Michael Bloomberg," agreed with "Kamala Harris on banning bump stocks" and sided "with Liberals on their gun control wish list."
Never Back Down NRA flyer by Houston Keene
"Trump the gun grabber doesn't deserve a second chance," the flyer states.
When asked for comment on the ad and flyers, Trump campaign spokesperson Steven Cheung said, "Where's Ron?"
Trump is slated to give a speech at the NRA forum alongside other prominent Republican leaders this weekend.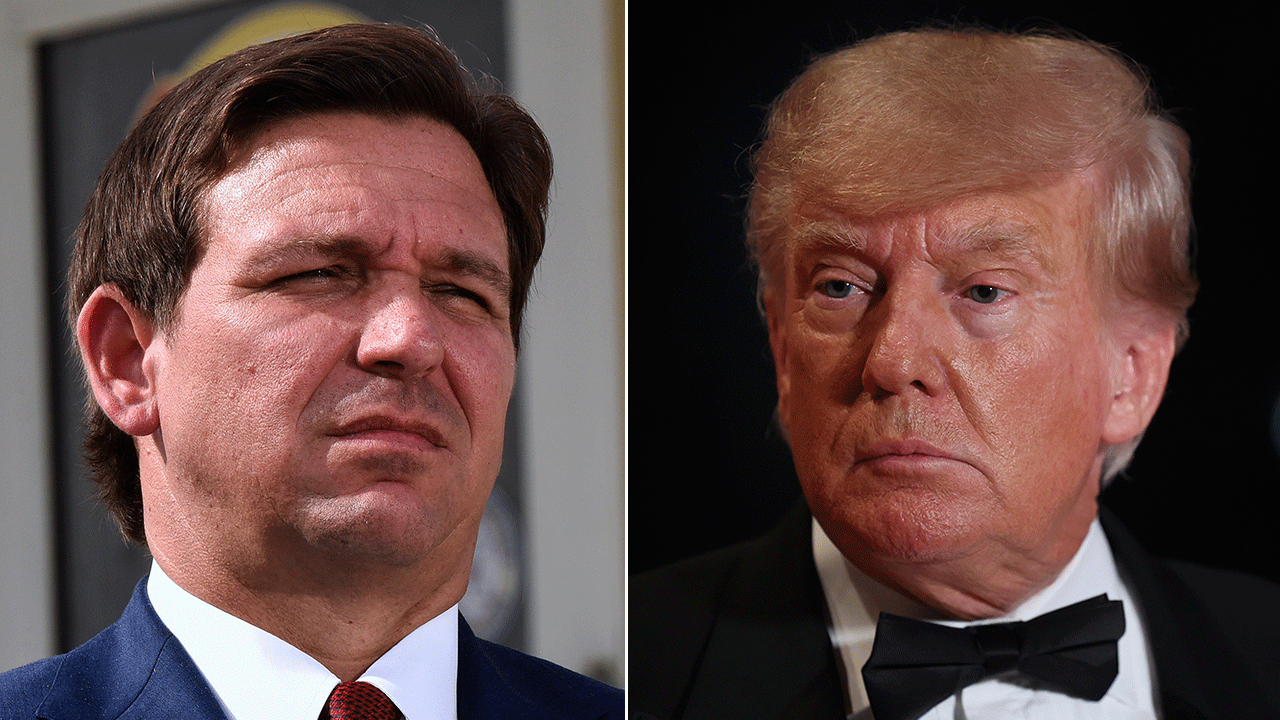 Ron DeSantis and Donald Trump (Paul Hennessy/Joe Raedle I Joe Raedle/Getty Images)
CLICK HERE TO GET THE FOX NEWS APP
The event will be held in Indianapolis Friday with a "stacked lineup" of leaders such as Trump, former Vice President Mike Pence, Indiana Gov. Eric Holcomb, Indiana Sen. Mike Braun, Ohio Rep. Jim Jordan, South Dakota Gov. Kristi Noem and others.
This will also mark the first time DeSantis has spoken at the annual event. He will be brought in via a "special video appearance," according to the NRA. Florida made history recently when DeSantis signed a permitless carry bill into law, making the U.S. a constitutional carry-majority nation.
Fox News Digital's Emma Colton contributed reporting.