Florida Gov. Ron DeSantis defended embattled country music star Jason Aldean Wednesday after the singer lost the support of Country Music Television (CMT) for his controversial music video.
Aldean recently released a video for his song, "Try That In a Small Town," that included actual news footage of rioters, looters, and violence in 2020 after the death of George Floyd. Activists took issue with the content of the video and the area where it was filmed, eventually leading to CMT pulling the music video from circulation. The video, which was released on YouTube last Friday, already has over 2.5 million views.
While a representative for CMT has not provided more context for the decision to Fox News Digital, Aldean has been condemned by some who suggest his hit was a "pro-lynching song," because the video was filmed in front of the Maury County Courthouse in Columbia, Tennessee, the scene of both a historical race riot and a lynching.
Aldean defended himself from the backlash Tuesday in an Instagram Story, calling the accusations that he "released a pro-lynching song … not only meritless, but dangerous."
The same day, Arkansas Gov. Sarah Huckabee Sanders defended the country music star saying, "The Left is now more concerned about @Jason_Aldean's song calling out looters and criminals than they are about stopping looters and criminals."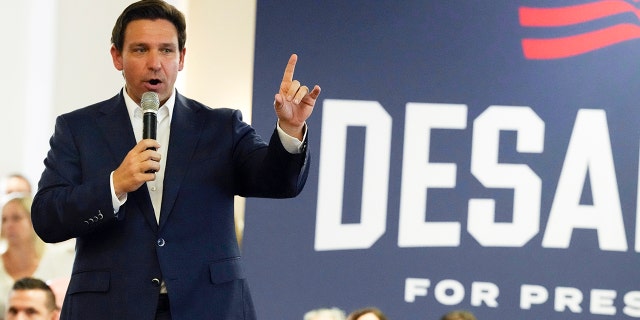 Republican presidential candidate Florida Gov. Ron DeSantis speaks during a campaign event on Monday, July 17, 2023, in Tega Cay, S.C. (AP Photo/Meg Kinnard)
Republican presidential candidate Vivek Ramaswamy also tweeted in support of the song.
"Jason Aldean writes a song defending the values that ALL Americans used to share — faith, family, hard work, patriotism — only to be immediately sacrificed at the altar of censorship & cancellation," Ramaswamy wrote. "These are the same people who cheer songs like 'Cop Killer' & the glorification of sex and violence in hip-hop. Stand strong against these hypocrites and opportunist frauds, @Jason_Aldean. It'd be a real shame if the song hits #1. We'll do our part & play it at our rallies."
Donald Trump Jr., the son of the current Republican front-runner former President Trump, tweeted the video and asked his over 10-million followers what could possibly be controversial about the country music video.