Democratic U.S. Sen. Tammy Baldwin, who spearheaded legislation to protect same-sex and interracial marriages last year, announced on Wednesday that she is seeking a third term in battleground Wisconsin.
Baldwin, 60, said in a statement that she intends to continue fighting for the working class and families struggling with inflation, as well as opposing Wisconsin's abortion ban.
No Republicans have announced they are running for Baldwin's seat, which will be critical for Democrats to hold if they want to maintain control of the Senate.
Baldwin won her first local race at age 24 and in 1998 won a seat in the U.S. House to became the first woman whom Wisconsin voters sent to Congress. She was elected to the Senate in 2012, handing former Republican Gov. Tommy Thompson his first defeat in a statewide race, in a year when Barack Obama was also on the ballot.
DNC SPEAKERS: WHAT TO KNOW ABOUT TAMMY BALDWIN
Baldwin will be seeking a third term in a presidential election year when turnout on both sides is likely to be high.
Baldwin won her 2012 race by nearly 6 percentage points and defeated a Republican state senator for reelection in 2018 by 11 percentage points. In that race, which came two years after Donald Trump won Wisconsin, Baldwin solidified Democratic support while attracting independent voters with her message that she was looking out for the best interests of everyone in the state.
A tireless campaigner, her victory in the swing state was closely analyzed and followed by Democratic candidates who also found success, including Gov. Tony Evers, who won reelection in 2022. Her strategy included highly targeted digital ads on a variety of issues and competing for voters outside of the Democratic strongholds in Madison and Milwaukee.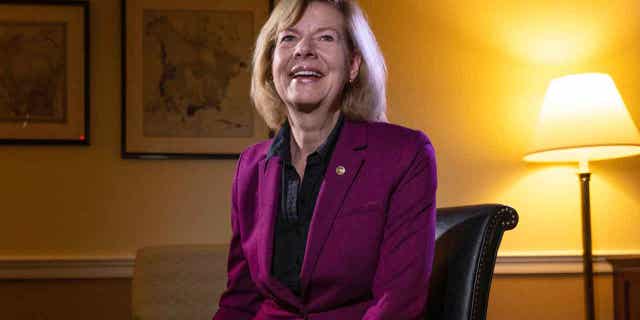 Sen. Tammy Baldwin poses for a portrait after an interview on Dec. 6, 2022, on Capitol Hill. Baldwin announced that she is seeking a third term in battleground Wisconsin.  (AP Photo/Jacquelyn Martin, File)
MARYLAND MAYOR FACING CHILD PORNOGRAPHY CHARGES WAS FREQUENT DONOR TO DEMOCRATIC SEN. TAMMY BALDWIN
Baldwin was the first person elected to Congress after announcing they were gay and was the first openly gay person elected to the Senate. In the early 1990s, she was the first openly lesbian member of the Wisconsin Assembly and one of the first openly gay people in elected office across the country.
She has been open about her sexual orientation but did not emphasize it during her previous runs for the Senate.
"I didn't run to make history," Baldwin said after winning her first Senate race in 2012. "I ran to make a difference."
But in 2022, after the U.S. Supreme Court struck down the Roe v. Wade ruling that legalized abortion, Baldwin gained national attention for her leading role in passing a bill protecting the rights of gay couples. She spent months winning over Republicans for the measure, which passed last December with bipartisan support.
CLICK HERE TO GET THE FOX NEWS APP
Republicans have tried to portray Baldwin as too liberal for Wisconsin, a state that reelected Republican Sen. Ron Johnson in 2022 and that Trump narrowly won in 2016 and lost by a similarly small margin in 2020. Johnson is one of the Senate's most conservative members.
But Baldwin, despite embracing policies like "Medicare for All," has been able to win over key swing voters in the state