Demi Moore slammed a "stranger" who body-shamed her daughter Tallulah on social media.
Tallulah took to Instagram to share screenshots from an unidentified user who called the daughter of Moore and Bruce Willis "fat" multiple times.
"I think it's important to share this, that this happens, that this happens to a healing person in recovery, who has been honest about how very sick she was/is and is working daily to find safety and home within her skin," Tallulah wrote on Instagram, referencing her battle with body dysmorphia.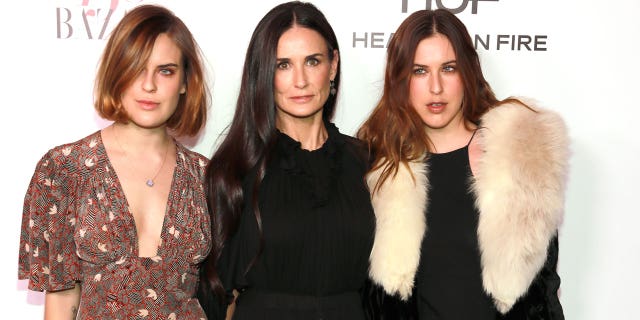 Tallulah Willis, Demi Moore and Scout Willis attend an event. (Getty Images)
DEMI MOORE STUNS IN BIKINI WITH HER FIRST GRANDCHILD
 
 

 
 
View this post on Instagram
 

 
 
 

 
 

 
 
 

 
 

APP USERS CLICK HERE TO SEE THE INSTAGRAM POST
"I am so proud of you! People often can only reflect their own fear," she wrote. "Be you in all your forms and keep shining your gorgeous glorious light!"
Tallulah's sister Scout also chimed in writing, "I am so proud of you, and proud of the hard work you put in every day, and luckily for you, me and everyone who loves you, this person is a mere footnote in your story, and unfortunately for them, they have to be themselves forever, and i wish them literally one IOTA of the grace, growth and self love you show every single day."
Many others shared their support in the comments section, including her stepmother Emma Heming Willis.
"Sending you hugs," she added.
Helena Christensen, a former Victoria's Secret Angel, called the stranger "miserable" while sharing her support.
"You're one of the coolest people I have ever met," she wrote. "That poor stranger knows you are. Ahhh but you will laugh all the way to the cool bank and that stranger will crumble and wither in his own miserable plainness."