Danny Masterson was back in court Monday as the jury selection process began for his retrial for rape charges.
One set of potential jurors was brought in Monday morning and a second group will be brought in later in the day. Another set of jurors will be brought in on Tuesday. The judge plans to question the group on Wednesday. Judge Charlaine Olmedo hopes to have the jury seated by Thursday, so that opening arguments can begin Monday, April 24.
Eight alternate jurors will also be chosen this time around.
The jurors will be expected to reserve two months for the trial to take place, according to the judge.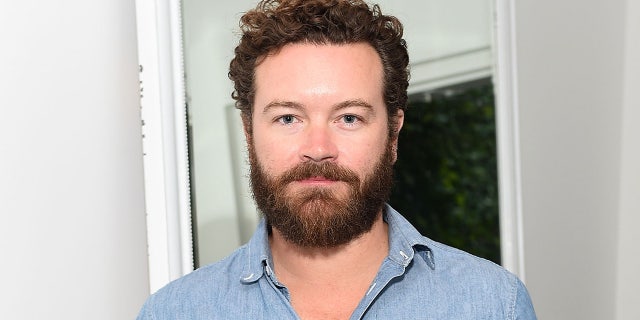 The jury selection process began Monday for Danny Masterson's rape retrial. (Stefanie Keenan)
Nearly five months ago, the "That '70s Show" star's last case ended in a mistrial.
Masterson, 47, initially faced up to 45 years in prison if found guilty on three counts of rape by force or fear on alleged sexual assaults, which occurred between 2001 and 2003 at his Hollywood Hills home.
"The District Attorney's Office will retry Mr. Masterson on the same counts," the DA said in a statement provided to Fox News Digital at the time.
MISTRIAL DECLARED IN DANNY MASTERSON'S RAPE TRIAL
Masterson's attorney, Philip Cohen, filed a motion to dismiss the counts in January, citing a retrial would "not differ materially from the prior trial" with little likelihood of a different outcome.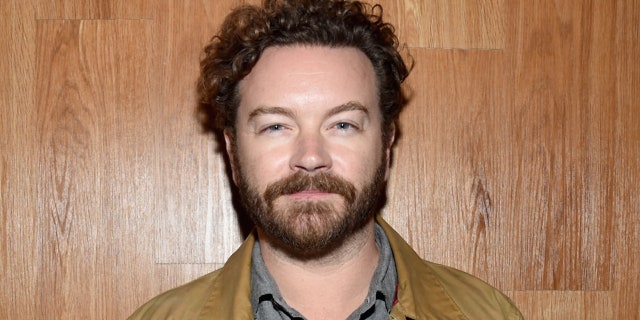 Danny Masterson faces a new trial after a mistrial was declared in November when a jury was deadlocked on three rape charges. (John Shearer)
DANNY MASTERSON TO BE RETRIED ON RAPE CHARGES FOLLOWING NOVEMBER MISTRIAL: DISTRICT ATTORNEY
In the motion, Cohen noted, "The clear sentiment of the jurors, virtually to a person, was that there were significant evidentiary and credibility problems with the government's case."
He added, "And while there was disagreement as to the ultimate vote, on one thing the jurors all appeared to agree — no reasonable jury was ever going to come to a unanimous finding of guilt on any count."
Los Angeles Superior Court Judge Charlaine F. Olmedo declared the mistrial in November after finding jurors "hopelessly deadlocked" in reaching a unanimous decision.
Two jurors were dismissed during deliberations due to COVID-19, and the jury was forced to begin discussions once again.
DANNY MASTERSON TRIAL: ATTORNEY, DA RELEASE STATEMENTS AFTER '70S SHOW' STAR GETS MISTRIAL
The jury foreman said only two jurors voted for conviction on the first count, four voted for conviction on the second count and five voted to convict on the third count.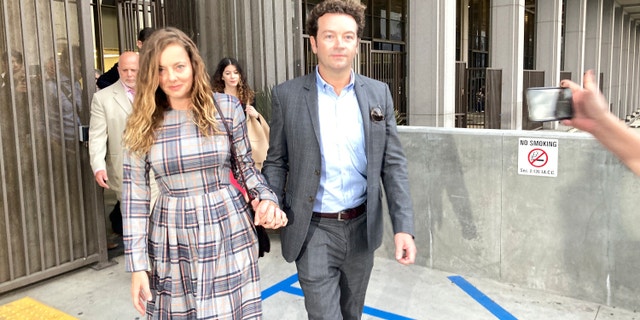 Danny Masterson leaves Los Angeles superior court with wife Bijou Phillips following mistrial. (Brian Melley)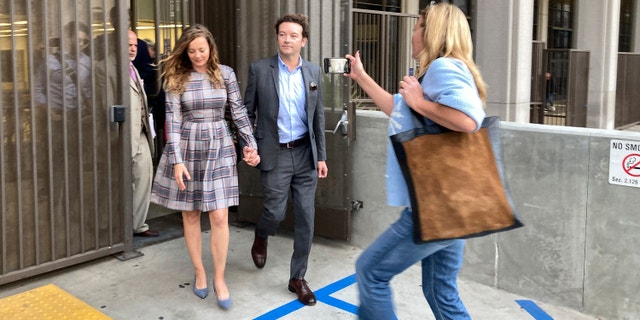 Danny Masterson holds his wife's hand following his November mistrial. (Brian Melley)
The new trial date was initially set for March 27 and then rescheduled for April 11, only to finally land on an April 17 start date.
CLICK HERE TO SIGN UP FOR THE ENTERTAINMENT NEWSLETTER
Masterson was arrested in June 2020 and had been free on a $3.3 million bond. He pleaded not guilty to the charges.
One woman was a longtime girlfriend, another a close friend and the third accuser was a new confidant.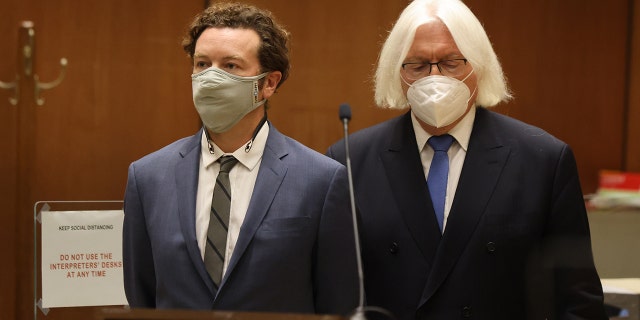 Danny Masterson was charged with three counts of rape stemming from alleged assaults between 2001-2003. (Lucy Nicholson)
Each of the three women were members of the Church of Scientology, like Masterson. The accusers alleged they were hesitant to file charges due to the church's strict protocols against public involvement with member issues.
During the initial trial, Cohen focused on revealing inconsistencies in the stories the three accusers told on the stand. They claim the accusers changed their stories and also spoke with each other prior to speaking with police.