Roger Towberman vividly remembers selling his 1976 Pontiac Catalina. The one he'd curl up in for a couple of hours of sleep each night as he panhandled and chased the dreams of a musician decades earlier. The one he'd traded to a gas station attendant for a hot dinner, shower tokens and a duffel bag to haul his belongings after it exhaled its last breaths and he had to hitchhike home.
Engrossed in the memory, the 55-year-old chief master sergeant of the United States Space Force nearly misses his exit off I-95 in New Jersey as he tells the story. He's recalling that low point from the plush seats of a decked-out Mercedes Sprinter van that can sometimes cost up to six figures, made for comfortable overlanding and camping, complete with amenities such as a bed for two, a bathroom and a fully equipped kitchen.
Towberman was in the final weeks of his military career, a period that culminated in his being the second-ever Space Force Guardian as he was tasked with crafting the rank-and-file culture, enlisted policy and public perception of the Space Force, the first service branch to be created since the birth of the Air Force in 1947.
Read Next: 2 Marine Corps Ospreys Diverted After 'Cockpit Caution' Warnings Force Landing in Japan
During his 33-year career, Towberman was stationed everywhere from Hawaii to the United Kingdom until he was selected to lead the newly created Space Force as its senior enlisted leader in 2019.
Not long after the Space Force was formed, House Democrats put forth a bill to abolish the newly created service. Late-night television hosts quickly honed comedic bits and tried to write Guardians off as nothing more than a zany Trump-era creation. A poorly written Netflix show threw unfunny jabs, but was effective in portraying the Space Force as a joke.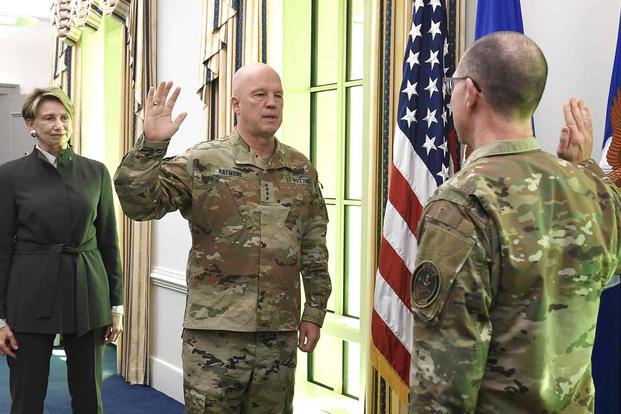 Further harming the public's perception is that the operations the Space Force takes on are heavily classified. But the Space Force's mission -- to protect and defend the massive U.S. satellite fleet and the nation's interest in space -- is deeply crucial to everything from the country's reliance on GPS to detecting abnormalities in the Earth's orbit.
Towberman can ignore most of the criticism over the legitimacy of the Space Force because, the way he sees it, Guardians have an important job to do. His own job has been to build the culture to motivate those troops and shape what it means to be a Guardian.
"His fingerprints are all over the Space Force," Gen. John "Jay" Raymond, the first general to command the Space Force, told Military.com. "I think history will show that he was a really spectacular first chief master sergeant of the Space Force and really helped set the foundation for the service going forward."
The age cutoff to join the Space Force is 39 years old, the highest among the service branches. In Towberman's philosophy, that means more people from more diverse backgrounds and walks of life can rediscover themselves and give their talents to the new service.
"The military, the profession of arms, is an ancient and noble profession," Towberman said. "This is what we do. Militaries for centuries, for eons, have taken human beings from all walks of life and brought them together into cohesive teams that can win."
Towberman knows about military service as something of a second act. When his attempt to make it as a young rock musician in California failed, he begrudgingly decided to return to his parents in his native Wisconsin, but his Pontiac's radiator cracked and the car broke down in Nevada. When he made it home, there wasn't much of a future waiting for him.
"It was a miserable string of failures on my part," Towberman said. After a series of odd jobs ranging from canning green beans to working in record shops, he caught wind of a bonus being offered to become a linguist in the Air Force. After acing an aptitude test that evaluated whether he was capable of learning a foreign language, Towberman found his second chance in life. The bet clearly paid off.
He also believes those who have realized their potential, purpose and passion later in life are the future of the United States Space Force.
"My firsthand experiences as a late bloomer, to put it mildly, shapes everything that we're trying to do as a Space Force," Towberman said. "The strength of the enlisted military is this sort of late bloomer cohort. ... The military gives those people a chance."
The van Towberman is driving, the vehicle he plans to use to enjoy the rewards of the second life he's had, is named "Rocinante" after Don Quixote's horse. Towberman was once gifted a small statue of the literary character during his 33-year military career and describes himself as "quixotic" when it comes to many of his leadership ideas. When told that "Rocinante" was the name of John Steinbeck's camper van in his book "Travels With Charley," he admitted to not having read it but in true Space Force fashion knew it was also the name of the starship from the science-fiction television series "The Expanse."
He invited Military.com to join him for the four-hour ride in his Sprinter van from where it was being repaired in Connecticut back to Washington, D.C., where he would officially end his military service Sept. 15.
As he bobbed and weaved through semi-trucks and minivans on the interstate, Towberman took time to remember what the Space Force had accomplished. He believes he made a difference. But he's also pondering how the service will continue to grow.
Criticism for the Space Force is real, and Towberman knows there's still work to be done.
"The one thing about this job that I wasn't prepared for was the weight of responsibility. I don't feel responsible for the Guardians today," Towberman said. "I feel responsible for the Guardians of today and their professional progeny for a hundred generations, and it's heavy. I really feel like if things are screwed up in 50 years, like somehow it will have been my fault."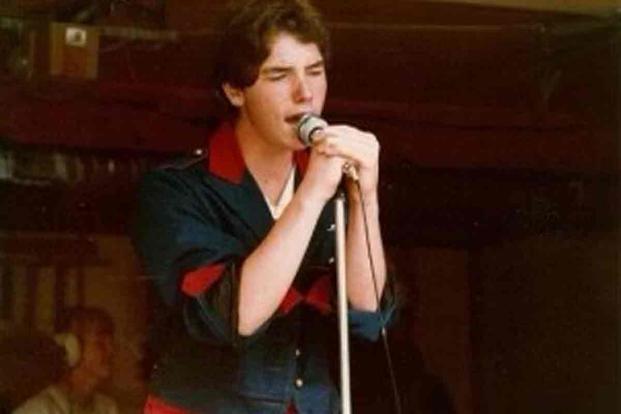 Finding His Voice
Towberman has a powerful voice. Literally.
Reeling from his parents' divorce just as he crossed into his teen years, Towberman would escape to his room and listen to the distinct, charismatic and stadium-shattering lead vocalists for bands such as Whitesnake and the Rolling Stones in an attempt to emulate their sound. He was a fast learner. By 14, he and his friends had formed a cover band called "Chain Reaction." They'd practice in the garage, load up the van and then rock out at various watering holes throughout Wisconsin.
"I've got exceptional spatial awareness," Towberman said. "Years of being my own roadie, you learn what fits in what places." The comment came after he deftly parallel-parked the three-ton Sprinter van across the street from a McDonald's in Brooklyn, New York.
Even if he knew how to arrange instruments to squeeze into a van, finding his own place proved to be more difficult.
At 17, Towberman -- guided by a passion for music and youthful rebellion after his parents' divorce -- decided he was going to go all in to make it as a musician. He packed his belongings into his Pontiac Catalina and sped off from his mother's double-wide trailer with California in his sights.
The dream was short-lived and, at times, became a nightmare. Within a couple of years, he was living out of his car, panhandling in Palo Alto and trying to scrape up enough gas money to get back to Wisconsin.
"I'm going to throw myself on the mercy of my family and start over," Towberman recalled saying to himself at the time.
A few years later, a beer-league softball umpire who was an Air Force recruiter told him that linguists were in high demand and there was a $2,000 bonus involved. He took an aptitude test, scored very well and shipped off to basic training.
But he never stopped singing. As the senior enlisted leader of the Space Force, he has been captured several times in uniform and on camera belting out song lyrics, loud and proud.
When the Space Force unveiled its service song, which was quickly pounced upon by critics, Towberman led a whole auditorium of airmen in a sing-along at the Air and Space Force Association's Conference in 2022. The next day, footage of him singing "Don't Stop Believing" made the rounds online. He showcased his vocal talent to the entire country during a Stephen Colbert late-night special about the Space Force, during which he managed to hit the impressive high notes of the 1973 rock hit "Radar Love'' during karaoke at a Space Force base in Greenland.
Karaoke, and singing in general, is a vulnerable act, one that requires a high level of self-assurance and an abandonment of self-consciousness. Towberman has had to draw on those qualities as he's served as one of the faces of the Space Force during its, at times, mocked launch. Jokes about the Space Force never bother him; sometimes, he even admits to laughing along. But there's a line that can be crossed.
One late-night comic, whom Towberman didn't name, took a bit about the Space Force too far and made a joke about Guardians themselves. The senior enlisted leader was livid.
"He mocked the human beings that have raised their hands to defend this country," Towberman said. "That pissed me off. ... You can make this political, you can make 'Star Trek' jokes, whatever, but these kids, they raised their hand like everybody else. You don't get to pick on them; you can't mock them."
That protective streak for troops under his care isn't new.
When he started as the command chief master sergeant at the 25th Air Force in Texas, he was frustrated with how people weren't being taken care of. He recalled one airman being so sick that he was having seizures, but nobody bothered to check in on him because he was responding to texts and Facebook messages. It wasn't until Towberman went and saw him in person that he was able to get the man the care he needed.
"I'm starting to kind of realize that I do connect with people differently than other senior leaders," Towberman said. "I'm also learning that this bureaucracy is frustrating, and it's not going to just pause to think about individual human beings because that just isn't what happens. So, this really starts to become who I am as a leader, and I like it. I'm comfortable with it."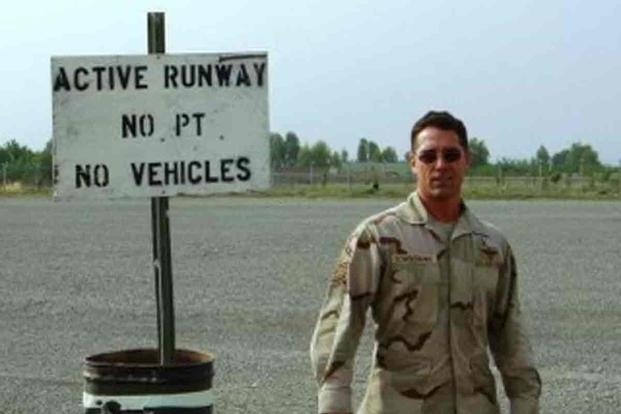 How Towberman Tried to Make the Space Force Different
Towberman's solution to the disconnect between commanders and troops? Near constant communication with the enlisted, including substantial use of social media with Guardians.
Towberman has been incredibly active on Reddit, often responding in real time to tough questions and criticisms during "Ask Me Anything" sessions about policies ranging from beards to uniforms. He began lending his voice to a regular Space Force podcast to speak about issues directly to service members. He frequently praises units, enlisted leaders and new basic military training graduates on Facebook.
While all of that seems par-for-the-course in the digital age, as well as a good public relations move, Towberman describes it as a responsibility and an opportunity to change lives.
During his last speech as the enlisted senior leader of the Space Force at the Air and Space Force Association's conference this past week in Maryland, he talked about how a Space Force officer moderates the Air Force and Space Force subreddits and in 2022 those communities intervened 40 times when suicidal ideation was mentioned.
"I really started to kind of accept this role that I'm supposed to be here," Towberman told Military.com. "To be a champion for these people. Somebody has to give a voice to people without a voice because the machine doesn't give a s--t."
That's exactly what Raymond wanted when he picked Towberman to serve as his enlisted right hand.
The two initially crossed paths in the Pentagon years earlier, when Towberman was working as the senior enlisted adviser to the assistant secretary of the Air Force tackling personnel and policy reforms.
Immediately impressed by Towberman's background, Raymond hired him to be the command chief for Air Force Space Command and hired him again when the Pentagon decided to stand up the separate U.S. Space Command. In late 2019, when Raymond was given the tall order of starting the Space Force, he went for the Towberman trifecta to help him build the service from the ground up.
"After we got done with the interview, it became really clear. There was no doubt in my mind," Raymond, who retired from the Space Force in 2022 and now serves on the board of directors at Axiom Space and also works for Cerberus Capital Management, said in an interview. "You know the old adage 'thinking outside of the box.' That's Chief Towberman. He's kind of an out of the box guy."
Raymond sent a message by hiring Towberman: He wanted to care for people, and he wanted to be bold about formulating the service's culture. He wanted to show future Guardians that he cared about the enlisted.
Raymond swore Towberman in as the second-ever Guardian in the Space Force, after himself. The second person to take the oath for the service could have been anyone -- another general, a bigwig -- but Towberman realized it sent a powerful message that the rank and file will be top of mind for the service.
"That would have been really easy to bring in another officer," Toweberman said. "But the message that he chose to send by bringing me in was beautiful."
Towberman got to work, most notably trying to craft a unique culture for the Space Force, a set of values that would guide all the doctrine and regulations to follow.
He knew that if the Space Force was going to recruit from all walks of life, it needed to have a set value system they can all agree on. "If you want to effectively get people to where you want them, if you want them to clear the bar, you've got to meet them where they are and get them there," Towberman said.
What was born were the 4 Cs -- character, connection, commitment and courage. Towberman made sure to make everything tie back to those. The promotion system and internal awards analyze how Guardians live up to those values.
The Space Force's Basic Military Training Program, another carefully managed Towberman creation, was shaped entirely with those four values in mind. Drill instructors recognize the top four recruits from each class by selecting which of the four values they best embody.
Towberman made basic military training an independent ecosystem from the historic Air Force boot camp at Joint Base San Antonio , Texas -- establishing the service's own Guardian drill instructors, traditions, classes and procedures. He gets emotional speaking about what it has become.
"They're not just throwing words, books and catchphrases at these new recruits," Towberman said. "They're modeling that behavior. There's not a corner of the Space Force I'm more proud of than Basic Military Training."
On Sept. 15, Towberman relinquished his role in a change of responsibility ceremony. Chief Master Sgt. John F. Bentivegna, who worked alongside Towberman at the Pentagon, succeeded him as the service's top enlisted leader.
At the Air and Space Force Association's conference Sept. 12, during his final speech in his position, Towberman spoke about his legacy and how, ultimately, it's not his. It's one that's tied to hundreds of people who have inspired him.
"If I'm to be remembered at all, I hope it's through a thousand different stories, of a thousand real relationships that I had with a thousand real people," Towberman said. "All of you, and all the people that raised me, and all our professional progeny for a thousand generations, if any of us are worth remembering, we're worth remembering in specific, real stories about how we specifically, really, changed each other's lives. ... Thanks for being part of my story."
The crowd gave him a standing ovation.
In a couple weeks, he and his wife will be moving out of Joint Base Andrews, Maryland. Then, he will grab his keys, load up his personal belongings -- like he's done many times in his personal and professional career, rev up the Sprinter van and crank up the radio.
"I've left nothing in the tank; I've given everything," Towberman said. "I feel like I'm the same me that I've always been. I'll still grab a microphone and sing in the next bar."
-- Thomas Novelly can be reached at [email protected]. Follow him on Twitter @TomNovelly.
Related: 6 Things to Know About the Space Force from Its Top Enlisted Leader